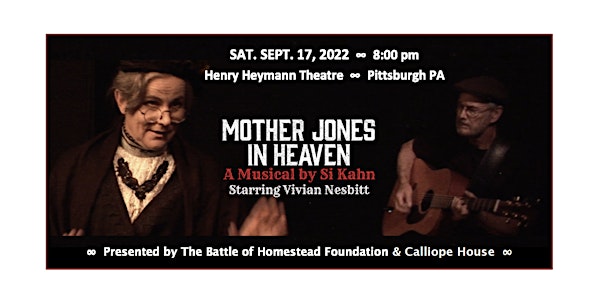 "Mother Jones in Heaven" — Vivian Nesbitt Stars in Si Kahn Musical
Vivian Nesbitt stars as legendary labor activist Mary "Mother" Jones in stage play by acclaimed singer/songwriter Si Kahn
When and where
Location
Henry Heymann Theatre 4301 Forbes Avenue Pittsburgh, PA 15213
About this event
Authored by acclaimed singer/songwriter Si Kahn, Mother Jones in Heaven stars Vivian Nesbitt as Irish-American labor organizer Mary "Mother" Jones (1837-1930), whose renown as a fearless fighter for workers' rights earned her the label of "the most dangerous woman in America".
The musical opens as Mother Jones arrives in Heaven to discover that it's surprisingly identical to her favorite Irish pub just outside of Washington, DC. In the course of the 90-minute performance, Mother Jones looks back over her life, balancing the scales as she sifts through her storied past and weaving moments of profound insight with hilarious tales of a hellion in her prime.
Tickets: $25 General Admission-Adult; $15 General Admission-Student
--------------------------------------
*** REVIEWS of Mother Jones in Heaven ***
"Vivian Nesbitt's performance is stunning in both its artistry and its content! " — Dorothy Alexander, Village Press, Santa Fe, NM
"At once entertaining and educational, Mother Jones in Heaven brings to life once again an icon of labor history who is still relevant today. Through speaking and music the travails of this organizer/agitator inform and inspire as she relives her life leading workers to demand a better world." — Cynthia Phinney, President, Maine AFL-CIO
"Vivian Nesbitt truly becomes Mother Jones, bringing a fiery determination and keen sensitivity to the character of Mother Jones ... this play is great entertainment, great theatre, great history, great education." — John P. Beck, Associate Professor, School of Human Resources and Labor Relations, Michigan State University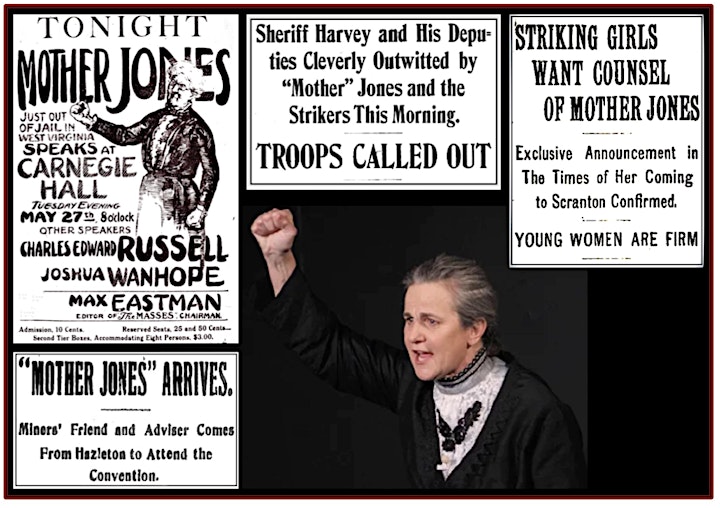 * Vivian Nesbitt is a veteran actress whose film and TV credits include The Night Shift, Breaking Bad, Manhattan, In Plain Sight, The Messengers, Longmire and Law & Order SVU and numerous regional theater and summer Shakespeare roles. Her original solo play The Bark & The Tree was awarded Best Documentary Play and Best Lighting Design in New York's United Solo Festival; her film Leverage was an official selection of Taos Shortz Film Festival and NMWIF Film Fiesta, garnering her an award for Best Performance.
* Guitar accompanist John Dillon is an esteemed luthier and has built more than 80 custom guitars. His instruments are in the collections of Steve Earle, Tish Hinojosa, Trisha Yearwood, Ray Kennedy and The Mavericks. He and Vivian produce Art of the Song, a one-hour public radio program heard weekly on over 150 stations across the country. He is the author of The 20-20 Creativity Solution.
* Playwright Si Kahn has worked for over 45 years as a civil rights, labor and community organizer and musician. An acclaimed singer-songwriter with 19 albums to his credit and dozens of songs recorded by numerous artists worldwide, he is an author of several non-fiction books and plays celebrating America's labor history. He is founder of Grassroots Leadership, a national Southern-based progressive organization committed to community, civil rights and labor organizing.
The Battle of Homestead Foundation is an educational nonprofit promoting Western Pennsylvania's vibrant industrial and labor history starting with the 1892 Homestead Steel Strike and connecting with current labor issues involving economics, the environment, healthcare, racism and other social concerns.
Calliope: The Pittsburgh Folk Music Society has since 1976 preserved and promoted traditional and contemporary folk music and its allied arts throughout Western Pennsylvania with concerts, workshops, classes, grants and music sessions. Calliope's programs connect people through the particular power of folk music and serve the community by exploring the breadth of our musical roots and heritage.