About this Event
"Mother," a gospel stage-play about three sisters who come home to pack away their mother's remains, but instead, end up unpacking the truth about their lives. A heartfelt play that will have you laughing, crying, and celebrating life.
"Mother" is coming to a venue near you for one day, two shows.
On Sunday, November 22, 2020, "Mother" will be playing for two shows at the Pura Vida Hall/Keiko Studio in Queens, NY. Limited tickets sold per show to maintain social-distancing. So, buy your ticket now while there is still space.
Date- November 22, 2020
Times: 2:00 pm & 6:00 pm
Venue: Pura Vida Hall/Keiko Studios 212-26 Jamaica, ave. Queens, Village, NY 11428
COVID-19 Health and Safety Measures
Limited seating to maintain social-distancing
Hand Sanitizer station
Temperature check
Theatre, restrooms, & common areas are clean and sanitized before and after each show
Separate seating for each person
Facemask must be worn at all times
Refund Policy
There is NO refund. However, if New York State imposes new state-wide/NYC-only restrictions (such as the reactivation of a state-wide quarantine) due to the COVID-19 pandemic, which then leads to the cancellation of the performances, a full refund will be available upon your request.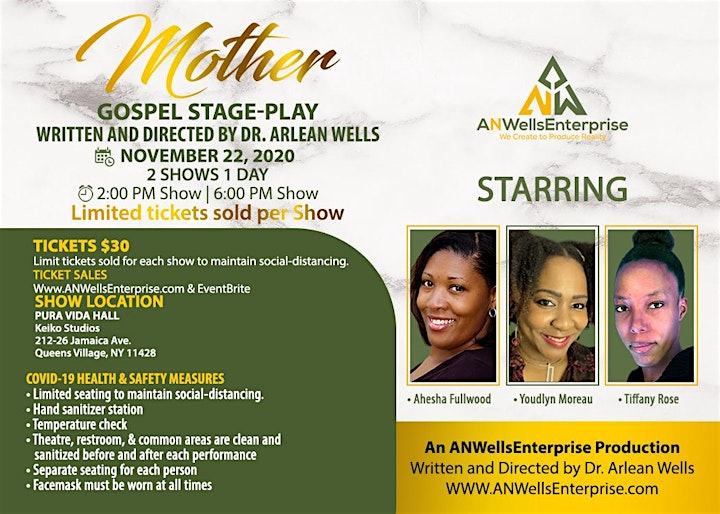 Date and Time
Location
Refund Policy