Description
Mother & Daughter Tea- A conversation on leadership and how girls can create and cultivate leadership opportunities right here in Glen Rock.


Come hear and be heard at this Mother and Daughter Tea, hosted by Glen Rock Council Candidates, Kristine Morieko and Mary Barchetto. Kristine and Mary will lead a conversation and some fun activities focusing on what it means to be a leader, challenges to leading, and finally, practical advice on how to work those leadership muscles in our town. Of course, yummy tea sandwiches, croissants, fruit, hot/cold tea, lemonade will all be served at this springtime, backyard party.


Who Can Attend:
Girls (4th Grade and up) and their Grown-Ups.
Glen Rock residents only please.


Cost:
This event is free to attend but registration is required.


About the Hosts:
Kristine Morieko is the current Council President and was recently recognized by the Bergen County Department of Human Services Commission on the Status of Women as a Women's History Month honoree. Kristine serves on the Library Board of Trustees, the Glen Courts Board of Trustees, Liason to OEM, the Glen Rock Volunteer Fire Department, COAH, Communications Chair, Public Safety Division and is a member of the Planning Board. When not working for our Borough, she is a NICU Family/Patient advisor at Valley Hospital. She lives in her childhood home in Glen Rock with her husband, Bryan, and 4.5 year old twins, Madeline and Brayden.
Mary Barchetto spearheaded the successful effort to bring two national youth running programs to Glen Rock (Girls on the Run and HERO Boys). Through her participation and/or leadership in a variety of volunteer positions: Central School HSA, Girl Scouts Troop Leader, Boy Scouts Den Mother, and a variety of roles at Oasis in Paterson, Mary has made action-oriented service to others a priority in her life. Mary is an active member of the League of Women where she headed Voter Services, implementing a High School voter education program and internship while helping increase League membership by 30%. She is a co-founder of the Glen Rock Democratic Organization and was recently appointed to the Glen Rock Zoning Board. Mary has lived in Glen Rock for nine years with her husband Tony and three children Molly, Annie and Matt.


Inclement Weather:
This event is rain or shine.


Also:
To learn more about the candidates, please FOLLOW their page. They will be hosting a series of events throughout the campaign season as they try to make sure they meet every resident in Glen Rock.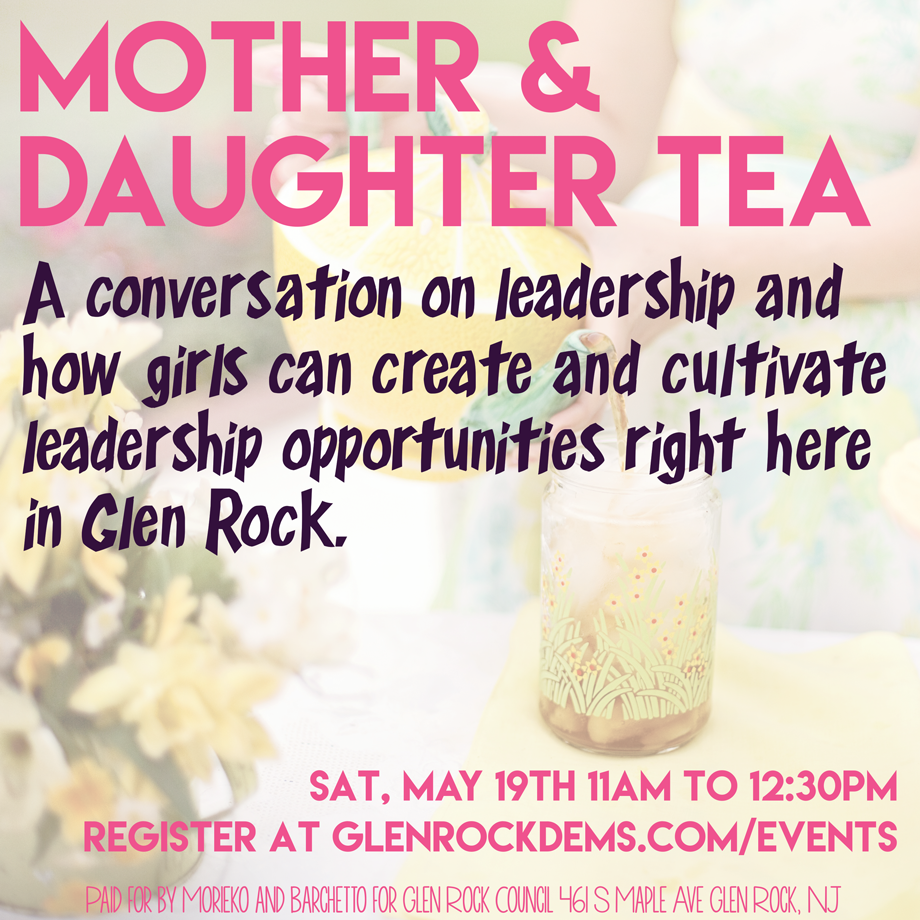 Paid for by Morieko and Barchetto for Glen Rock Council 461 S Maple Ave Glen Rock, NJ