Description
WELCOME TO THE REGISTRATION SITE FOR THE 2019 Mother Daughter Legacy Conference! Please make your reservation today by completing the registration form provided.
GREETINGS FROM THE CONFERENCE HOST, Pastor Margaret Davison
The Mother Daughter Legacy Conference was birthed at one of our monthly Women of Destiny Ministry meetings in 2005. Looking at the women gathered there that day, He showed me three generations of women who were present, that had suffered with the same issues that had been passed down from generation to generation. It was at this time He spoke the Mother Daughter Conference in my heart. Hearing the voice of the Lord, I obeyed Him.
In October 2008, we hosted our First Mother Daughter Conference. The impact of this conference exceeded my expectations. The Lord blessed us with about 350 women who came from throughout Kansas, Missouri, Texas, North Carolina, and California. After this conference, many women shared with me their personal testimonies of how God restored their relationships. Generational curses were broken and many women who were bound, are now set free.
Now, 2019 brings a new location for the Mother Daughter Legacy Conference. TEXAS GET READY! Pastor Margaret Davison and LWIM Salina, KS are coming to the BIG STATE of TEXAS to host the 2019 Mother Daughter Legacy Conference!!! We are in high expectation that the Lord will bless us there.
MORE ABOUT THE MDL CONFERENCE
The Mother Daughter Legacy Conference is geared towards mothers, daughters, grandmothers, granddaughters, aunts, nieces, cousins, and sisters. It is for all women. We will gather together to have a time of fun, fashion, fellowship, worship, ministry, and so much more. Expect the unexpected! Healing will come, generational curses will be destroyed, and generational blessings will come forth. What has been held up will be released. Signs, wonders, and miracles will follow. Gather your daughters, mothers, sisters and friends and join us on September 27-28 in Garland, Texas.
CONFERENCE INFORMATION
Conference Dates: September 27-28, 2019
Conference Location: Living Word Christian Church
718 W. Miller Road
Garland, TX 75041
Conference Registration Cost: FREE
Conference T-shirts: Conference T-shirt day is Saturday, September 28th. Please order your T-shirt online at the time of registration.
Conference Theme: "PURSUE" Healing Generations of Women
Conference Speaker: Pastor Margaret Davison & LWIM Salina Performing Arts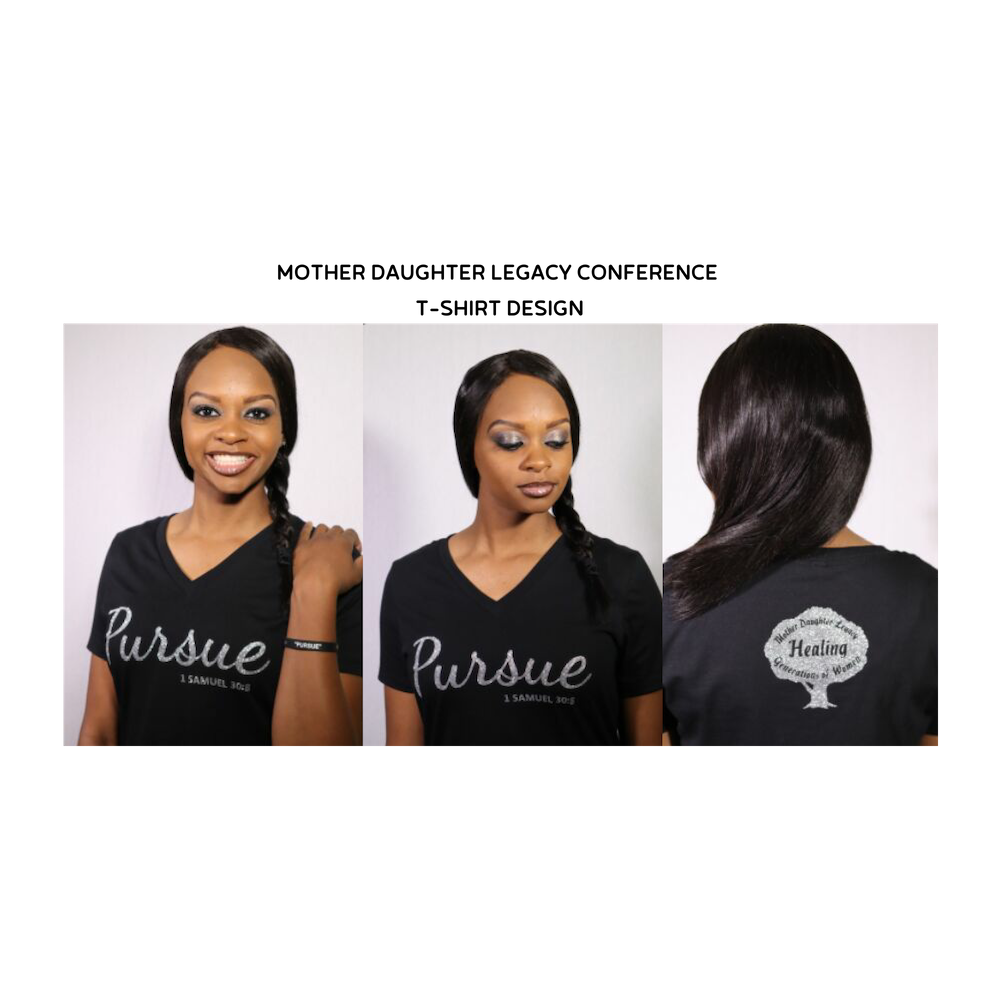 Hotel Room Blocks

:
The Courtyard Marriott
2300 Interstate 30
Mesquite, TX 75150
972-681-3300
ROOM RATE: $99.00 plus room and sales tax
ROOM BLOCK NAME: Living Word International
LAST DAY TO BOOK: 9-12-19
Distance from Hotel to Church is 13 minutes or 8.3 miles
BOOK YOUR GROUP RATE FOR LIVING WORD INTERNATIONAL CLICK HERE
LaQuinta Inn and Suites
1310 Marketplace Drive
Garland, TX 75041
972-685-5458
Room Rate:
1 Person Rate: $98.10
2 Person Rate $98.10
3 Person Rate $107.10
4 Person Rate $ 116.10
ROOM BLOCK NAME and CONFIRMATION NUMBER
Living Word #684769
LAST DAY TO BOOK: 9-6-19
Distance from the Hotel to church is 9 minutes or 3.7 miles
---
For more information
Email us at: mdlegacy1@gmail.com
Call us at: 785-827-4776