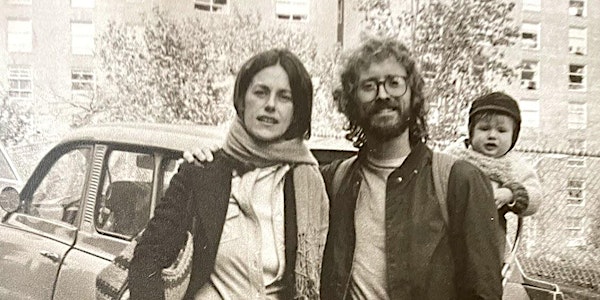 Mother Country Radicals: A Family History of the Weather Underground
A virtual panel discussion on Mother Country Radicals featuring Ariana Gharib Lee, Thai Jones, and Zayd Dohrn
About this event
Zayd Dohrn was born underground - his parents were radicals and counter-culture outlaws, on the run from the FBI. Now Zayd takes us back to the 1970s, when his parents and their young friends in the Weather Underground Organization declared war on the United States government. They brawled with riot cops on the streets of Chicago, bombed the Pentagon and the U.S. Capitol, broke comrades out of prison, and teamed up with Black militant groups to rob banks, fight racism - and help build a revolution.
Zayd Ayers Dohrn is an award-winning playwright and screenwriter, and the writer and host of the narrative podcast Mother Country Radicals, which premiered at the Tribeca Film Festival in 2022 and won the award for "Best Audio Storytelling." Zayd's plays have premiered off-Broadway, across the country, and internationally - honors include the Horton Foote New American Play Prize, the Edgerton Foundation New Play Award, the Kennedy Center's Jean Kennedy Smith Award, the Sky Cooper American Playwriting Prize, Theatre Master's Visionary Playwright Award, and Lincoln Center's Lecomte du Nouy Prize. Zayd attended Brown and Columbia, received his MFA from NYU, and was a two-year Lila Acheson Wallace Fellow at Juilliard. He is currently a Professor at Northwestern University and Director of the MFA in Writing for the Screen + Stage.
Ariana Gharib Lee is an Award-winning podcast producer currently working for NPR's Invisibilia. At Dustlight, she senior produced the ten-part Crooked Media series -- Mother Country Radicals. It was the winner of this year's Tribeca Festival for non-fiction podcasts. Before that, she produced the Webby award-winning season of the podcast Tell Them, I Am. She also worked on Hello, Nature, an audio documentary about belonging and the United States' national parks. In addition to her work at Dustlight, Ariana has contributed to productions at Axios and Transmitter Media. She's also an alumna of Columbia University's Graduate School of Journalism.
Thai Jones is the Curator for American History at Columbia University, where he teaches the history of radicalism and social movements. He is the author of several books, including More Powerful Than Dynamite: Radicals, Plutocrats, Progressives, and New York's Year of Anarchy (Bloomsbury, 2014) and A Radical Line: From the Labor Movement to the Weather Underground, One Family's Century of Conscience (Free Press, 2004). His writing has appeared in a variety of national publications, including The New Yorker, the Washington Post, the New York Times, The Nation, and the Occupied Wall Street Journal.