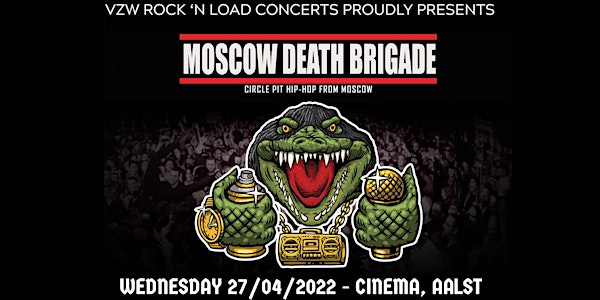 MOSCOW DEATH BRIGADE (rus) // Cinema,Aalst
Moscow Death Brigade
When and where
Location
Cinema Aalst 13 Hopmarkt 9300 Aalst Belgium
About this event
A mutual love for 80/90's crossover hip hop like Beastie Boys, Cypress Hill & The Transplants have let these Moscow natives to form their own unique blend of hip hop, party music, hardcore, punk & metal. An aggressive rap groove with guitar-heavy hardcore beats featuring the rawness of Moscow and their antifascist punk/hardcore background, make these masked trio stick way out of the pack.
Their disguise with balaclavas represents both their background (graffiti underground scenes and DIY progressive social movements), as well as where they are coming from and what inspired the band's views and philosophy but also allows them to become one with their music. And of course it adds an element of mystery to the legend of the band.
While the identity of the dj and two MC's is kept a secret, rumours are they have Siberian Meat Grinder members (remember Oilsjt Omploft 2018?) in their ranks. That being said, it won't be a surprise that Moscow Death Brigade transformed into a non stop, high energy, touring machine, conquering stages all over Europe.
Circle Pit Hip Hop, unique, raw, and ready to leave their mark!