Description
Presented by: Dr. Janice Marie-Johnson, Co-Director of Ministries and Faith Development UUA
This first New England Regional Mosaic Makers gathering will include dynamic worship, the co-creation of brave space, brief presentations, and lots of opportunity for rich conversation as we explore and experience together how to do anti-racist, multicultural ministry in and with our congregations. The event is designed to bring a racial equity and inclusion lens to congregational leaders as they work to transform their culture and embody Beloved Community.
Participants will:
consider what assets their congregation has to address the challenges to their vision/aspirations to be a vital anti-racist, multiracial/multicultural community
explore and define white supremacy culture and identify where that culture might be operating as a barrier to vital multiracial/multicultural ministries
name ways their congregation might institutionalize continuous learning and collaboration
determine ways congregational teams can continue to work together as they challenge themselves and each other to learn and grow
examine the Four Pillars of a Multicultural Congregation: worship, congregational culture, leadership, and justice ministry
draw on learnings from Mosaic Makers around the country
Teams will leave with an understanding of bold next steps they can take to advance their commitment to anti-racist, multiracial/multicultural ministry.
This event is open to teams of at least three from any UU congregation that has made a commitment to anti-racist, multiracial/multicultural ministry. Demonstration of that commitment may be evident in the congregation's mission or ends statements, history of anti-racist and/or racial justice ministry, faith formation programming, and religious professional and/or lay leadership of people of color. Any UU congregation can make such a commitment regardless of size, location or demographics since we are all part of a multiracial, multicultural world whether we live in Hawaii, with the smallest percentage of people of European descent of any state at 26%, or Maine, with the largest percentage at 95%. Centering the perspectives and experience of people in non-dominant groups is always an option — whether directly or indirectly. As Janice notes, "Anti-racist sensibility is what matters. It is far more important than counting the number of brown and black persons in our pews."
ABOUT THE PRESENTER: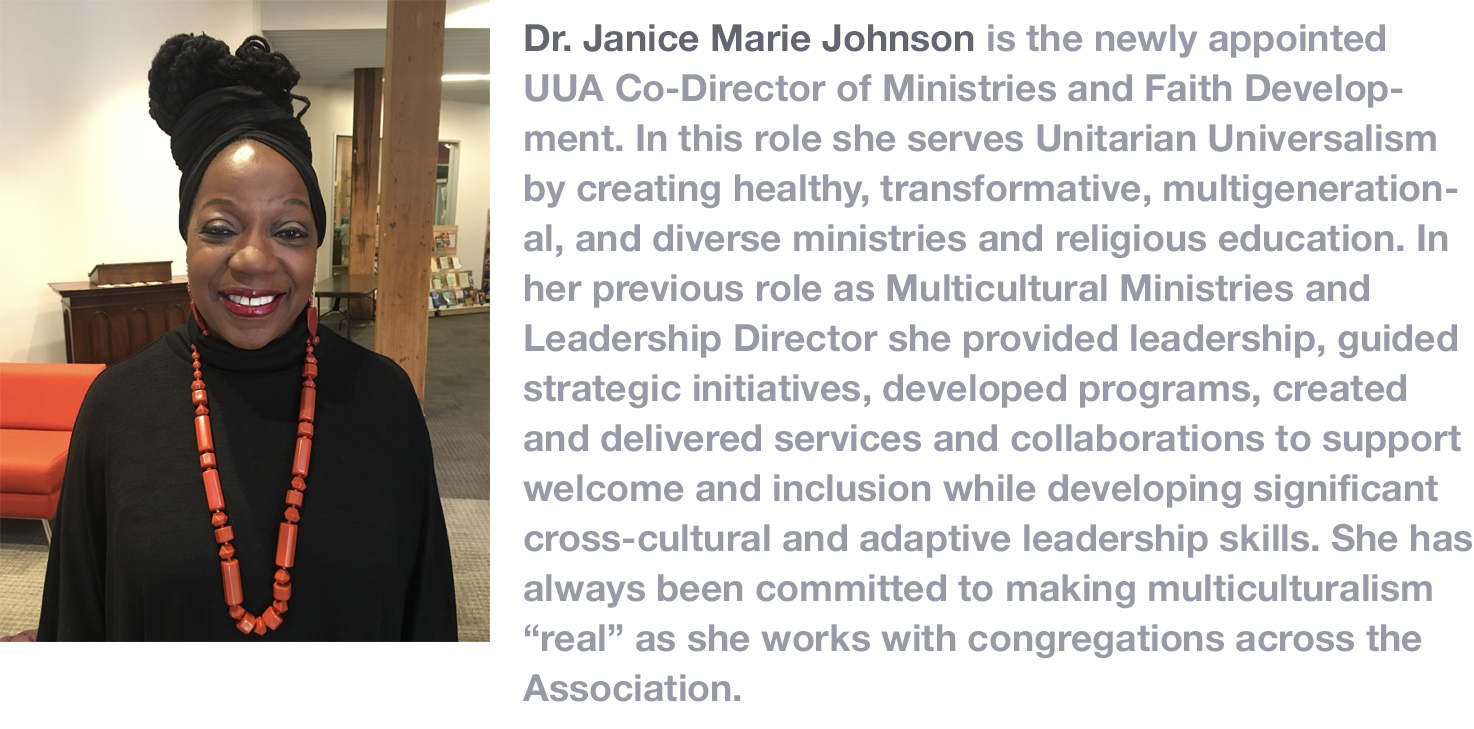 LOCATION: First Parish Church of Northboro, MA at 40 Church St, Northboro, MA 01532
REGISTRATION FEE:

$25 per person when you register 1-4 from your congregation
$15 per person when you register 5 or more from your congregation
As learning takes root more effectively when four or more people from the same religious communities attend, you are encouraged to attend this workshop as a team.
While we know that not all individuals are in a position to pay these fees, since the learning is on behalf of the congregation, we assume that congregations will select and financially support participants who come. However, if these fees are prohibitive even to the congregation, please contact us at newengland@uua.org. We do not want cost to keep anyone away.
NOTE TO ALL ATTENDEES: Please bring your own bag lunch. Morning refreshments, drinks and afternoon snacks will be provided.
REGISTRATION CLOSES: Monday, May 5, or maximum capacity.
CANCELLATIONS & REFUNDS:
If you or a teammate needs to cancel a registration before the event, please contact us as early as possible, by one week before the event at the latest, and a refund will be provided less a $5.00 administrative fee. Within one week of the event refunds less a $5.00 administrative fee will only be given in the case of illness or emergency. Refunds will not be available after the event for non attendance. We ask for your understanding in respecting this policy, which supports our organizational efforts and expenses.
The New England Region UUA may need to cancel an event in the case of low enrollment. We will contact you well in advance of the event and provide prompt, full refund of registration fees.