Description
Mosaic Crackle Paste Paintings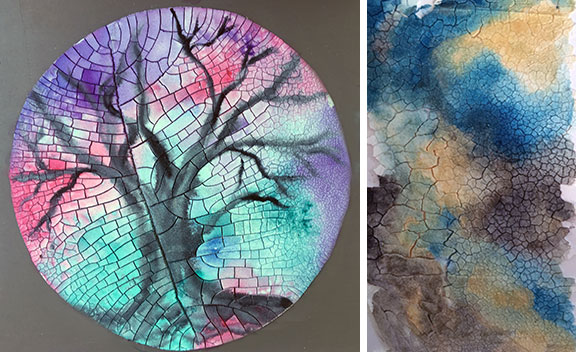 Saturday, February 3rd 1-4pm
$64 includes all supplies
Explore the fun and unique textured painting surface that GOLDEN Crackle Paste creates for your work, the subjects are endless and the exploration is always fun. Jen will create a crackle paste base for you to paint on in class and discuss a variety of ways you can create a unique painting using this product for areas in your work or as the base surface. You will also create your own surface to take home with you to try with a different subject. Jen will give you a variety of tricks to help determine the size of the cracks and tips for painting on the surface.

All class reservations must be paid in advance and cannot be cancelled or changed less than 72 hours prior to class. Sorry, no exceptions.
Jen is a Golden Arts Educator and had been painting since she was a kid and teaching art for over a decade. She teaches over 3,000 people a year in Ventura's Elementary Schools and at Red Brick. Her knowledge of painting and the all of the GOLDEN Artist products will inspire you and help any level of painter develop their creativity.
If you have ever wanted to try Acrylics but didn't know where to start or have dabbled in Acrylics and need direction these are the class for you. Each class will have a different focus and a wide variety of samples to inspire you. We encourage you to explore this fun and unique medium as we learn a variety of techniques that can be applied to any subject. You can choose to work on a larger painting over a series of classes or work on a new project each week or even start several pieces in one class. Each class is tailored to the students that come to the session and are great for beginning students and intermediate students who want a more formal art session to explore a more in-depth process of using acrylics. Check the supply list at the bottom of the page for recommended products and info.