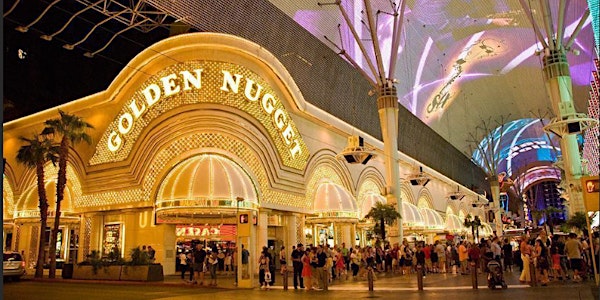 Mortgage Revolution 2019 #justthetip
When and where
Location
Golden Nugget Las Vegas Hotel & Casino 129 East Fremont Street Las Vegas, NV 89101
Refund Policy
Refunds up to 7 days before event
Description
True Strategies. Real Loan Originators.
Mortgage Revolution is a different type of sales and marketing conference where active Loan Originators share their best strategies and tips with a small group of trusted industry friends.
______________________
We are changing the format a little bit this year- and we know you'll love it!
Friday morning will start with registration, coffee & breakfast at 8:30 am. There will be a Bloody Mary Bar available for the first hour for those of you who aren't ready for breakfast. ;)
This year we are giving some of our key speakers time go a little deeper on their topics, while also encouraging more loan officers who aren't as comfortable on stage to step up and share #quicktips. Our goal is to have as many ideas shared as possible. If you have a nugget you would like to contribute please reach out to Katy or Mark.
We all know the lending environment is changing and overall industry volume is down, so our focus this year will be on how to adapt to get a bigger piece of a shrinking pie. Some of the Nation's top producing LOs will be sharing what they are doing to continue to thrive regardless of any market shifts. We are also pretty excited to make a million jokes about how to #getapiece.
Tickets are $150 and inculde breakfast & lunch. Ticket prices will increase on 5/15 to $185.
.
Saturday, June 8th is a full day of casual networking around the pool and at Gold Spike where everyone can collaborate on World Domination strategies, build valuable friendships or simply blow off some steam with other industry people who get the struggle.
100% of the proceeds go to a very worthy charitable cause, which means this event is not financially influenced by vendors or spam artists.
Whether it is a proven marketing strategy or new technology, MRev's culture of open sharing and innovation creates a truly valuable networking and educational experience. (And slightly inappropriate jokes.)
______________________
About Our Conference:
MRev's culture of open sharing and innovation creates a truly valuable networking and educational experience.
This isn't a pitch fest where mortgage vendors buy the right to SPAM an email list or promote their products from a stage under the guise of "speaking".
Since education is at the heart of reform in our industry, Mortgage Revolution is all about connecting street level originators who want to share their strategies that help them succeed in today's market.
Education: Find out what's really working from top active originators
Networking: Meet mortgage professionals who care about your success
Strategy: Execution, implementation and proven systems that others are actually using
Leadership: Setting a higher standard for business conduct and ethical lending
Charity: 100% MRev profits are donated to charity, with $50k raised in our first year
Jokes: Lots and lots of jokes.
Everyone is an expert at something, and we sincerely believe that the key to success is to enable the success of others.
Show up, network, organize, share, teach, learn – you are responsible for your own education.
_______________________
Frequently Asked Questions:
Who is MRev?
Created in 2009, Mortgage Revolution is a grassroots movement lead by street level originators joining forces to participate in the process of building trust and integrity within the mortgage industry.
What is a Mortgage Revolution event?
MRev organizes non-profit, spam free mortgage networking events that promote a culture of innovation and sharing between active originators.
100% of all profits to go charity, and the speakers, sponsors and volunteers all pay for their own room, travel and registration for the purpose of keeping our events pure from politics or favoritism.
Where do I book rooms?
We have a special MRev discount through the Golden Nugget for a limited number of rooms. The block of discounted rooms are only available until May 15th. Call 1-800-331-5731 and give them the group name of Mortgage Revolution to book yours. A link/code will be added to this page in the next 24 hours.
NOTE: The group rate for rooms will only be available until 5/15.
What if I do not get a room at the Golden Nugget?
There are plenty of places to stay Downtown Las Vegas. However, if you are staying at a different hotel Downtown, make sure you do a review search to ensure you get a nice place.
The Las Vegas Strip is a 15 min cab ride away from Downtown with plenty of options as well.
What should I wear?
Something comfortable. It will be hot in Vegas that week, and the air conditioning may be kicking hard during the event. This is a time to network and learn without worrying about sitting around in a stuffy suit all day.
What is the event agenda?
People are showing up Thursday, if not earlier in the week for a different mortgage event. MRev will have a meetup planned for Thursday night Downtown Las Vegas.
Event registration and morning coffee will start Friday June 7th at 8:30 AM.