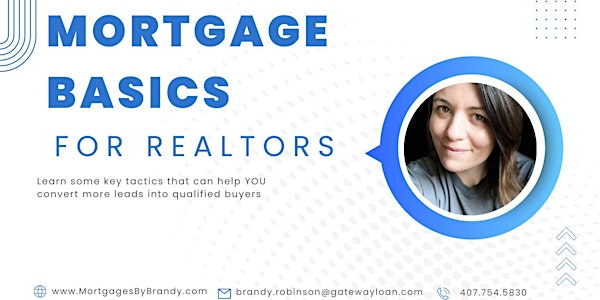 Mortgage Basics *FOR REALTORS*
Turning casual conversations into pre-approved buyers.
About this event
How many more homes could you sell if you had some mortgage knowledge under your belt? Let's be honest, in so many cases people talk to realtors first. If they want to buy a house, they go to YOU! By knowing some key things, you'll know what to listen for, and often time the REALTOR is the key to turning a renter who thought they might not ever be able to purchase something into a homeowner. Imagine this, you are at an open house, a party, a bar, wherever....and the person next to you starts to express that they want to own a home. Your ears perk up. Now that you know this, how can you help them? You could just immediately refer to your lender partner but what if you showed some value and built some rapport first. By offering advice (even if its just to talk to a lender) you are putting them in the right direction towards homeownership. This class will teach you the basics of mortgage lending, types of loans, credit scores, down payment requirements, documents, the process, and the scripts that will get your leads to apply so they can get approved to CLOSE.