Description
This luncheon workshop/seminar covers IT security/compliance, cloud-based solutions for both end point client management and unified communications/telephone services, plus private/public/hybrid cloud architecture and Containers/DevOps. There is a Microsoft keynote featuring both Dan Stolts and Dan McGuigan, two globally renown IT evangelists, plus subject matter experts presenting from Shoretel, Ivanti and Darktrace. Scroll down to see the full agenda and click on links to see company information and speakers' biographies, who deliver concise, technical, educational and non-salesy talks.

Content is pre-approved by Angelbeat and past attendees to maximize learning; click here to download presentation guidelines that are followed by all participants, which makes the program so worthwhile for IT Directors, Security Analysts, Enterprise Architects, Network & System Administrators, Data Center/Storage/Infrastructure Managers, CISO/CIO's, etc.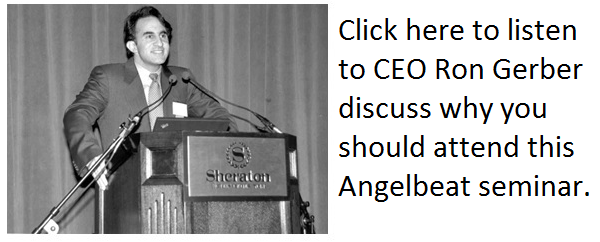 As one Walmart attendee states, "Of all the seminars I attend, your format is by far the best. Brief informative talks from vendors, followed by one-on-one time at their booth to find out more. I am out of the office for less than a day yet I have access to all the different solutions. This year I will follow up with two vendors." As another IT Director commented, "Thanks for hosting a very informative meeting with vendors that tied in well; it was an integrated picture of technologies that work together to create a complete infrastructure solution for the workplace."

Join your peers from Honeywell, Benjamin Moore, UPS, Odyssey House, Con Edison, New York Stock Exchange, Ernst & Young, Sterling National Bank, Ashley Stewart, Atlantic Health, Verizon, Rutgers University, Bergen Community College, Centenary University and many more organizations who are confirmed attendees.

Every attendee receives a full hot lunch, free parking, complimentary Wi-Fi, plus 2 CPE credit hours towards your CISSP or other certification. There are drawings for a $250 gift card and other prizes at the end.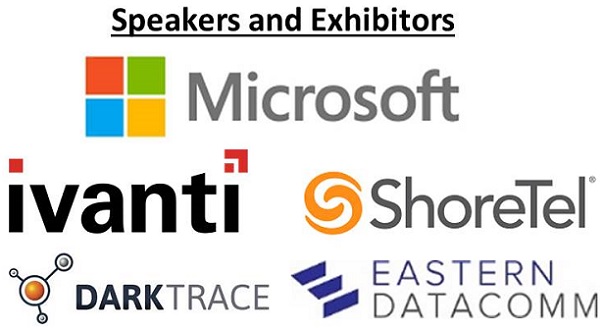 Agenda

10:45- 11:30: Registration Begins, Exhibit Area Open with Product Demonstrations, Time For Peer Networking/Interaction

11:30 - 11:50: The Enterprise Immune System - A New Approach to Cyber Defense with Darktrace
Fast-evolving cyber-threats call for a change in the way we protect our most critical information assets, in a digital world more interconnected than ever. Understand from Darktrace how new self-learning technology, known as the "Enterprise Immune System," marks a fundamental transition in cyber defense, allowing organizations to gain indispensable visibility into their network, and detect emerging cyber-threats that bypass traditional security controls.

Thanks to fundamental advances in mathematics and unsupervised machine learning developed at the University of Cambridge, UK, Darktrace's technology is capable of learning what is normal and abnormal within an organization, detecting genuine behavioral anomalies, without using rules or signatures. More than 250 organizations across the world rely on its Enterprise Immune System to defend against novel cyber-threats, including insider threat, and protect themselves in today's changing threat landscape.

Austin Eppstein, one of Darktrace's top cyber security experts, will cover the following subjects during this session:
- Learn why "immune system" technologies represent a fundamental innovation for cyber defense
- Discover how to apply machine learning and mathematics to detect advanced, internal threats
- Understand how to gain 100% network visibility to investigate emerging anomalies in real time
- Hear real-world examples of threats detected by the Enterprise Immune System

11:50 -12:10: IT Modernization and Automation Strategies with Ivanti
Gartner routinely surveys IT executives in providing an assessment on where they are in terms of maturity, modernization and automation strategies, and where they want to be. Surprisingly, the average score of those who complete the assessment is 2.31 out of 5. Only 10% of companies surveyed have scored 3.0 or greater.

During this educational session, Thomas Adams from Ivanti will offer insights on accelerating your organization's deployment of modernization and automation strategies and tools.

12:10 - 12:30: Cloud-Based and Hybrid Unified Communications/Telephone Systems from Shoretel and Eastern Datacomm
With Telephone/Voice systems running over IP networks, the next evolution is building a cloud-based unified communications platform, integrating cellular and landline numbers. This frees your workforce from being tied down to a desktop phone's physical location, while reducing telecommunications and facility costs. However, many businesses want the the flexibility and features of a cloud system along with the control that an onsite system provides.

Learn from Telecommunications expert MaryLou Wallner from ShoreTel, and its partner Eastern Datacomm, about the advantages of hybrid and cloud-based/hosted systems, and how to best migrate to this platform from your existing voice infrastructure.

12:30 Full Hot Lunch Served, Product Exhibits Open, Microsoft Keynote

Linux, Windows Server and Hyper-V Containers: What They Are, Which One to Use, Why and How, plus Integration with Azure Private/Public/Hybrid Cloud, with Microsoft
A container is an isolated and portable operating environment. It provides a mechanism for IT to deploy services in a portable, repeatable and predictable manner. Container technology is the next evolution in cloud/virtualization platforms, and in addition to Linux, Windows now also offers two different types of containers for addressing various business needs.

In this session Dan McGuigan and Dan Stolts, world renown Technical Evangelists at Microsoft and dynamic/engaging presenters, will examine the similarities and differences between a container and a virtual machine, review the requirements and walk through the processes and essential operations of enabling, creating, deploying and managing Linux and Windows containers and resources. They will also evaluate when to use which containers, why and how?

For those who are new to containers, his delivery serves as a jumpstart to accelerate your learning of containers. If you have already had some experience on Linux containers, his session familiarizes you with the specifics on Windows containers and helps bridge and extend your skills for bringing business value to both Linux and Windows communities.

Messrs. McGuigan and Stolts will conclude this session by highlighting the top five new features in Microsoft's Azure cloud platform for 2017, and how to integrate your organization's public/private/hybrid cloud and container/virtualization strategies. Lots of valuable content for infrastructure, data center and DevOps professionals.

End of Event, Raffle Prize Drawings for gift cards and other great items!

FAQs

What are Angelbeat's privacy and optin/optout policies
Each attendee acknowledges/understands that financial support from Angelbeat sponsors allows him/her to attend this event at no cost, and that the sponsors will be given your contact information 2 days after the event for follow-up email and telephone communications. All sponsors are required to provide you with an opt-out option, allowing you to be removed from their database

However each attendee can opt-out of sponsor follow-up by informing Angelbeat staff at the event, or by emailing Angelbeat immediately after the event, but before Angelbeat releases the attendee list to the event sponsors.

If you have any questions regarding Angelbeat's privacy policies and how your contact information is used, please contact CEO Ron Gerber directly at 516-277-2057 or at rgerber@angelbeat.com.

Who is eligible to receive a free pass
There is no charge to attend for an end user IT professional who works in the telecom/network/storage/security/data center/desktop/purchasing departments of corporations (private and publicly-held, large and small), universities, school districts, government agencies, hospitals/healthcare providers, pharmaceuticals, insurers, manufacturers, retailers, financial services/banks, real estate, legal/accounting/services, transportation/logistic firms, etc. and use, support, approve and/or are involved in or influence the decision to buy the products and services offered by our sponsors.

All free attendees must be pre-approved in advance by Angelbeat. Angelbeat reserves the right to accept or reject a free pass request at its sole discretion. As a general policy Angelbeat does not offer free passes to individuals at companies that are looking to sell their products/services to the end user personnel described above, who attend our events at no charge. If you fall in this category and would still like to attend then the fee is $150/person. To sign up please click here, complete the pdf document that appears and fax it back to Angelbeat at 703-783-8015. If you are a non-sponsoring vendor/integrator/consultant and would like to attend but avoid paying this $150 fee, then you must be accompanied by one of your clients who has not previously registered, and is a CIO, CISO or IT Director that meets the end user criteria above. Full-time reporters from major newspapers, websites, television and radio stations can attend as our guest, but again must be approved in advance.

If you do not meet the above criteria and still try to register, then you will receive an automatic reply/confirmation from Eventbrite. However you will shortly receive another email from Angelbeat, rejecting and cancelling your registration.

What are my transport/parking options getting to the event
Detailed driving directions will be sent out to all attendees one week before the event. There is complimentary self parking.

What is the dress code
Suggested dress is business casual.

What if you have special dietary needs/restrictions
If you have special dietary needs/restrictions, then please email Angelbeat below. We will do our best to accommodate any and all requests.

What if I am a government employee and cannot accept free meals and/or win raffle prizes
If you are a government employee and cannot accept free meals, then you can pay Angelbeat $35/person, to cover the cost of breakfast. Please contact the event organizer at registration@angelbeat.com to arrange payment.

Each sponsoring company/exhibitor handles its own raffle prize drawing; Angelbeat itself has nothing to do with these prizes and attendees are not automatically entered for any raffle prize drawing. Since each attendee must individually signup to win a raffle prize, then government employees (who are not eligible to win these prizes) can simply not signup for the drawing.