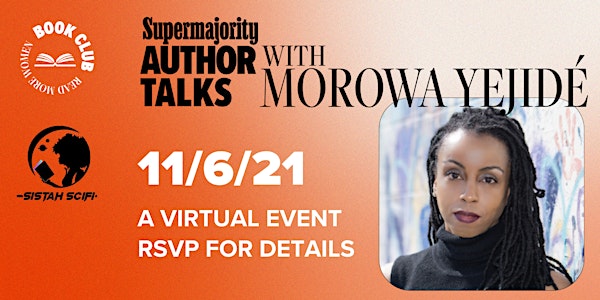 Morowa Yejidé in conversation with Cara Bernard
Join Supermajority and Sistah Scifi for a conversation with author Morowa Yejidé on her latest book "Creatures of Passage."
About this event
Morowa Yejidé in conversation with Supermajority - presented with Sistah Scifi Bookstore
Our second Supermajority Book Club author talk is with Morowa Yejidé, author of the science fiction novel Creatures of Passage, presented with Sistah Scifi Bookstore. Set in a fictionalized neighborhood in 1970s Washington, D.C., Morowa Yejide excavates the intergenerational trauma experienced by Black families in our country's Capital, as well as the strength, love, and resilience. In conversation with Supermajority's Cara Bernard, they'll discuss the powerful themes in "Creatures of Passage" and how they relate to Supermajority Education Fund's Majority Rules.
The event is FREE and will take place virtually on November 6. Following the conversation, we'll have a member book club discussion. Reserve your spot today and we'll follow up by email with details for how to join the virtual conversation. Be sure to double check your information at check out and use an email that you regularly check.
Supermajority is a FREE member-based organization with a clear goal: build women's political power and make gender equality a reality. Supermajority Book Club events are exclusive for members. By submitting your Eventbrite registration, you consent to joining Supermajority as a member and/or affirming your membership, and receiving our Supermajority Book Club email newsletter. Membership is FREE and gives you access to events, actions, resources, and a community working for the same future you are. You can opt out at any time.
ABOUT CREATURES OF PASSAGE:
Nephthys Kinwell is a taxi driver of sorts in Washington, DC, ferrying passengers in a 1967 Plymouth Belvedere with a ghost in the trunk. Endless rides and alcohol help her manage her grief over the death of her twin brother, Osiris, who was murdered and dumped in the Anacostia River. Unknown to Nephthys when the novel opens in 1977, her estranged great-nephew, ten-year-old Dash, is finding himself drawn to the banks of that very same river. It is there that Dash—reeling from having witnessed an act of molestation at his school, but still questioning what and who he saw—has charmed conversations with a mysterious figure he calls the "River Man."
When Dash arrives unexpectedly at Nephthys's door bearing a cryptic note about his unusual conversations with the River Man, Nephthys must face what frightens her most.
Morowa Yejidé's deeply captivating novel shows us an unseen Washington filled with otherworldly landscapes, flawed super-humans, and reluctant ghosts, and brings together a community intent on saving one young boy in order to reclaim itself.
ABOUT SISTAH SCIFI BOOKSTORE:
Founded by Isis Asare, Sistah Scifi is a cauldron of all things afro-futurism; Black mysticism, science fiction noir, and traditional voodoo; casting spells to uplift literature written by Black and Native American women.