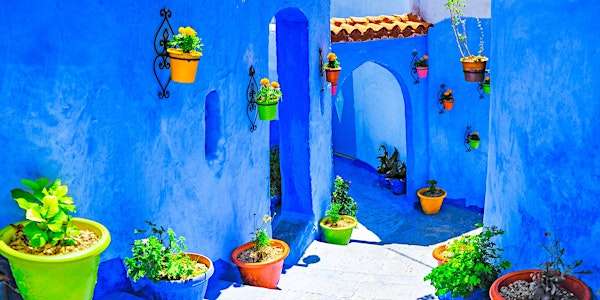 MOROCCO Magic & Mystery with Ancient Casbah & Sahara
Travel with us to the very beginnings of our time, thousands of years BC, to the magical land of Morocco & the mystical sands of the Sahara
When and where
Location
Marrakesh Central Marrakesh, Marrakesh-Tensift-El Haouz 40000 Morocco
Refund Policy
Contact the organizer to request a refund.
Eventbrite's fee is nonrefundable.
About this event
Travel with us to the very beginnings of our time, thousands of years BC, to the magical land of Morocco and the mystical sands of the Sahara desert. Beyond Big Mountain has crafted a journey beyond travel that will string together unforgettable moment after moment into an experience that you will never forget. Your mind, body, and spirit will be thankful and in harmony after our 9 musical days together...
Roaming through ancient medinas, haggling at zouks, learning about magical Morrocan carpets, herbs, spices, & teas, and experiencing how modern day life can co-exist with antiquity bringing tranquility amidst chaos.
Drinking aromatic mint and hibiscus teas and eating delicious healthy foods on rooftops, beautiful restaurants, in courtyards, at the Kasbah, and under the stars in the Sahara desert.
Experiencing the traditional detoxifying Moroccan bath and centering massage, practicing yoga and mindful stretching in the desert, getting a desert stone foot massage under the stars, stretching your legs and mind on a path through the golden desert sands.
Meeting artists and musicians to practice right along side of them. Make jewelry in a zouk. Learn to create mosaics from semi-precious stones. Draw in the dunes of the Sahara desert. 
Learning history, spiritual traditions, and cultural legacy of the people themselves. Visit museums. Meditate to a desert sunrise. Sing at sunset. Learn to sand dance. Meditate to bring your body, mind, and spirit to a harmony you may have not yet known.
Laughing at how purely wonderful life can be with new friends, exotic places, mindblowing landscapes, and a few camels thrown in for fun.
This trip is NOT for the tourist who wants a luxury bus, tightly planned schedule, glossy guidebook, and personal comfort 100% of the time. This journey is for those who want an experience that changes the very way they think about their life, spirituality, health, history, art and music. Steeped in storytelling, bold design, delicious food, dancing, meditation, mindful walking, talking, sunsets, moonrises, laughter, and learning, this trip will feel like a movie with you as a  and spirituality, this trip will their ideas about history, health, art, and spirit.
The tour is led by Tanya Abreu, health and wellness evangelist, world traveler and trip organizer. professor of English & Writing, and healthcare industry consultant as well as an inspirational team of antiquity experts, desert people culturalists, natural health providers, history scholars, and arts and music specialists.
Detailed agenda will be released on May 1, 2022.
PRICE OF MOROCCO & SAHARA MAGIC & MYSTERY
$2400 double $2900 single
No-Credit Check Financing Available with 25% down.
WHAT IS INCLUDED:
PRETTY MUCH EVERYTHING. ALL INCLUSIVE. Except for alcoholic drinks, artwork, souvenirs, additional food and snacks, and tipping to musicians, guides, and interpreters as you feel appropriate. ROUNDTRIP AIRFARE IS NOT INCLUDED AND WILL BE OFFERED TO YOU AT A GROUP TRAVEL PRICE BY October 1, 2022 (Estimated cost is under $1000) PLEASE DO NOT BOOK YOUR AIRFARE BEFORE OCTOBER 1, 2022.
All transportation in the country.
Breakfast, lunch, and dinner DAILY and non-alcoholic beverages.
All entrance fees to museums, cultural centers, excursions, desert activities, and galleries.
Musical Performances.
Private art shows and receptions.
Guides and Interpreters.
24/7 Access to Journey Facilitator & Problem Solver.
Morocco & Sahara Mystery Tour
November 23 - Dec 2 , 2022
Agenda as of 06/15/2022
Day 1 & 2 – Nov 23/24 (Wed/Thu)
Departure from the United States with the group or independently with personalized pick-up at the airport in Marrakech.
Arrival to Riad/Hotel. Welcome, Morocco Tea Service. Rooms and Rest.
4 p.m.   Tour of Jemaa el Fna. Marrakech's Central Square. Located on the edge of the ancient medina between the souks (markets) and Koutoubia Mosque, this unique setting is electrifying at night with thousands of locals and some tourists embracing the Moroccan night with performers, street food, snake charmers, circus performers, food and craft vendors. This is a lifetime memory of an ancient gathering place where people celebrate being alive and free.
5:30 p.m.       Sunset Watch and Welcome to Marrakech Rooftop THANKSGIVING Banquet with Live MUSIC
8:00 p.m.       Return to Riad/Hotel. Rest. Optional Group Relaxation. Early to bed. Early to Rise.
Day 3 – NOV 25 FRIDAY
8 a.m.             RIAD Breakfast and Briefing
9 a.m.             Departure from Marrakech. Road trip to Kasbah and the experience of life in another time and place.
Noon              Drive through the magnificent Atlas Mountains and Stop for Lunch & Relaxation
3 pm               Reach Ouarzazate, Gateway City to the Sahara desert and TOUR OF CLA International Movie Studios.
EVENING ARRIVAL to KASBAH DES KAIDS with reception, rooms check in, and traditional Berber reception, feasting, music, and dance.
Day 4 – NOV 26 SATURDAY
7 a.m.             Sunrise Yoga or Power Fitness Class
9 a.m.             Berber Breakfast on Kasbah Rooftop
10 a.m.           Tour of Kasbah – Group 1
11 a.m.           Tour of Kasbah – Group 2
11:30 to 1 pm           Berber Beading Workshop OR Drumming/Clapping Lesson
1 pm to 3 pm             Lunch & Siesta
3 to 5 pm                   The Art of Henna Workshop OR Afternoon Walkabout
6 pm                           Rooftop Gathering, Sunset, and Sharing
7:30 pm                     Dinner & Tale Telling
Day 5 – NOV 27 SUNDAY
7 am Rooftop Yoga
After Breakfast departure from Kasbah and road trip to an OASIS where we will- like centuries of travelers before us- STOP, REFRESH, AND WAIT FOR WONDERFUL THINGS TO HAPPEN.
Impromptu Shopping on Road with Lunch
Arrival to Oasis, Check In, Peace, Swim, Walkabout.
4 – 5 pm        Lecture: Morocco: The Art of Sensual Living
5 – 6 pm        Hands-On Lecture: Camel Culture 101
7 pm               Banquet, Belly Dancing, & Entertainment         
Day 6 – NOV 28 MONDAY
7 am               Oasis Yoga or Power Fitness Class
9 am               Breakfast & Departure to Big Desert in 4x4s
Arrival to Sahara Camp, Check In, Tea Refreshment, Lunch, & Rest
3 – 4 pm        Lecture: Berber Life and History 101
5:00 – Dusk Playtime in the Sandbox of the Big Desert: Sand Surfing, Hiking, Meditation
7:30 pm         Dinner & Campfire with Music & Optional Hot-Stone Foot, Hand, and Neck Massage
                        POP UP Night Club Under the Desert Sky
Day 7 – NOV 29 TUESDAY
7 a.m.             Big Desert Yoga and Meditation or Power Sand Fitness Class
8:30 a.m.       Breakfast
10 – noon      Amulet Box Workshop or Art Class
12-3 pm         Desert Cooking Class & Lunch, Siesta
330 -5 pm      Berber Turbans, Dresses, and Happy Hour
Sunset Camel Ride (optional) or Sunset Meditation
7:30 pm         Sultan's Feast & Sufi/Sand Dancing
Day 8 – NOV 30 WEDNESDAY
7 am               Early Breakfast & Departure to Zagora & Transportation Back to Marrakech
MARRAKECH EXPRESS RETURN TO CITY WITH PICTURESQUE STOPS FOR: Argan Oil, Carpets, Lunch, Memories, and Fun
5 pm-ish        Return to RIAD in Marrakech Arrival to Riad, Check In. Freshen Up.
7 pm               Hotel Dinner & Sharing
10 pm             Optional Marrakech Night Club Experience
Day 9 – DEC 1 THURSDAY
8 a.m.             Yoga or Fitness Class
9 a.m.             Breakfast
10 am             Leave for tour of Marjorelle (Yves St. Laurent) Gardens and Monuments
1 pm               Lunch in the Medina
2:30 – 5 pm   Tour of Medina & Souks & Shopping
7 pm               Farewell RIAD DINNER & Entertainment
Day 10 – DEC 2 FRIDAY
Departure and Return Home