Description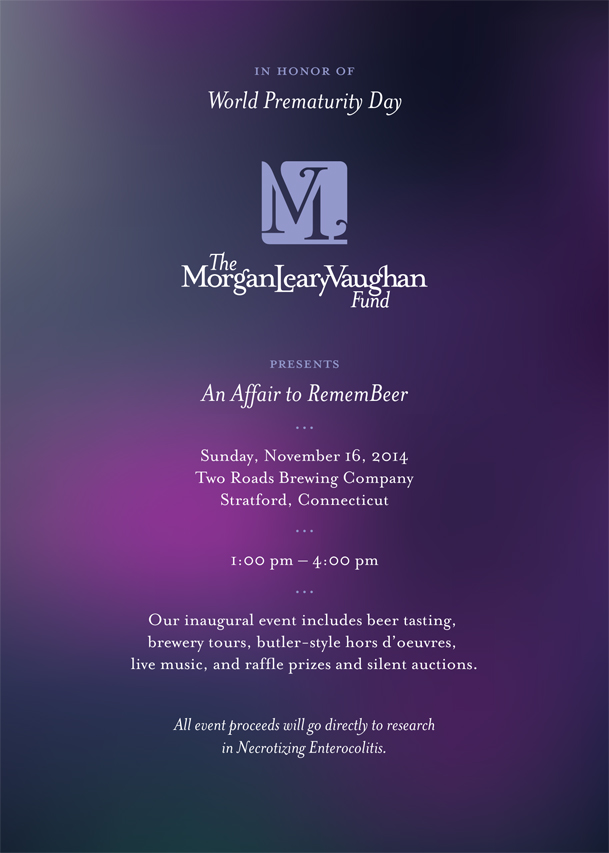 What is World Prematurity Day?
World Prematurity Day is observed on November 17 and is a global movement to raise awareness about prematurity and the challenges faced by preterm babies and their families worldwide.
Who is The Morgan Leary Vaughan Fund?
The Morgan Leary Vaughan Fund (Morgan's Fund) is an all-volunteer, public charity dedicated to Necrotizing Enterocolitis (NEC). Its mission is to promote public awareness about NEC and the potentially devastating effects it can have on preemies and their families, and to advance research to prevent, diagnose, treat, and ultimately, cure NEC. Named after Morgan, it celebrates his survival, courage and strength.
Morgan and his twin brother were born at 28 weeks, one day gestation—nearly three months early—each weighing less than 2.5 pounds. At four days old, Morgan developed NEC and lost approximately 20% of his small intestine. Morgan not only survived but has also thrived since his bout with NEC. This is his family's way of paying it forward.
What is Necrotizing Enterocolitis (NEC)?
NEC is an inflammatory disease that leads to necrosis (death) of the intestine. It is predominately due to prematurity and its statistics are startling. NEC is the second leading cause of death in premature infants. NEC is the 10th leading cause of infant death overall. In the United States alone, NEC occurs in approximately 25,000 babies per year. All newborn infants born preterm or born with a low birth weight (less than 5.5 pounds) are at increased risk for NEC. The smaller the infant or the more premature the delivery, the greater the risk. Despite extensive study, the cause of NEC is uncertain.
(Sources: UC Davis Health System, CDC/NCHS, APSA and NICHD.)