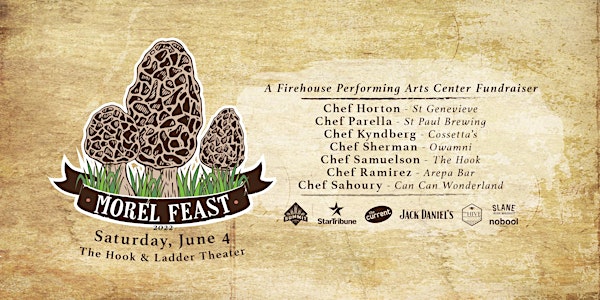 MOREL FEAST - 4th Annual Spring Fundraiser
Supported by Summit Brewing & Star Tribune
Performers
The Morel Mushroom
Mill City Hot Club
Location
The Hook and Ladder Theater
3010 Minnehaha Ave
Minneapolis, MN 55406
A feast of fresh foraged Morel Mushrooms and way more!!
About this event
4th Annual Sprin Fundraiser
MOREL FEAST
Saturday, June 4
The Hook and Ladder Theater
Cocktails & Snacks 6pm :: Dinner7:00pm :: 21+
Reservations*: $100 (Tickets limited)
*Includes all fees
NO REFUNDS
~ A Firehouse Performing Arts Center Fundraiser ~
Attention Minnesota Foodies!
After a 2-year pandemic-inspired hiatus, the non-profit Hook & Ladder Theater in south Minneapolis is proud to announce a return to it's Annual Morelfeast Fundraiser on Saturday, June 4th, featuring an outstanding mix of local chef-talent from award-winning twin cities' restaurants, with a focus on eclectic preparations of Minnesota's state fungus - the mighty Morel!
As in past years, The Hook & Ladder Theater will be transformed for one-night only into a pop-up culinary exploration of this coveted rite-of-spring! This year featuring live entertainment from Mill City Hot Club, a variety of complimentary Craft Beers by Summit Brewing, a variety of complimentary Craft Wines and fresh morels sourced through The Gentleman Forager.
The 2022 Morelfeast will also be safely held Under the Canopy as an indoor/outdoor event and Tickets will be limited to just (100) in total.
Guests will receive a series of tokens upon arrival, each is good for (1) sample plate at every chef station, in addition to the apps, the salads, a variety of fried fresh Morel preparations and beverages!
-----
6pm Cocktails & Snacks
Sliced French Bread (Rustica)
Délice de Bourgogne Cheese (Whole Foods)
Morel Sausage Bites
Complimentary Beverages
7pm Dinner Service
Fresh Watercress Salad with Grandma Edna's Warm Bacon/egg Vinaigrette
Grilled Ukrainian (Kramarczuk's) Prosciutto-wrapped Fresh-picked Asparagus Spears, Drizzled in a Lemon-morel Butter
Fresh Fried Morels, both Amish roll-butter and Maytag Blue-cheese Options
7 Chef Preparations
Chef Horton (St Genevieve) - Mushroom Powder Sourdough, with a Green Garlic Ricotta, Morel Ragu, Pea Puree, and Pea Shoots
Chef Parella (St Paul Brewing) - Morel Ravioli with St. Paul Brewing's Crook's Haven Porter Alfredo
Chef Kyndberg (Cossetta's) - Black Truffle Polenta, Morel Mushroom Ragu, Tallegio and Wild Leeks
Chef Sherman (Owamni) - Surprise Preparation!!
Chef Samuelson (The Hook) Steak and Morel Tacos with Masa Tortillas (for our gluten free guests and a 'morels only' option for our vegetarian guests)
Chef Ramirez (Arepa Bar) - Morel Mini Tarts
Chef Sahoury (Can Can Wonderland) - A Morel Zabaione with Spring Herb Tuile
===========
Please check the Hook & Ladder website for up-to-date Covid protocol details.
SAFETY NOTE: Some people are allergic to even the safest mushrooms. The first time you try a new wild mushroom, it is important that you eat only a small amount. Most wild mushrooms should not be eaten in large quantities since they are difficult to digest. Please consume responsibly. The Hook and it's partners are not responsible for any adverse reactions brought upon by unknown allergies and/or over consumption.
-----