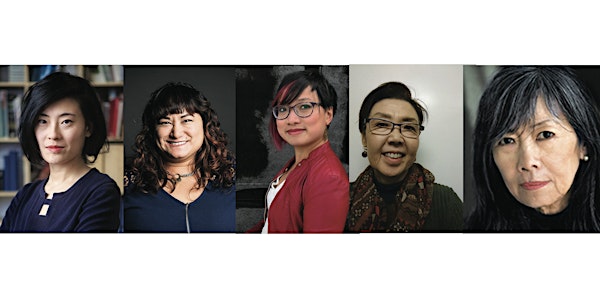 More to the Story: Asian American Women Journalists Respond
When and where
Location
Asian American Arts Alliance 20 Jay Street Suite 740 Brooklyn, NY 11201
Description
Who tells our stories and who decides how that story is told?
Join us during Women's History Month for a panel discussion with five Asian American journalists, who will talk about their own stories as professionals as well as how they choose which stories to present. Moderated by Lilly Wei, panelists will discuss the challenges of representation in media coverage and share advice on pursuing a career in journalism. The panel discussion will feature Dawn Chan, Jennifer Kho, Diep Tran, and Junko Tsunashima and will be followed by a 20-minute question and answer session.

The panel is free and open to the public. RSVP is encouraged to attend.

Panelists:
Dawn Chan is a New York-based writer and editor whose work appears in the Atlantic, Bookforum, the New York Times, the New Yorker, New York Magazine, Paris Review, Village Voice, and Vogue.com, among other publications. Dawn also frequently contributes to Artforum, where she was an editor from 2007 to 2018.

Jennifer Kho is the managing editor of HuffPost, where she leads editorial strategy and operations, including standards, audience, visuals, and partnerships. Prior to joining HuffPost in 2017, she served as the US managing editor of the Guardian, following roles as editorial partnerships editor and sustainable business editor in the New York office. As a reporter and editor with more than a decade of journalism experience, she has covered a broad range of topics, including business, tech, travel, and culture.

Diep Tran is the senior editor of American Theatre magazine, where she assigns articles for print and web and contributes regularly. She is the host of the Token Theatre Friends podcast and video series. Tran is also a freelance journalist, whose writing has appeared in the New York Times, Playbill, CNN, Hello Giggles, Time Out New York, Backstage, and Salon, among other publications.

Junko Tsunashima is the supervising producer of American Masters on PBS. She is the winner of an Emmy Award for Outstanding Documentary and a 5-time Emmy nominee. Tsunashima began her film career coordinating for Japanese companies filming in the United States and was part of the Culture and Arts Documentary Unit at THIRTEEN, producing projects such as Peabody Award-winning Degas and the Dance.

Lilly Wei (moderator) is a New York-based independent curator, writer, journalist, and critic whose area of interest is global contemporary art and emerging art and artists, reporting frequently on international exhibitions and biennials. She has written for dozens of publications in the US and abroad and is a longtime contributor to Art in America and a contributing editor at ARTnews. She is the author of numerous artists' catalogues and monographs and has curated exhibitions in the United States, Europe, and Asia.


#WomensHistoryMonth
#Herstory
#AsianAmericanRepresentation
#AsianAmericanJournalists
#JournalismPanel
This program is supported, in part, by public funds from the New York City Department of Cultural Affairs, in partnership with the City Council; the New York State Council on the Arts with the support of Governor Andrew M. Cuomo and the New York State Legislature; and Con Edison.