Event Information
Location
Patchwerk Recording Studios
1094 Hemphill Avenue Northwest
Atlanta, GA 30318
Description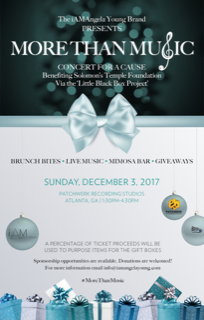 iAmAngelaYoung
PRESENTS
"More Than Music"
A Live Music Experience
Concert for a Cause
EVENT OVERVIEW
MORE THAN MUSIC is an intimate concert meant to champion the arts and provide a platform for women to share their raw talents that often go unheard. These artists will come together all in the spirit of giving. We will curate a magical music experience for all guests while supporting the dynamic poets and talented artists that will grace the stage. Expect good vibes, delicious brunch bites, a tasty mimosa bar, dope live performances, and GREAT giveaways. This will be an afternoon celebrating WOMEN! An afternoon of fun for WOMEN ONLY!
A percentage of all the ticket sales will go toward purchasing much needed toiletry items for the "Little Black Box Project', a community service initiative that fills holiday gift boxes with toiletry items that are donated to a local women's/children's shelter. This year, the boxes will be donated to Solomon's Temple Foundation, Inc.
Solomon's Temple is dedicated to the eradication of homelessness by empowering affected individuals to overcome life's challenges, realize their potential, define their own destiny and become vital factors in the revitalization and sustainability of their community. To accomplish these goals, Solomon's Temple bundles services for families in a way that provides emergency and transitional housing, social, financial and educational supports for the residents. This model is empowering not only for the women, but also for their children. I invite you to visit their website at www.solomonstempleinc.org for more information.
~A feminine music vibe with a holiday twist, ALL for a great cause.
#MoreThanMusic
Featured Elements
Delicious Brunch Bites
Live Music (4 music artist; 2 spoken word artist; all WOMEN)
Tasty Mimosa Bar
Photo-Booth Fun
Giveaways
Date and Time
Location
Patchwerk Recording Studios
1094 Hemphill Avenue Northwest
Atlanta, GA 30318
Refund Policy