About this Event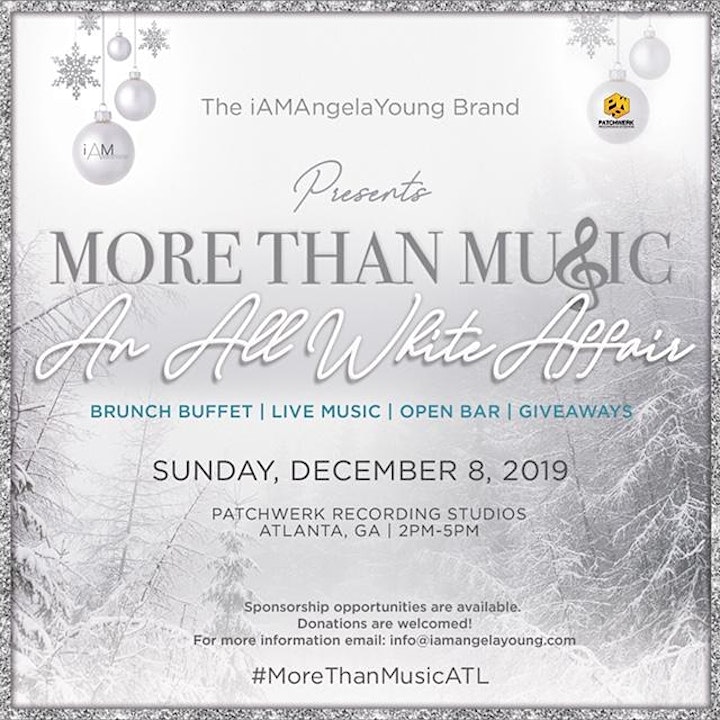 iAmAngelaYoung
PRESENTS
The 3rd Annual "More Than Music" Benefit Concert is here!
A Live Music Experience
Concert for a Cause
EVENT OVERVIEW
MORE THAN MUSIC is an intimate concert meant to champion the arts and provide a platform for women to share their raw talents that often go unheard. These artists will come together all in the spirit of giving. We will curate a magical music experience for all guests while supporting the dynamic poets and talented artists that will grace the stage. Expect good vibes, delicious brunch bites, a tasty mimosa bar, dope live performances, and GREAT giveaways. This will be an afternoon celebrating WOMEN! An afternoon of fun for WOMEN ONLY!
Of course, we always do it for the community. A percentage of all the ticket sales will go toward purchasing much needed toiletry items for the "Little Black Box Project', a community service initiative that fills holiday gift boxes with toiletry items that are donated to a local women's/children's shelter. This year, the boxes will be donated to Wellspring Living.
Wellspring Living has been serving survivors of childhood sexual abuse and exploitation since 2001. They are devoted to safeguarding and empowering domestic sex trafficking victims and those at risk to develop the courage to move forward and the confidence to succeed. Through life-giving residential and community-based programs, girls and young women are provided the opportunity to live and dream again. This model is empowering not only for the women, but also for their children. I invite you to visit their website at www.wellspringliving.org for more information.
~A feminine music vibe with a holiday twist, ALL for a great cause.
#MoreThanMusicATL
FEATURED ELEMENTS:
Cocktail Hour:
-Interactive Stations/Prizes
-Delicious Brunch Bites
-Tasty Mimosa Bar
-Insta-Worthy photo installations
-Guests will enjoy an afternoon of musical and visual artistic performances (energy exchange)
-Giveaways
-Connect with other dope women!
We're just indulging in the ULTIMATE SUNDAY FUNDAY with other phenomenal women. Pull up on us. We can't wait to eat, drink, and vibe out with you! ISSA VIBE SIS!
THEME: Winter Wonderland: An All White Affair
ATTIRE: Winter White
*We are currently accepting sponsorships. Email info@iamangelayoung.com to inquire.*
2018 HIGHLIGHTS: Pictures are worth a thousand words!