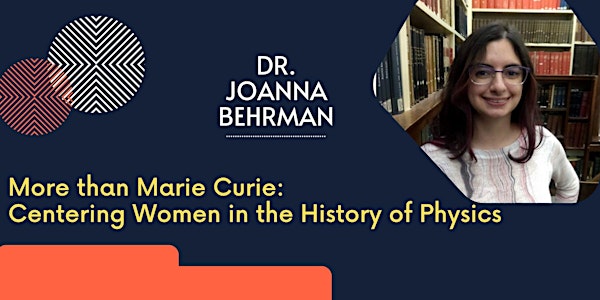 More than Marie Curie: Centering Women in the History of Physics
A community talk about physics, gender, and science education, specifically the role of women in the history of physics.
When and where
Location
University of Richmond, Robins School of Business, Ukrop Auditorium 102 UR Drive Richmond, VA 23173
About this event
Apart from a few exceptional individuals like Marie Curie, women are rarely written into the larger history of physics. Very often their stories are treated as concessions to an obligation to somehow shoehorn women into the narrative. However, what happens if we center female physicists' stories? This talk will discuss how we can move beyond thinking about a "great men" (or even "great women") version of the history of physics to tell the story of female physicists as a professional group. Some of the topics covered will include how female physicists prepared students for occupations in the physical sciences, how they supported their alumnae in graduate schools domestically and abroad, and how they were able to conduct research at women's colleges and other institutions in the late 19th century and the first half of the 20th century.
Dr. Behrman is the Assistant Public Historian at the Center for History of Physics (CHP) at the American Institute of Physics. She specializes in the history of women in physics. At CHP she is in charge of education and outreach projects.
She received her Ph.D. in History of Science and Technology from Johns Hopkins University, specializing in the history of modern physics and the history of science education, especially as they relate to gender. She received her Master of Arts in Social Sciences – History of Science at The University of Chicago and her Bachelor of Arts in Physics from Harvard University.
This event is sponsored by the University of Richmond Department of Physics, Department of Education, Department of History, and the Women, Gender, and Sexuality Studies program. Dessert and coffee reception immediately following in the Moelchert Commons.