Take advantage of intentional conversations with industry professionals and learn real strategies to grow your business. All over coffee!
About this Event
The Roxbury Innovation Presents: More Than Coffee
Our monthly " More Than Coffee" is an opportunity for entrepreneurs in Greater Roxbury to share useful resources and work through challenges of running a business together. We will host these morning coffee meetups from 9:00 AM - 10:30 AM at different locations in the Nubian Square Neighborhood.
Coffee & Tea On Us!
We will have mentors with specific business expertise in attendance at each event, and they will be prepared to provide guidance and advice to those in attendance. These Mentors will be listed on the event description, and will be regularly updated as we fill in slots.
We plan on having multiple mentors available at each meetup!
Venture Café New England at Roxbury Innovation Center:
Venture Café New England connects innovators to make things happen.
We broaden, connect, and support an inclusive innovation community through a public network of spaces and programs to help anyone with an idea have the opportunity to succeed.
The Roxbury Innovation Center (RIC) mission is to support local economic development, in Roxbury, by empowering and guiding innovation and entrepreneurship, as viable career options. We provide a diverse variety of resources for small business owners of all stages and industries, through instructional workshops and courses, networking events, and office hour mentorship. Learn more. (https://roxburyinnovationcenter.org/ )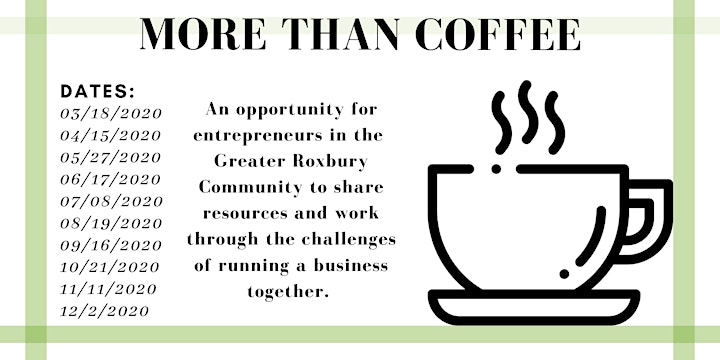 Mentor List:
Each of our coffee meet ups will feature an industry professionals and experts who you can engage with to ask specific questions about your business. Come prepared to hand out your business cards, make valuable connections, get your questions answered, and drink coffee on us!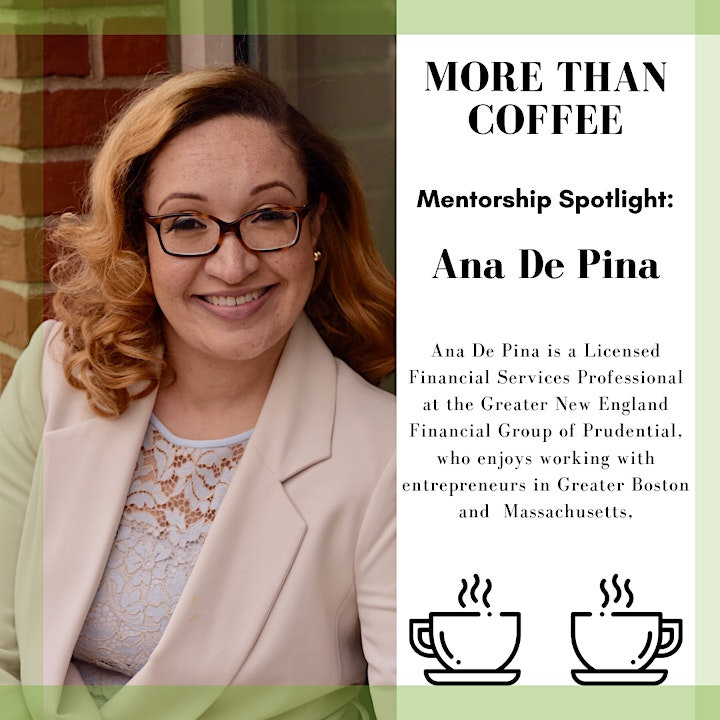 Ana De Pina - 03/18/2020
Ana De Pina is a Licensed Financial Services Professional at the Greater New England Financial Group of Prudential, who enjoys helping entrepreneurs grow, protect, and transfer wealth.
Ana is a multilingual professional. Ana speaks Cape Verdean Creole, Spanish, and Portuguese, having mostly taught English as a Second Language and History to the multicultural communities of Boston and Wakefield, MA for fourteen years.
04/15/2020 - TBA
05/27/2020 - TBA
06/17/2020 - TBA
07/08/2020 - TBA
08/19/2020 - TBA
09/16/2020 - TBA
10/21/2020 - TBA
11/11/2020 - TBA
12/02/2020 - TBA