More Than a Protest Novel: Connecting the Dots - 1.5 Million Black (Wo)Men Missing | Tue 9.15

Tuesday, September 15, 2015 from 6:30 PM to 9:30 PM (EDT)
Event Details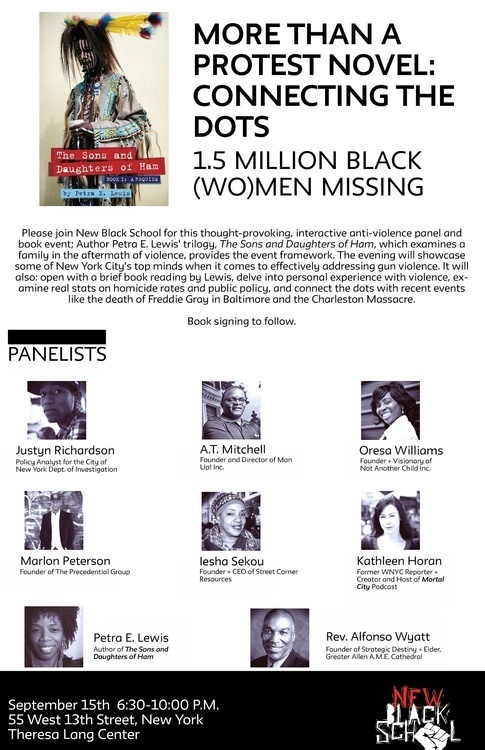 Please join us for the upcoming event, "More Than a Protest Novel: Connecting the Dots - 1.5 Million Black (Wo)Men Missing," a thought-provoking anti-violence panel.
Co-hosted by Black Ivy Events; the Harlem Alphas of Alpha Phi Alpha Fraternity, Inc.; and New Black School (student group), it will take place on Tuesday, September 15, 2015 from 6:30 – 9:30 p.m. at The New School's Lang Center: 55 West 13th Street, off Avenue of the Americas (6th Avenue).
This FREE event will take a look at personal experiences with violence; the current anti-violence space; real stats on homicide rates; and policy initiatives and new/innovative solutions to address the violence (including prayer).
It will also examine public policy and connect the dots with recent events like the deaths of Freddie Gray and Sandra Bland, and the Charleston Massacre.
More information regarding the book and author at hamnovels.com.
Book signing to follow.
Panelists include:
• A.T. Mitchell, founder of Man Up! Inc. in East New York, Brooklyn
• Marlon Peterson, founder of The Precedential Group—who was also featured in the internationally acclaimed blog, Humans of New York
• Iesha Sekou, founder of Street Corner Resources, Harlem
• Kathleen Horan, Former WNYC public radio reporter who did the series "In Harm's Way, " which—in 2013—memorialized the individual lives of New York City' kids killed by gunfire; and creator of the upcoming podcast, "Mortal City"
• Oresa Williams, Founder and CEO of Not Another Child
• Justyn Richardson, a recent alum of The New School's Milano Urban Policy graduate program, and a policy analyst for the NYC Department of Investigation
• Petra E. Lewis, author of the trilogy, The Sons and Daughters of Ham
From moderator, Rev. Alfonso Wyatt, to featured panelists, the event will showcase some of New York City's top minds when it comes to effectively addressing (gun) violence—and do so in a "novel" way. The framework for the panel is the first book in novelist Petra E. Lewis' trilogy, The Sons and Daughters of Ham, Book I: A Requiem, which examines a family in the aftermath of violence.
When & Where

The New School
Lang Center, Arnold Hall (Room I202)
55 West 13th Street
New York, NY 10011


Tuesday, September 15, 2015 from 6:30 PM to 9:30 PM (EDT)
Add to my calendar
Organizer
Black Ivy Events, Inc.
Black Ivy Events, Inc. is a private company that caters to the social, professional and civic interests of alumni of color from the eight Ivy League institutions. Our dynamic social events bring together an exceptional community of diverse professionals. Alumni are represented across a range of industries and ages. Our mission is to leverage and enhance the prestigious social network of diverse Ivy League alumni.
More Than a Protest Novel: Connecting the Dots - 1.5 Million Black (Wo)Men Missing | Tue 9.15