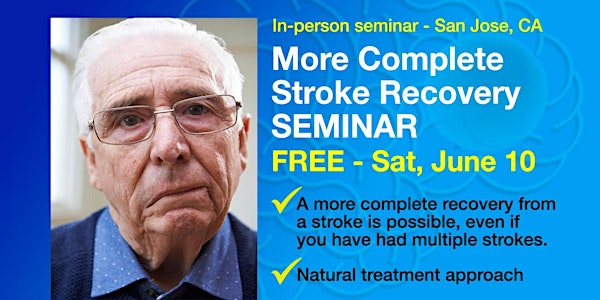 More Complete Stroke Recovery - FREE Seminar (In Person)
A more complete recovery from a stroke is possible, even if you have had multiple strokes.
By The Human Engine Clinic
Date and time
Saturday, June 10 · 1:30 - 2:30pm PDT
Location
Silicon Valley Business Center 1900 Camden Avenue San Jose, CA 95124
About this event
About this event
Why is a chiropractor talking to you about stroke recovery?
Hello, I'm Richard F. Gringeri, DC. Currently, the majority of my practice is helping people with Type 2 diabetes, high blood pressure and high cholesterol who want to regain their health and vitality.
Many of these patients have already suffered a stroke when they start their care. I have been able to help most of the stroke patients recover significantly more function than they had previously. It has been my experience that while in the hospital, following their stroke, patients are stabilized regarding blood pressure and blood viscosity (blood thinners) and they are then sent home to live out the rest of their lives with significant limitations. There is not enough actual rehabilitation of the brain and nerve system that takes place and the patient often does not achieve as complete a recovery as possible. A more complete recovery is always desired, yet this additional recovery almost never occurs. I want to see that everyone who has suffered a stroke achieves the best outcome possible.
At this seminar you will learn:
More about the basics of stroke, and how that understanding can lead to your improved recovery.
A natural treatment approach that can aid in stroke recovery that is safe and effective.
A more complete recovery from a stroke is possible, even if you have had multiple strokes.
How nutrition plays a role in your recovery process.
You should attend this seminar if you have suffered a stroke or if you care for someone who has suffered a stroke and would like to see an improved outcome. Register for this free seminar!