About this event
Morbid Angel
Morbid Angel was formed in 1983 in Tampa, Florida by guitarist Trey Azagthoth and drummer/vocalist Mike Browning. The band made their debut in 1987 on the New Renaissance Records record label. They recorded their debut album, Abominations of Desolation, in 1986, but the band was unsatisfied with the final product and it remained unreleased until 1991, printing 10,000 copies. In the early stages of their career the band developed a reputation for "gruesome stage antics."
In 1986, David Vincent joined the band, replacing Michael Manson and Sterling von Scarborough as vocalist and bassist respectively. Fellow Terrorizer drummer Pete Sandoval soon followed. Their first studio album, Altars of Madness, was released in 1989, and is regarded by many as one of the most important death metal albums of all time. It is also considered the first true death metal album. Music journalist Jason Birchmeier writes that:
Few albums struck a chord within the ears and minds of the late-'80s underground metal scene like Morbid Angel's Altars of Madness did at the end of the decade, setting a new precedent for metal bands to reach. With the arguable exception of Chuck Schuldiner's Death, never before had a heavy metal band carried their lightning-fast guitar riffs and equally spellbinding guitar solos into such horrific territory. Venom and Slayer redefined the extent to which a metal band could align itself with all things evil during the beginning of the decade, but Morbid Angel made these two groups sound like children's music compared to the Florida-based group's assaulting death metal sounds and their blasphemous lyrics.
Rise to success (1991–1995)
1991 saw the release of their second album, Blessed Are the Sick, which was met with widespread critical acclaim, and is considered by many to be a landmark release in the death metal genre. The album differed from its predecessor, showcasing a more "sludgy" side to the band. Following the success of Altars of Madness' and 'Blessed are the Sick', in the Spring of 1992 Morbid Angel were signed by Irving Azoff to Giant Records for one album, with the option of five more. Later that same year, second guitarist Richard Brunelle was kicked out of the band due to alleged substance abuse.
On June 22, 1993 the band released their third full-length album 'Covenant', which went on to sell over 150,000 copies in the United States alone. Their record label dedicated promotional resources to the album, and commissioned music videos for the songs 'Rapture' and 'God of Emptiness'. These music videos were put on heavy rotation by MTV, and the latter also appeared on the television show Beavis and Butt-head. The success of the album enabled the band to tour with Black Sabbath and Motörhead across the United States from February through March of 1994, which David Vincent credits with helping the band significantly expand their audience.
The band released its fourth studio album, Domination, on May 9, 1995, which featured new guitarist Erik Rutan of Ripping Corpse. It proved to be a somewhat controversial album among fans, featuring a slower, more atmospheric and experimental sound than on previous albums. Music critic describes the album's sound as "more groove-oriented". The album has gone on to sell over 100,000 copies in the United States alone. Regardless, following the release of the album their record label dropped them from their roster.
Steve Tucker era (1996–2003)
In 1996, shortly after the release of their live album titled Entangled in Chaos, bassist/vocalist David Vincent departed the band and was replaced by Steve Tucker. They released their fifth full-length album Formulas Fatal to the Flesh in 1998, which was considered more aggressive and complex than their previous album 'Domination'.
With Tucker, the band went on to release Gateways to Annihilation and Heretic in 2000 and 2003 respectively. Tucker briefly left Morbid Angel in 2001 and was replaced by former Hate Eternal bassist and vocalist Jared Anderson. In 2002 however, Anderson left the band and Tucker re-assumed his position as bassist and vocalist.
Reunion with David Vincent (2004–2014)
In 2004, Steve Tucker once again left the band, paving the way for former vocalist/bassist David Vincent to return. The band continued by touring and playing festivals such as Wacken Open Air in 2006.
Morbid Angel's appearance on some of the mid-summer 2008 European festivals was announced as a "short break from writing and pre-production of their new 8th studio album".
In May 2008, it was announced that Destructhor from Zyklon would be the band's new guitarist, and Destructhor would appear on the new album.
On March 18, 2010, the band announced that Tim Yeung would play drums on the upcoming album, allowing Pete Sandoval to recover from back surgery. On June 22, the band entered the studio to begin the recording of their new full-length album. On March 5, 2011, the band headlined the Scion Rock Fest in Pomona, California. This performance was their first in the US in six years, aside from a one-off show in Los Angeles in May 2009. On March 9, Morbid Angel confirmed that their new album would be called Illud Divinum Insanus.
The album was released on June 7 via Season of Mist. In an interview in December 2013, David Vincent confirmed that Pete Sandoval is no longer a member of the band, claiming that Sandoval had "found Jesus", and stating, "Pete Sandoval and Morbid Angel are not compatible", laying to rest speculation that Sandoval would eventually be returning to the band.
Asked in a December 2014 interview about Morbid Angel's plans for 2015, Vincent replied, "We're done [touring] for awhile. It's time to write." Yeung said that the band was in talks of recording an EP.
Reunion with Steve Tucker (2015–present)
On June 15, 2015, it was reported that David Vincent and Tim Yeung were no longer in the band. Former vocalist/bassist Steve Tucker has once again rejoined, and a replacement drummer has yet to be found. Later that day, however, Vincent denied that he had left the band.
On his official Facebook page, Steve Tucker hinted in a post on the 17th of June that guitarist Destructhor is no longer part of Morbid Angel either: "Who will play second guitar? Time will answer that one..."
On June 18, 2015, this was confirmed, as Destructhor announced his departure from Morbid Angel to focus on the Norwegian death metal band Myrkskog. On June 19, 2015, David Vincent confirmed that he left Morbid Angel, due to creative differences. Both Vincent and Yeung teamed up together in late 2016 to form the band I Am Morbid.
On August 3, 2016, it was announced that Morbid Angel was signed to UDR Music and is currently at work on a new studio album, which will be released in 2017, with a tour to follow. On January 9, 2017, Trey Azagthoth announced on his Facebook page that Scott Fuller from Annihilated joined Morbid Angel for the recording of their new album. Additional details indicated that the album title would presumably start with the letter "K", given the band's history on naming their albums alphabetically.
The next day, the band announced that they had hired Dan Vadim Von from Vadimvon as their second guitarist. They also announced a U.S. tour with Suffocation, Revocation and Withered, which would begin in May. In a March interview on The Metal Magdalene With Jet show on Metal Messiah Radio, Steve Tucker explained that the album would be a "death metal album".
When speaking to Orlando Weekly, Tucker said that the tour setlist wouldn't feature any David Vincent era material and would then perform songs featuring him instead. He also said that they would play "probably one or two new songs" from the new album, in which he said that it was "almost done, but we don't want to put out too much with YouTube putting it up the next day." The opening night on May 23, they performed a new song entitled "Warped".
In July, Morbid Angel were forced to cancel their summer festival appearances in Europe due to "unfortunate and last minute, unforeseen problems with a passport for one of the members of the band." The band's management explained that a new passport wouldn't be issued in time for the shows. Morbid Angel were upset with the news and apologized thereafter. They are currently working on rescheduling their performances for the fall.
On October 4, the band revealed the cover artwork for their forthcoming album titled Kingdoms Disdained, which is due for release on December 1. The next day, the brand new song "Pile of Little Arms" was made available for streaming.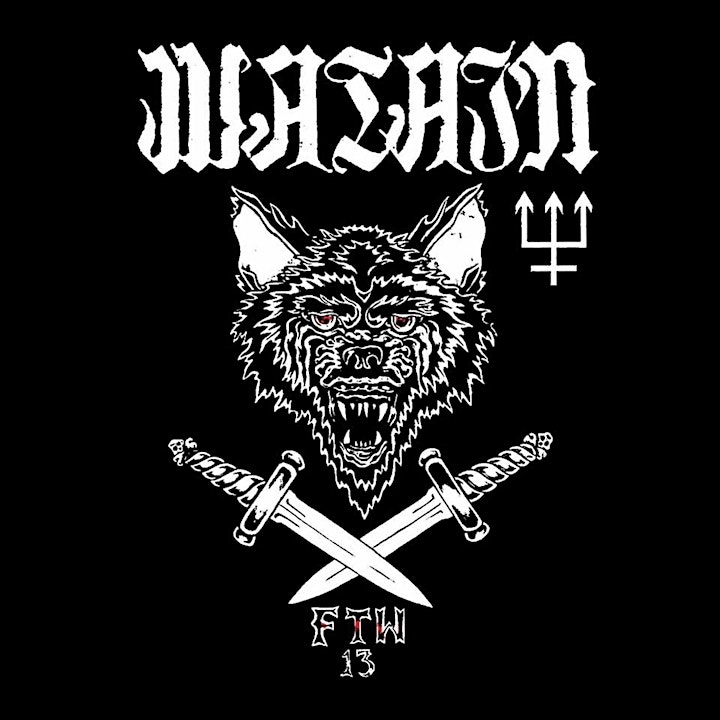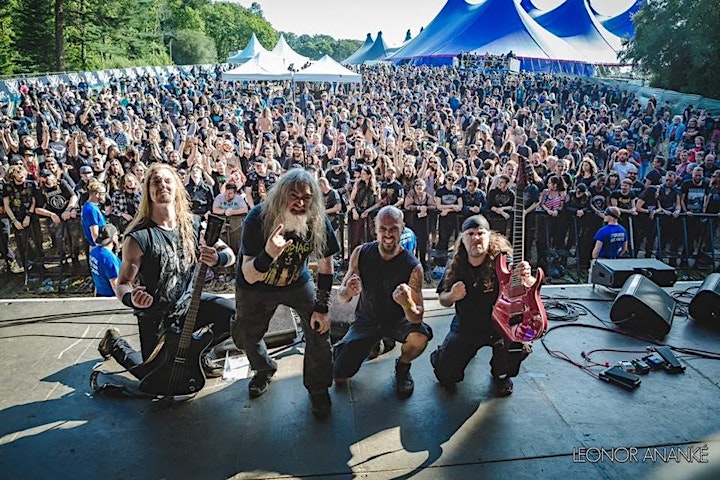 Incantation
A megalith of the death metal underground whose New York scene association, aside the pioneers of the genre, head into a new chapter. Ever precise to their origins the band has witnessed and experienced the ebb and flow of the scene they helped create. Whether due to giving their support by providing some their first tour experience. Or having that equaled playing with such an array of musicians and bands in and outside the confines of the band. With 10 studio albums, videos even a TV commercial. Numerous releases being in the form of demo cassettes, 7", LP, CD dedication still holds true with tireless effort. Hall of Fame, Top 10 lists honoring their discography through publications, internet and radio. Having gathered supporters and fans all along the 25 year journey. Circles devoted to all/specific eras or an audience's first encounter. Incantation has crushed venues, festivals, and clubs with their rabid attendance. From North, Central and South America. Canada, Europe, Scandinavia, Australia or Japan all have welcomed the inferno that scorched their lands. With this in mind we are proud to announce the long awaited release of XXV! Marking Incantation's quarter century, we have created a strictly band-accessible gatefold 12" LP. Drawing from their work, dawn to the present. Artwork created, as in 1990 by the great Chris Moyen and mastered by Dan Swano of Unisound Studios. You've been Warned!
Venue Information:
Parking is available in side lot (by Exxon)
No Smoking/Vaping permitted anywhere inside venue
Bags/purses will be checked at the door.
Must have ID for entry
If you do not have access to a printer, we can scan ticket from your cell phone. Be sure to have your brightness turned all the way up at the door.
Children under 3 years old are Free.
Kitchen is open during all hours of operation.
Appropriate clothing required at all times (tops and bottoms covered).
Performers
Date and time
Location
Refund policy