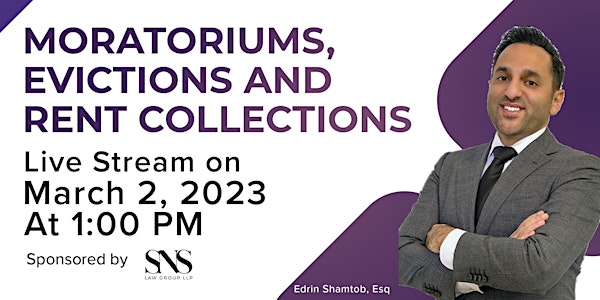 Moratoriums, Evictions and Rent Collections
Edrin Shamtob, Esq | Attorney
By Apartment Owners Association
Date and time
Thursday, March 2 · 1 - 2pm PST
About this event
Moratoriums, Evictions and Rent Collections
In this AOA Live Stream, you will discover:
End of moratorium coming up and what to expect and get ready for...
Rental increases: Whether you can increase rent now or after the moratorium and what that is going to look like
Recovery of rental debt
SNS Law Group LLP, is a legal practice committed to helping you resolve disputes and transactions in a variety of areas specific to business, corporate, and real estate law across California. We provide high-quality legal services that you can rely on in your time of need. No matter your situation, no matter your goals, we would love the opportunity to lend a helping hand.
Edrin Shamtob, Esq – is the senior attorney at SNS Law Group LLP., with over ten years of experience in a broad assortment of real estate law matters, business transactions, including corporate formation and entity selection, and business, real estate, and landlord/tenant laws.
Edrin has experience litigating cases for both plaintiffs and defendants in matters involving a variety of disputes, including breach of contract, breach of fiduciary duty, partnership and shareholder litigation, unfair business practices, and misappropriation of trade secrets. Edrin's strong legal and financial background gives him the expertise to successfully litigate complex real estate, financial, and business disputes and the knowledge to counsel clients on multifaceted business transactions.
Education: Edrin acquired his Bachelor of Arts degree in Sociology from the University of California, Los Angeles, and his Master of Business Administration from the University of Southern California, Marshall School of Business. He received his Juris Doctorate from the University of Southern California, Gould School of Law and is a member of the California State Bar.
Contact Info:
SNS Law Group LLP
424-220-2052
Info@snslawgroup.com
About the organizer
Founded in 1982 by Daniel C. Faller, AOA has become one of the largest apartment associations in the United States, thanks to you, our loyal members.
Don't forget to click on FOLLOW to get alerts of newly scheduled seminars!