Moral Reasoning in the Wake of Mass Murder with Dagmar Herzog, CUNY
The Gary B. Cohen Distinguished Lectureship in History with Dagmar Herzog, Distinguished Professor of History at the Graduate Center, CUNY
About this event
The Gary B. Cohen Distinguished Lectureship in History with Dagmar Herzog, Distinguished Professor of History at the Graduate Center, CUNY
"Moral Reasoning in the Wake of Mass Murder: Disability and Reproductive Rights in 1980s-1990s Germany"
Herzog explores how reproductive rights and disability rights, both latecomers to the postwar human rights canon, came to be seen as competing – with unexpected consequences. Homing in on a controversy erupting over philosopher Peter Singer's right to speak in Germany in summer 1989 – amid conservative backlash against the partial liberalization of abortion access achieved by feminists in the 1970s, but intersecting with a long-delayed reconsideration of the Nazi disability murder project that had claimed nearly 300,000 lives between 1939 and 1945 – Herzog analyzes the effects of historical ricochet.
Dagmar Herzog is Professor of History and Daniel Rose Faculty Scholar at the Graduate Center, City University of New York. Among her books are Sex after Fascism (Princeton, 2005), Sexuality in Europe (Cambridge, 2011), Cold War Freud (Cambridge, 2017) and Unlearning Eugenics (Wisconsin, 2018). The Routledge Companion to Sexuality and Colonialism, coedited with Chelsea Schields, is forthcoming 2021. She is currently writing on the theology of disability in Germany, 1900-2020.
-----------------------------------------------------------------------------
Topic: 2021 Gary B. Cohen Lecture with Dagmar Herzog
Time: Apr 22, 2021 04:00 PM Pacific Time (US and Canada)
Join Zoom Meeting: https://usc.zoom.us/j/96096408721?pwd=amQrbHhpNXpxaDZMM3lkcnhaUjdEZz09
Meeting ID: 960 9640 8721
Passcode: 414457
Dial-In: 1-669-900-6833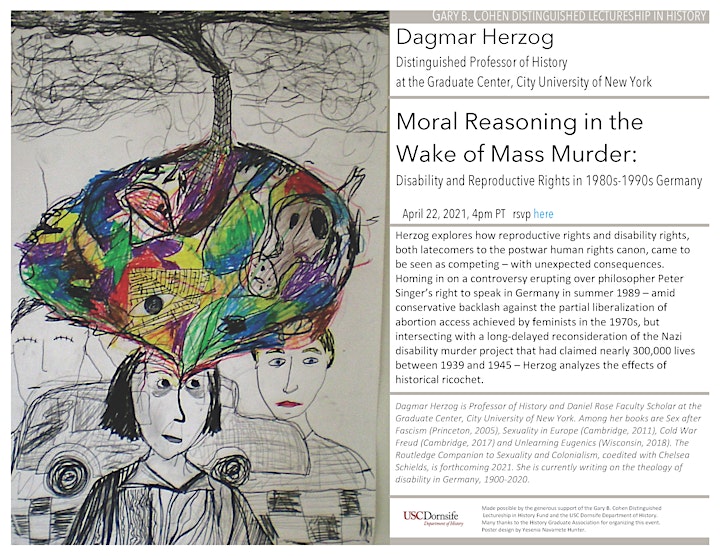 Organizer of Moral Reasoning in the Wake of Mass Murder with Dagmar Herzog, CUNY