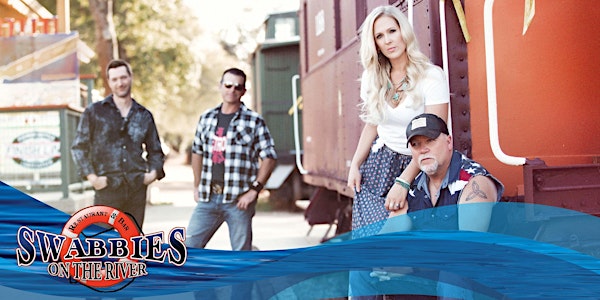 MoonShine Crazy
Reserve your advance tickets now in case of sell out - exact tables and time not guaranteed.
When and where
Location
Swabbies Restaurant & Bar 5871 Garden Highway Sacramento, CA 95837
About this event
Please note: Once all discounted advance tickets are sold out at Eventbrite - you can still pay for cover charges at the door until all available tables and time are sold out.
About MoonShine Crazy:
One of the Hottest modern country bands based out of Sacramento, California, MoonShine Crazy is comprised of four members which include Jessica Spaid (Lead Vocalist, Rhythm guitar & Mandolin), Mark Coudriet (Drums & Vocals), Ritch Shefke (Bass & Vocals), and Dave "Shoobie" Shafer (Lead Guitar & Vocals). Playing every "honky tonk dive-bar" in Northern California, MoonShine Crazy paid their dues playing until dawn and honing their craft as live musicians and as a band. MoonShine Crazy members Jessica Spaid and Dave Shafer's relationship began with co-writing music together. Later, Dave joined the band in 2017 and together with original band members Ritch Shefke and Mark Coudriet it has become the sensation it is today. With numerous sold out shows, MoonShine Crazy has continued to take live music goers by storm.
MoonShine Crazy wrote and released their first single "The American Way" on July 3, 2020, and it has become their patriotic anthem. Ritch Shefke served in the US Army and the band has deep roots with first responders and veterans.
Awards and Recognition: Sacramento News & Review's 2020 & 2019 "SAMMIES" Sacramento Music Award Winning "Best Cover Band."
$TBD cover at door / Limited $10 early bird advance tickets on Eventbrite.
We recommend using ride-hailing services like Uber or Lyft to save on parking fees.
Swabbies is an outdoor riverfront yard venue, please wear appropriate shoes, sunscreen, and insect repellent.
ABC law prohibit THC and CBD smoke or ingested product use on licensed property premise, please respect venue rules.
Swabbies Eventbrite Tickets Policy
Admission is free for children age 16 and under with paid responsible adult.
"First Come, First Serve" Policy
Purchasing an Eventbrite ticket guarantees entry to event in case of a sell out. In advance does not guarantee parking, seating or express entry to any live music event at Swabbies. More than one band per day may/will be playing, tickets will be specific for band and times.
We advise early arrival for best seating and service times during possible sold-out events/standing room, etc. Expected food and service times during peak can be up to an hour. Again early arrival is suggested.
Refund Policy
Swabbies event tickets purchased at Eventbrite are non-refundable, with the following exceptions:
Event cancelled due to weather: In the event of weather-related cancellation, Swabbies will EITHER refund the full purchase price and the service fee paid on the purchase, OR if the event is rescheduled for a later date, tickets will be honored at that time.
Event cancelled due to Artist cancellation: In the event of an Artist-related cancellation due to illness or other unforeseen emergency, Swabbies will EITHER refund full ticket price and the service fee paid on purchase OR if the event is rescheduled for a later date, tickets will be honored at that time.
NO REFUNDS unless show is canceled.