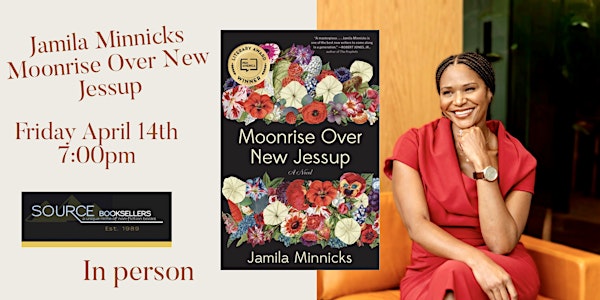 Moonrise Over New Jessup Author Event
Join us to celebrate the new book Moonrise of New Jessup with Jamila Minnicks at Source Booksellers.
Date and time
Friday, April 14 · 7 - 8pm EDT
Location
Source Booksellers 4240 Cass Avenue #105 Detroit, MI 48201
Refund Policy
Contact the organizer to request a refund.
About this event
Please join us to celebrate Moonrise Over New Jessep at Source Booksellers on Friday April 1`4!! The conversation will be a fun family affair.
Save you Spot with a ticket free or book ticket.
Join with a free ticket and starting reading now and support the book with a purchase at this link
In Great Migration, an estimated five and a half million African Americans moved from the South to the urban North and West between 1915 and 1970. African Americans moved to cities like Detroit from states like Alabama, where they had lived and worked as tenants and sharecroppers.
Detroiters from notable Alabama:
Dr. Charles H Wright, doctor and founder of the Museum of African History Detroit
Mr. Ed Vaughn, American politician, businessman, and activist and founder of the first Black Bookstore in Detroit, MI. He has since returned to Alabama.
Rosa and Raymond Parks, activists and wo individuals who committed their lives to civil and human rights.
About the Book:
In 1957, at the start of the civil rights movement, Alice Young flees her home in rural Alabama in search of her long lost sister in Chicago. On the way, Alice steps off the bus in New Jessup, an all-Black town in Alabama, and her life begins anew.
New Jessup has rejected integration as a means of social advancement, uninterested in living on the edge of violence by sharing a town with white people. Alice falls in love with the town's residents, but mostly with Raymond, a local mechanic and community leader. But Raymond has other plans that include agitating for municipal incorporation, and Alice's vast love for this sanctuary conflicts with her daily-deepening love for Raymond.
This book is already the winner of the PEN/Bellwether Prize for Socially Engaged Fiction, awarded by Barbara Kingsolver, and Kingsolver and PEN America will support this book. Jamila Minnicks's debut novel is both a celebration of Black Joy and a timely examination of the opposing viewpoints that attended desegregation in American. Fans of Brit Bennett's The Vanishing Half and Robert Jones Jr.'s The Phophets will love Moonrise Over New Jessep!
About the Author
Jamila Minnicks' novel Moonrise Over New Jessup (Algonquin Books, 2023), won the 2021 PEN/Bellwether Prize for Socially Engaged Fiction. Her short fiction and essays are published, or forthcoming, in The Sun, CRAFT, Catapult, Blackbird, The Write Launch, and elsewhere, and her piece, Politics of Distraction, was nominated for the Pushcart Prize. In 2022, Jamila was awarded a Tennessee Williams scholarship for the Sewanee Writers' Conference, and she also earned a residency at the Virginia Center for the Creative Arts.
Jamila is a graduate of the University of Michigan, the Howard University School of Law, and the Georgetown University Law Center. She lives in Washington, DC.
Make sure to save a spot with a ticket because tickets are limited.
Vaccination Requirements: You may be asked to show proof that you are fully vaccinated against COVID-19 or a COVID Free Test Result for entrance to this event. We will accept either a physical vaccination card, digital card, or a photo of the card on your phone. We are masked in store. We want to make a safe environment for the author and for the community.
Getting to the event: There is a parking lot on the Cass and Canfield that is open for Free parking in the evenings and weekend days and the street parking is available through the kiosk or mobile app Park Detroit until 10pm and free on Sunday. If you are riding Q line transit , we are the canfield stop at canfield and Woodward avenue. If you can please park in the Traffic Jam & Snug parking lot on Canfield. We know it costs but it may be only source of income because the restaurant recently burned in a fire. Show some them some love if you can.
About the organizer
Source Booksellers, an independent bookstore in Detroit's Midtown district, offering a unique niche of non fiction books since 1989. We offer books and unusual sideline items that enhance your life and your lifestyle. More on:  www.sourcebooksellers.com