Description
"Moonlit"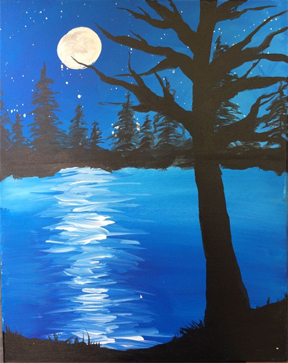 NO SKILL NECESSARY ~ Follow along step -by-step!
Lawton Ridge Winery is one of the few wineries still making their own wine...and It's pretty darn awesome, the chardonnay is exquisite! Come join the painting, the wine tasting, the Erbelli's pizza buffet, the sipping, and the fun!
TASTING from 5:30-6 & PAINTING @ 6-8:30/9. If you can't arrive by 5:30, don't sweat it, you'll have time throughout the event to complete your wine tasting).
~ ADVANCE REGISTRATION ONLY ~
$53 WineTasters Package includes:
A 6 sample wine tasting ~ 5:30-6 (if you can't arrive much before 6, no worries, you'll have plenty of time to finish tasting throughout the evening.
1 glass of wine (or $6 toward a purchase of your choice, ranging $11-$18.50 )
Erbelli's Pizza ~ Notify me w food allergies, I'll accommodate :) text/call 269.330.9019
Painting instruction ~ 6-9ish
16x20 inch canvas, acrylic paint supplies & aprons included.
Lots of LAUGHING, SIPPING & CREATING
21 & over, painting participants only. Additional wine purchases available, corked bottles of wine may be brought home. Please wear painting friendly clothes. No outside beverages permitted. If you choose not to eat pizza AND you message me upon your ticket purchase, I will refund you $9 cash at the event & you may bring your own carry out. Lawton Ridge Winery does not provide any food or utensils.
TICKET SALES END 9/22 @ 2PM. Lawton Ridge stays open just for us, they're so good to the Thirsty Painters Club! Because of this, there is a spending minimum at these winery events. To meet this minimum, a tasting of 6 wines and a glass of wine (or $12 toward your choice of purchase) is included in your admission price, and a minimum occupancy of 5 painters must be met by the day before the event. If a minimum occupancy is not met by 9/20 @ 5pm, you will receive email notice of the events cancellation & a complete refund as soon as cancellation occurs. Refunds take about 3-5 business days to process via Eventbrite.
CANCELLATIONS:
48+ hours prior to 6pm event = full refund
Less than 48hrs. = 1/2 credit toward a future event.
No show = no refund or credit.