Join us for an elegant evening of gothic Halloween glamour in support of Gulf Coast Center for Nonviolence.
About this event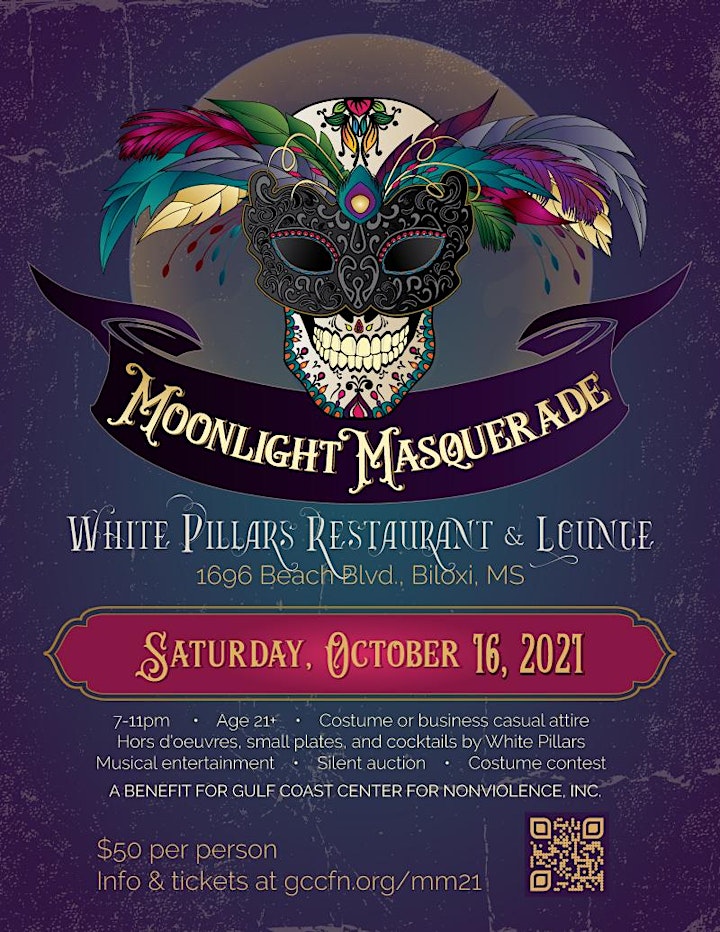 [ Visit our event website: gccfn,org/mm21 ]
We are so excited to invite you all to join us for a magical Moonlight Masquerade 2021 at White Pillars Restaurant and Lounge on October 16 from 7 to 11 p.m!
This year's entertainment will feature the brilliant Symone French & the Trouille Troupe and the incomparable Lexis Redd D'Ville leading a Halloween drag performance alongside two other talented artists!
The award-winning White Pillars team will be serving up delicious hors d'oeuvres and small plates as well as gorgeous charcuterie and carving stations. We promise you will not want to miss this spread!
The Center is so looking forward to welcoming you all back for a night of glamorous Halloween fun that will include a silent auction from generous donors across the Coast, a costume contest, tarot readings, dancing, and so much more.
We hope you'll join us in your favorite costumes! To protect our guests and host a safe event, we are asking our patrons to wear their face masks when not actively eating and drinking. But we are holding a mask decorating contest, so we hope you'll all show off your creative sides and incorporate masks into your costumes! We can't wait to see what you come up with.
And lastly, our agency recently lost $700,000 in federal funding, so this event will be more important than any we've ever hosted before. Our services and programs are essential to serving victims of violence on the Gulf Coast, and this fundraiser will help us raise the money we need to maintain those lifesaving services during the next year.
We thank you for considering joining us for this elegant night of revelry while also helping us raise money to serve our shared community.