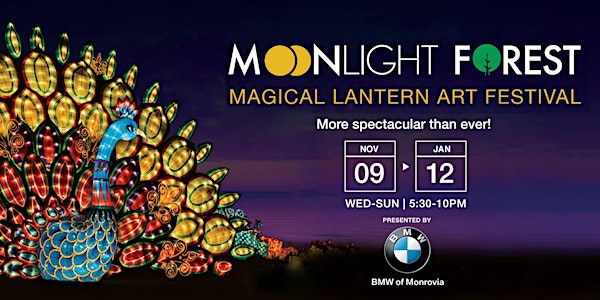 Moonlight Forest - Lantern Art Festival at the Los Angeles Arboretum | 2019
Location
Los Angeles County Arboretum and Botanic Garden
301 North Baldwin Avenue
Arcadia, CA 91007
Description
Moonlight Forest Magical Lantern Art Festival is back by popular demand!
The 2019 festival will be more spectacular than ever with dazzling new lanterns and interactive experiences. Step into the jaws of a humongous shark or dive under the sea with fantastic fish in Ocean Visions. Experience a winter wonderland in our new Polar Dreams display. Children will find bright circular swings and other interactive delights in Children's World. Visit with your family, friends, and holiday guests for a highly memorable evening.
Created by skilled artisans from China's Sichuan province, the Arboretum has partnered with Tianyu Arts & Culture Inc. to celebrate the time-honored tradition of lantern art.
Presented by the Los Angeles County Arboretum and Botanic Garden with Tianyu Arts & Culture, Inc.
Check out arboretum.org for available discounts for members or contact Arboretum membership office at 626.821.3233 or memberships@arboretum.org.
Important Information:
Tickets are DATED and TIMED.

Moonlight Forest is open Wednesday through Sunday.
November 9-January 12.
Entry times are 5:30, 7:00, 8:00 pm.

5:30PM tickets are available at arboretum.org only.

All ticket sales are IN ADVANCE and online.

FREE PARKING during the festival is available.

This event is RAIN or SHINE.

Moonlight Forest tickets are NON-REFUNDABLE, and purchases are final. You CANNOT CHANGE DATE AND TIME of your ticket once your purchase is complete.

Please see FAQ below before purchasing tickets.
Thanks to our sponsors:
Moonlight Forest 2019 Presented by BMW of Monrovia
Westfield Santa Anita
Longo Toyota Lexus
City of Hope
Kellogg Garden Products
Sierra Family of Dealerships
Synear Foods
Tito's Handmade Vodka
Hennessy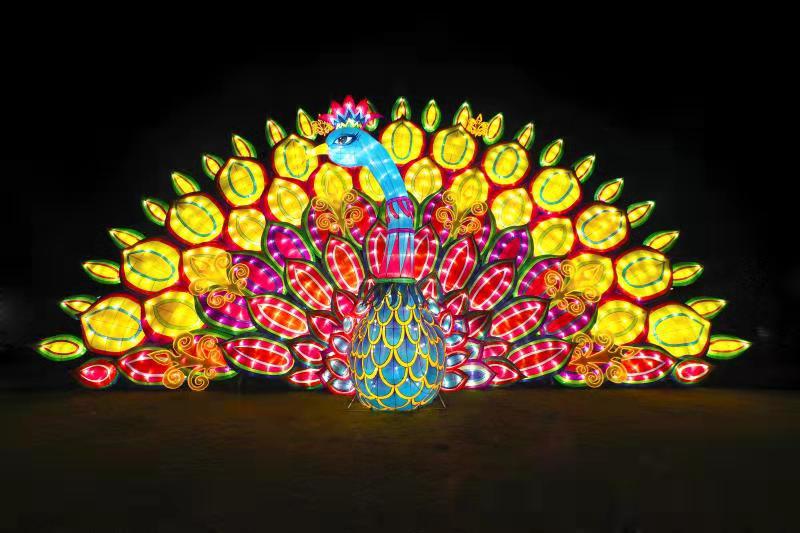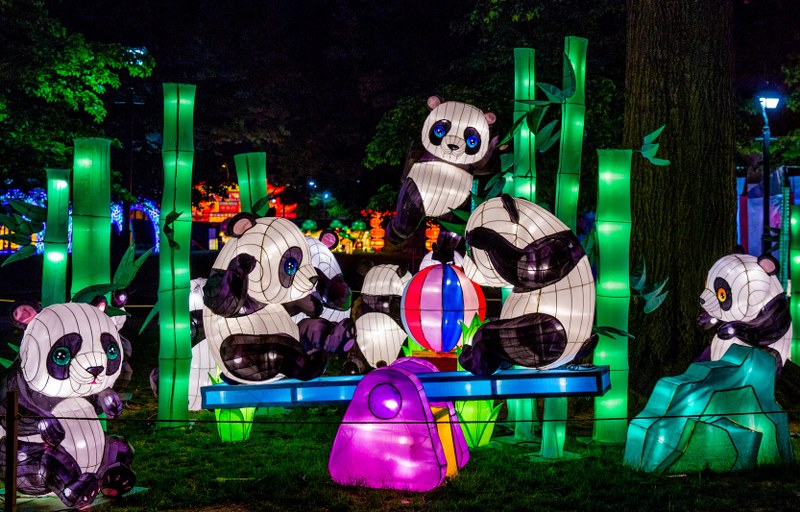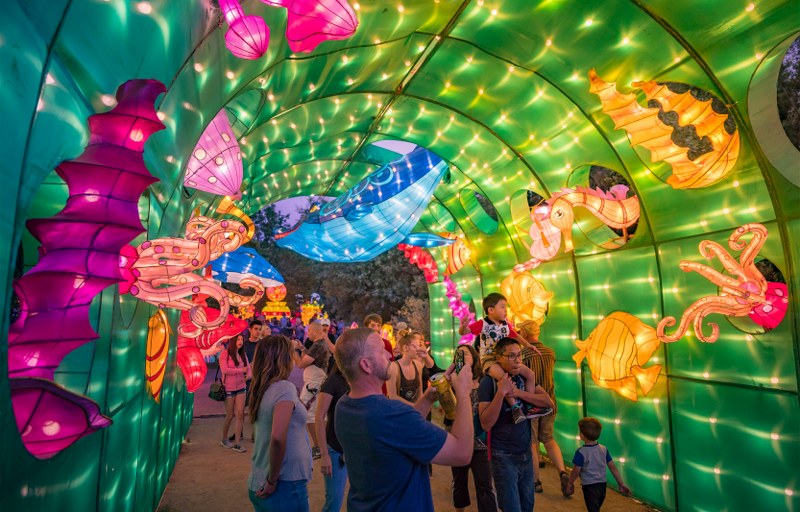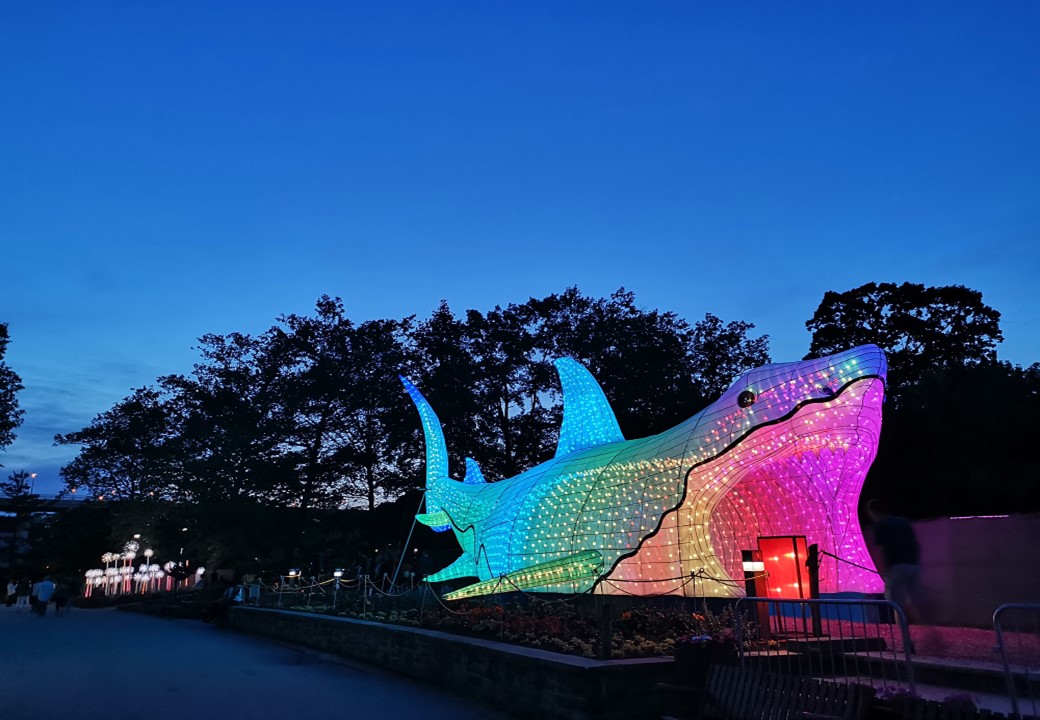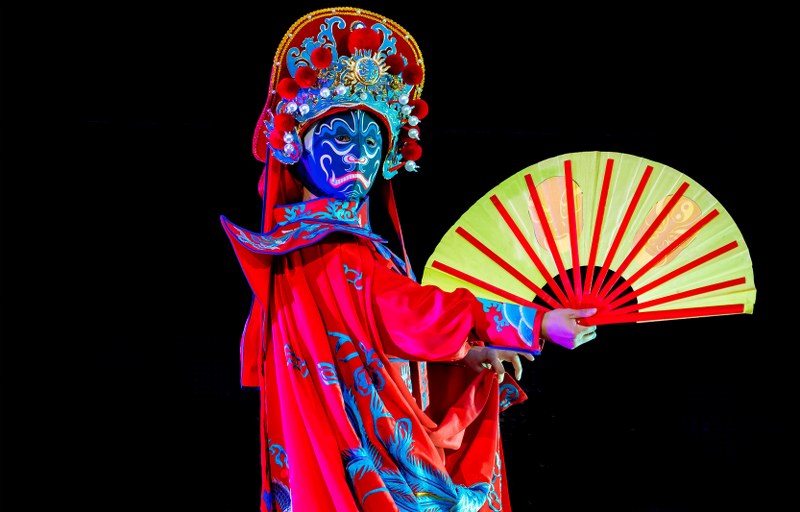 ABOUT THE EVENT
What is Moonlight Forest?
Moonlight Forest is a family-friendly walk-through event where colorful designs of animals, plants and Chinese culture come to life in the form of ancient Chinese lantern art. This family friendly and romantic event is a great opportunity to experience the gardens in the evening. Artisans from the Sichuan Province of China construct and design the lanterns and create a night full of light and magic.
What are the days and hours of operation of Moonlight Forest 2019?
Dates: November 9, 2019 – January 12, 2020; Wednesday through Sunday
Hours of Operation: 5:30pm to 10:00pm
Entry times: 5:30pm, 7:00pm, 8:00pm (closes at 10:00 p.m.)
Where is Moonlight Forest Located?
Moonlight Forest is located at the Los Angeles Arboretum at 301 North Baldwin Avenue, 91007 Arcadia, CA.
Is there parking?
Yes. Parking is FREE at the Moonlight Forest!
Parking is limited to onsite Arboretum lots and offsite Additional Event Parking lots. Service shuttles are available from and to the offsite lots throughout the event. Street parking is NOT available at any time.
Please always follow parking staff directions and signage. If Arboretum lots are full, you'll be directed to the additional parking lots.
Click on the links below for directions to onsite parking lots.
1-Main Lot - Onsite
2-South Lot - Onsite
3-Depot Lot – Onsite
Is there an age restriction?
Moonlight Forest is open to all ages. Anyone under the age of 18 must be accompanied by an adult.
TICKETS and ADMISSIONS
How can I purchase tickets?
Online on Eventrbite (7 and 8pm) or at arboretum.org for (5:30, 7 and 8pm.)
All tickets sold in advance and online.
When can I purchase tickets?
Members can purchase presale tickets starting September 23rd through October 14th.
Moonlight Forest tickets go on sale to the public on October 15th.
How much are tickets if I'm not yet a Los Angeles Arboretum Member?
Wednesday – Thursday: Adult $25, Children (ages 3-17) $20, Senior (62+) & Student with ID $23
Friday – Sunday: Adult $28, Children (ages 3-17) $23, Senior (62+) & Student with ID $25
Do I have to leave before the next entry group comes in?
Once you are admitted to the festival you do not have a time limit to complete your visit.
The date I want is sold out. Can I buy tickets at the door, day of?
We do not guarantee ticket availability at the door (day of) due to limited capacity and strongly recommend purchasing your tickets online and in advance due to high demand.
What if I can't use my ticket? Can I get a refund?
Choose your date carefully! Moonlight Forest tickets and Arboretum memberships are not refundable. In the event you are unable to use your ticket, please consider your purchase a donation to the Los Angeles Arboretum Foundation, a 501(c)(3) non-profit organization, Federal Tax ID 95-1582650.
Will Moonlight Forest be open in inclement weather?
Moonlight Forest is a rain or shine event.
Arboretum reserves the right to shut down or cancel the event if weather conditions are assessed to pose a risk to our guests' safety.
I will be late/early for my timed entry; can I still attend the event?
We strongly advise that you plan on arriving at the venue 15 minutes prior to your entry time to allow for parking and check in. In order to provide you with the best festival experience, entry is granted based on the time designated on your ticket. For the 7 and 8pm entry, you will be allowed to enter 15 minutes prior to that time, no earlier. There is no early admission for 5:30 entry. There is a 30-minute grace period after the entry time on your ticket.
Can I change my tickets to another date?
Choose your date carefully! Moonlight Forest tickets are not changeable. If you are not able to attend your initial date, please consider your ticket as a donation to the Arboretum Foundation, a 501(c)(3) non-profit organization, Federal Tax ID 95-1582650.
Does my Arboretum daytime admission give me access to the Moonlight Forest event?
Moonlight Forest and Arboretum admissions are separate.
Moonlight Forest is an event with live performances and light installations that are best viewed at night. Moonlight Forest admissions start at 5:30pm
If you visit the Arboretum during the day regular Arboretum admission prices apply.
During Moonlight Forest days the Arboretum is open 9am to 4.30pm with admissions closing at 4:00pm daily.
Other days Arboretum is open 9am to 5pm, with admissions closing 4.30pm.
The Arboretum opens at 8:00am for members.
FESTIVAL EXPERIENCE
Is there ADA access at the Moonlight Forest Festival?
It is accessible for strollers, wheelchairs and mobility assistant devices. Wheelchairs are not provided and cannot be rented on site.
Is there food? Can we bring food and drinks?
We provide a great selection of food trucks, cafe and a full bar at the festival. Outside food and beverages are not permitted.
How long is the walkthrough Moonlight Forest?
The exhibition route is a gentle mile long and takes about 1 hour to walk through. This is a walking event, there are no shuttles.
Do you give tours?
The event is a self-guided walking tour. We do not provide private tours or trams. We do provide festival maps for your convenience.
Are animals allowed?
Pets are not allowed. ADA-designated service animals are allowed.
Can I take photographs?
Yes! Please use hashtag #MoonlightForestLA – We want to see your photos! While waiting for that perfect shot please do not block pathways or the view of others. No tripods allowed. Photographs and videos are not to be used for commercial purposes. No night commercial photography is allowed during Moonlight Forest, permits will not be given.
Does it get cold?
We strongly recommend dressing up warm and cozy. Arboretum may get very cold during winter months. However, we do serve hot chocolate and other warm treats to help!
MEMBERS:
I am an Arboretum Member; Do I need to purchase tickets?
Los Angeles Arboretum Members are eligible for $7 discount per ticket during our presale, beginning September 23, 2019 through October 14, 2019. Starting October 15, members will be able to buy tickets with $5 off per ticket. For more information please visit our box office during Arboretum visiting hours.
How many tickets can I buy with my membership discount?
You may purchase up to 9 tickets with your membership.
Can I become a member and then be eligible for the discount?
Yes, you can become a member by going to our website or visit our Membership Office during Arboretum business hours.
I am a member of a reciprocal garden through the American Horticultural Society. Do I receive the member discount?
No, only Arboretum members are eligible for Moonlight Forest discounts.
I have a question that is not listed here. Who can I speak to for more information?
Please contact moonlight.forest@arboretum.org or at 626-566-3711 for more information.