Start in the day and finish at night in the beautiful Croom Forest.
About this event
The Moon Over Croom 7M / 14M / 21M is a new trail run that will take in the evening at Croom Park in Brooksville.  Experience Croom like you never had before by running in the dark.  The course will use B-C Loop and the C-Loop making it a 7 mile loop.  Unique features like silicone awards and Moon Pies.   
There will be great t-shirts, food, and an experience you won't forget so you don't want to miss this one.  For the 2021 race, there is a limit of 250 runners.   
The race takes place at Croom Park which is within the Withlacoochee State Forest. The forest was named one of the "10 Coolest Places in North America" by the World Wildlife Fund. 
Moon Over Croom FAQs
How are the trails designed?
There are three distances for the Moon Over Croom Trail Run - a 21 Mile, 14 Mile and the 7 Mile. The main running trail is a 7 mile loop.  The trail will be marked will be well marked for both daytime and the night running will utilize glow sticks to mark the course.  Everyone will be required to have a headlamp/flashlight.  
Are There Water Stops and Aid Stations?
There will be water stops approximately every 2 - 2.5 miles on the course. Since this is a loop course, runners of the 14M/21M will have a chance to go through the main staging area during the race and can access drop bags. The aid stations will have water, sports drinks and can access drop bags. The aid stations will have water, sports drink, gels, and some food but understand that this is a trail run and there will not be stops every mile.
Where Do We Pick Up Pre-Race Packets?
Race packets can be picked up from 2:30 pm-6:00 pm the day of the race. The packet pickup will be at the same location as the start/finish of race which is only a short distance from the race hotel ($54/night).  The race Hotel is the Days Inn at I-75 & S.R. 50 in Brooksville.  You can also stay at the Silver Lake Campground just down the road from the race.   
Do We Get T-Shirts?
Cotton T-Shirts are guaranteed for pre-registered runners. You will more than likely get a T-shirt if you register race day, but we just can't guarantee it.
Who Gets Awards?
There will be trophies for the overall male and female winners. 
 What Are The Start Times? 
 21 Mile - 4:00 pm Start
 14 Mile - 5:00 pm Start
 7 Mile - 6:00 pm Start    
 Park Directions?
The start/finish is at the Tucker Hill Fire Tire.  Click for Directions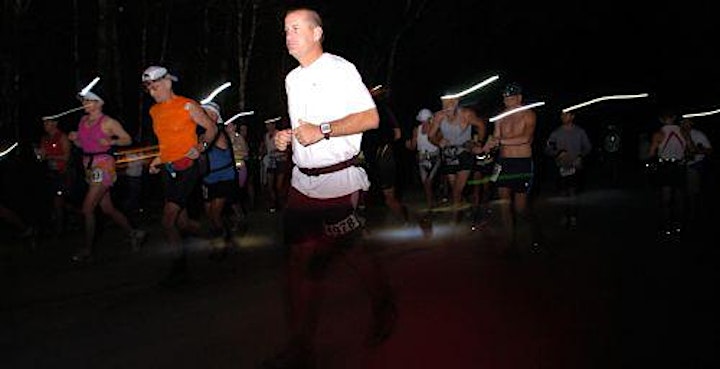 Organizer of Moon Over Croom