Description
HINESE MOON FESTIVAL COMES TO BALBOA PARK
巴博尔公园欢度中秋节
The sights, and sounds of Chinese Moon Festival come alive with remarkable entertainment on Saturday, September 23, 2017 at 6 PM at the Organ Pavilion, Balboa Park, San Diego. During the day, starting noon time is food sales with Moon Cakes, Chinese street food crepes called "Jianbing" and dumplings. The food booth, Chinese calligraphy name writing and information is located on the lawn west of the Organ Pavilion.
2016年9月10日晚上6点,圣地亚哥州立大学孔子学院和中国馆将联手于巴博尔公园风琴馆举办一年一度的中秋节大型联欢晚会。当天中午,我们将在风琴馆的西侧售卖中秋月饼、中国著名街头美食"煎饼果子"和饺子。美味当前不容错过,欢迎大家驻足品尝。我们还会现场给各位来宾用水墨书法撰写中文名字,及提供活动相关信息及咨询。
The evening free show begins with the sounds of marching Korean drummers. The stage will give way to a magical night of colorful swirling Chinese dance and pleasing Chinese music from talented performers from Xiamen University, China. The show will conclude with a crescendo of sounds and with lion dancer prancing through the audience.
晚间的公众表演由大鼓的隆隆声开场。我们特别邀请了来自中国的专业杂技团队为大家呈现魔幻的中国杂技,展现高车踢碗、手技、顶花坛等节目之力量及柔美。晚会还邀请中国著名歌唱家为观众带来美妙响亮的歌声,最后将以圣地亚哥本地舞狮协会的精彩现威来为整场晚会落下帷幕。
Moon Festival celebrates the Fall harvest, the eating of sweet moon cakes and the gathering of families, according to event co-chairs, David Seid, President of the House of China, Balboa Park and Dr. Lilly Cheng, Managing Partner of the Confucius Institute at San Diego State University.
活动主席中国馆馆长David Seid、圣地亚哥州立大学孔子学院刘丽容院长邀请大家一起欢度这个阖家团圆、五谷丰登的佳节,伴着十五圆月一同品尝月饼、欣赏晚会表演。
This is a FREE to the public event. For further information, visit www.MoonFestivalSD.com
晚会免费向公众开放。更多信息请访问活动官网:www.MoonFestivalSD.com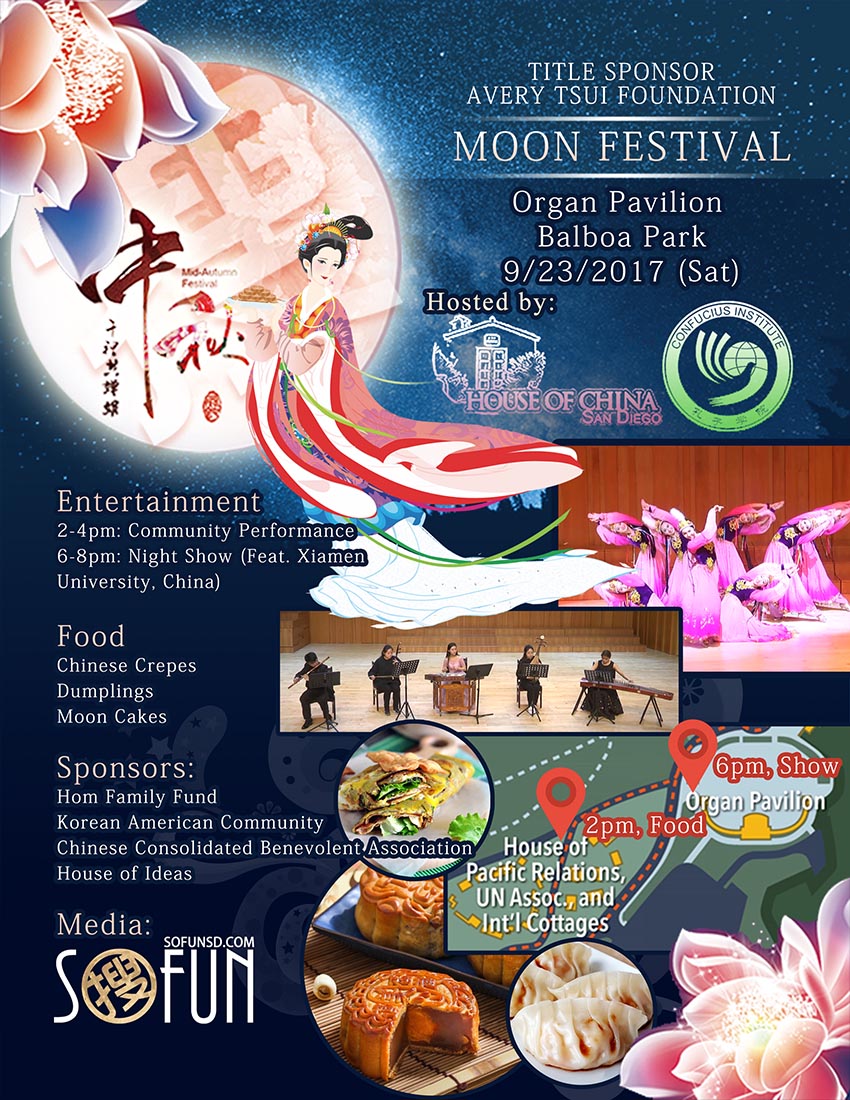 Tell us what is your favorite Dumplings? Chicken? Beef? Vegetarian?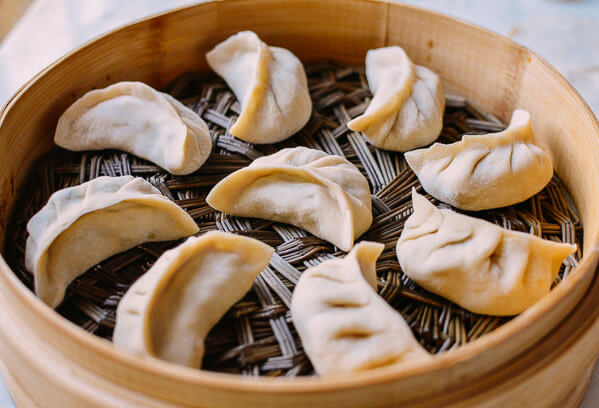 Have you ever try Moon Cakes? This will be the only time you can buy Moon Cakes.
Have you heard of Chinese Street Crepes? It's a popular breakfast and lunch food in China.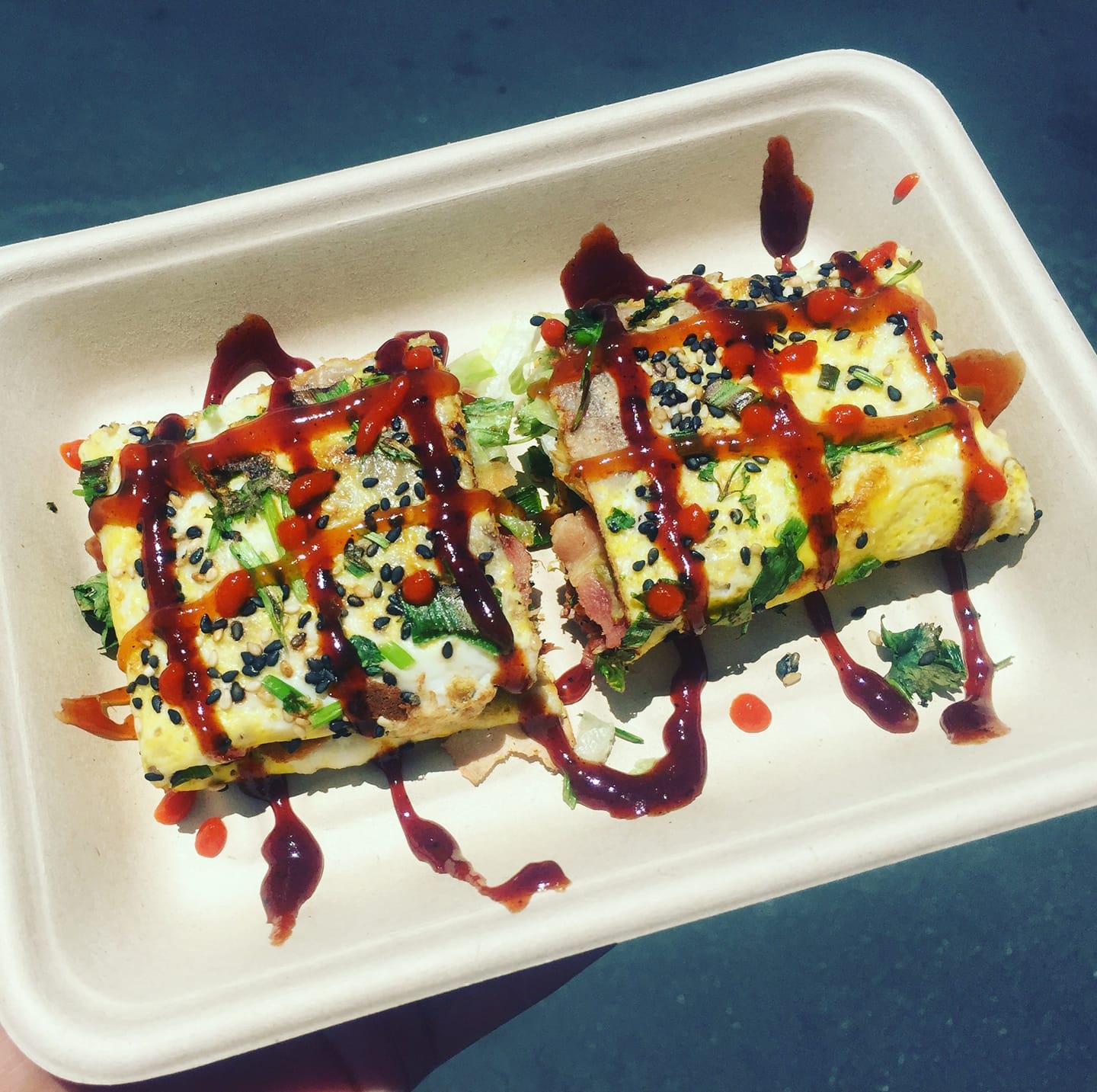 Chicken and Beef Skewers.