Description
Moogfest is the synthesis of music, art and technology.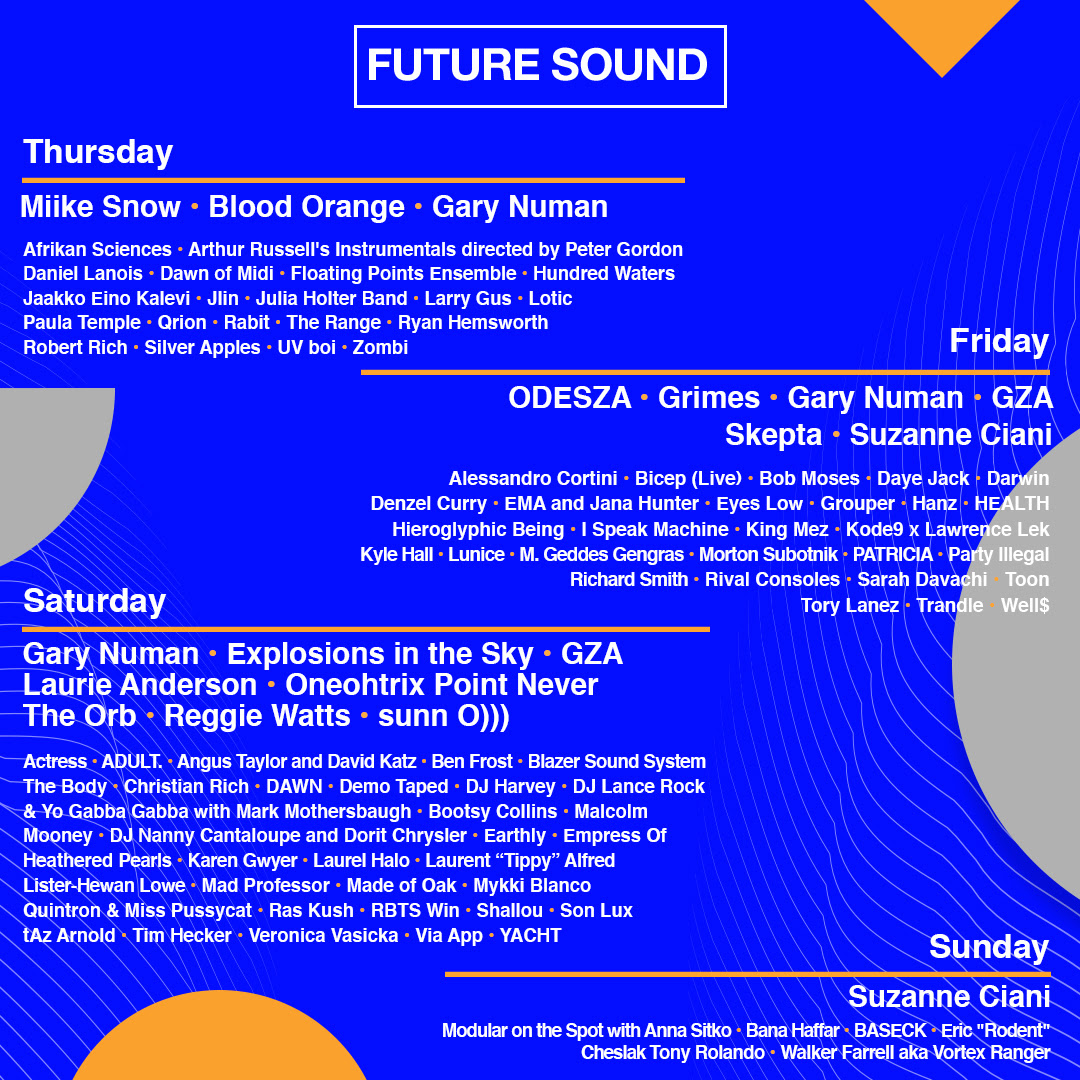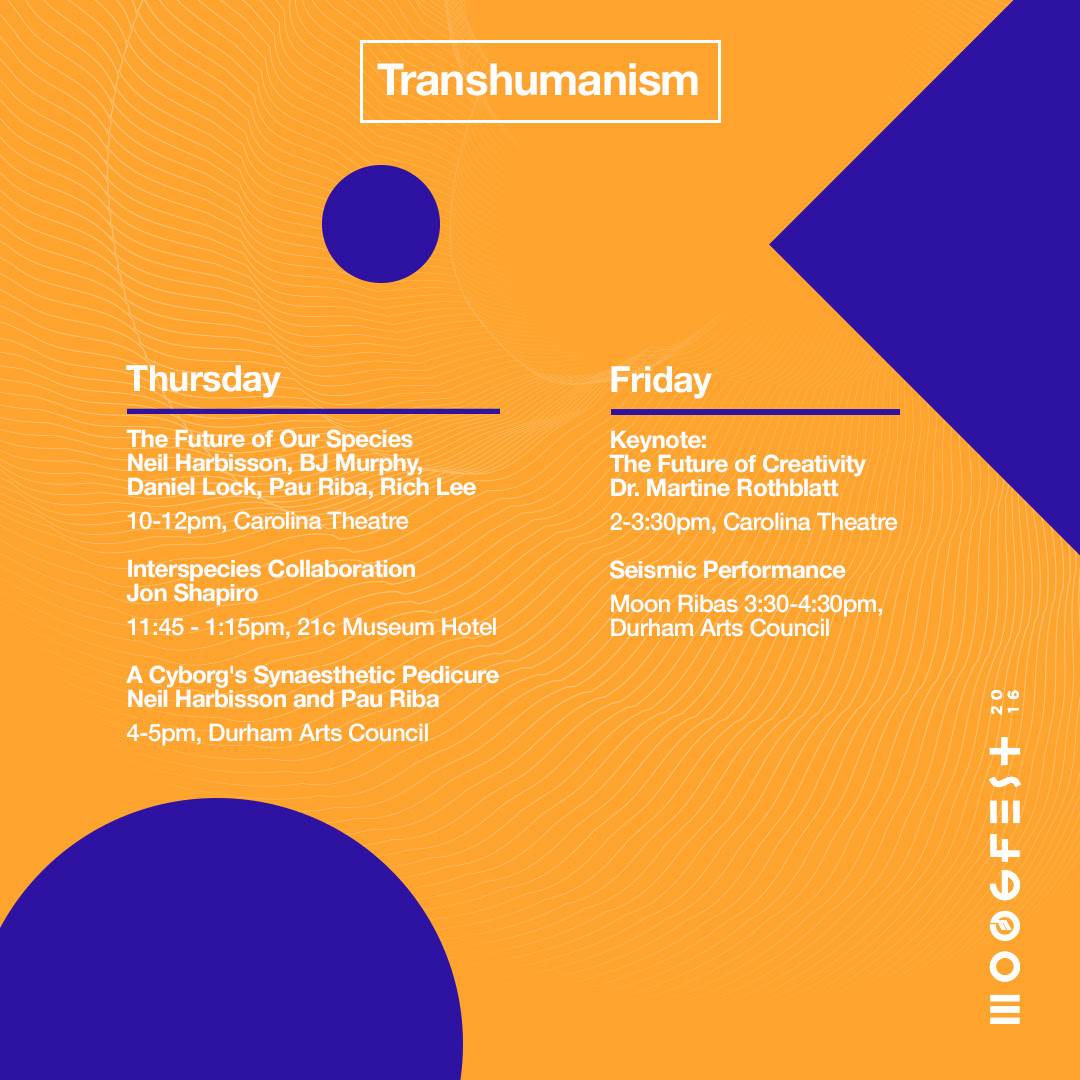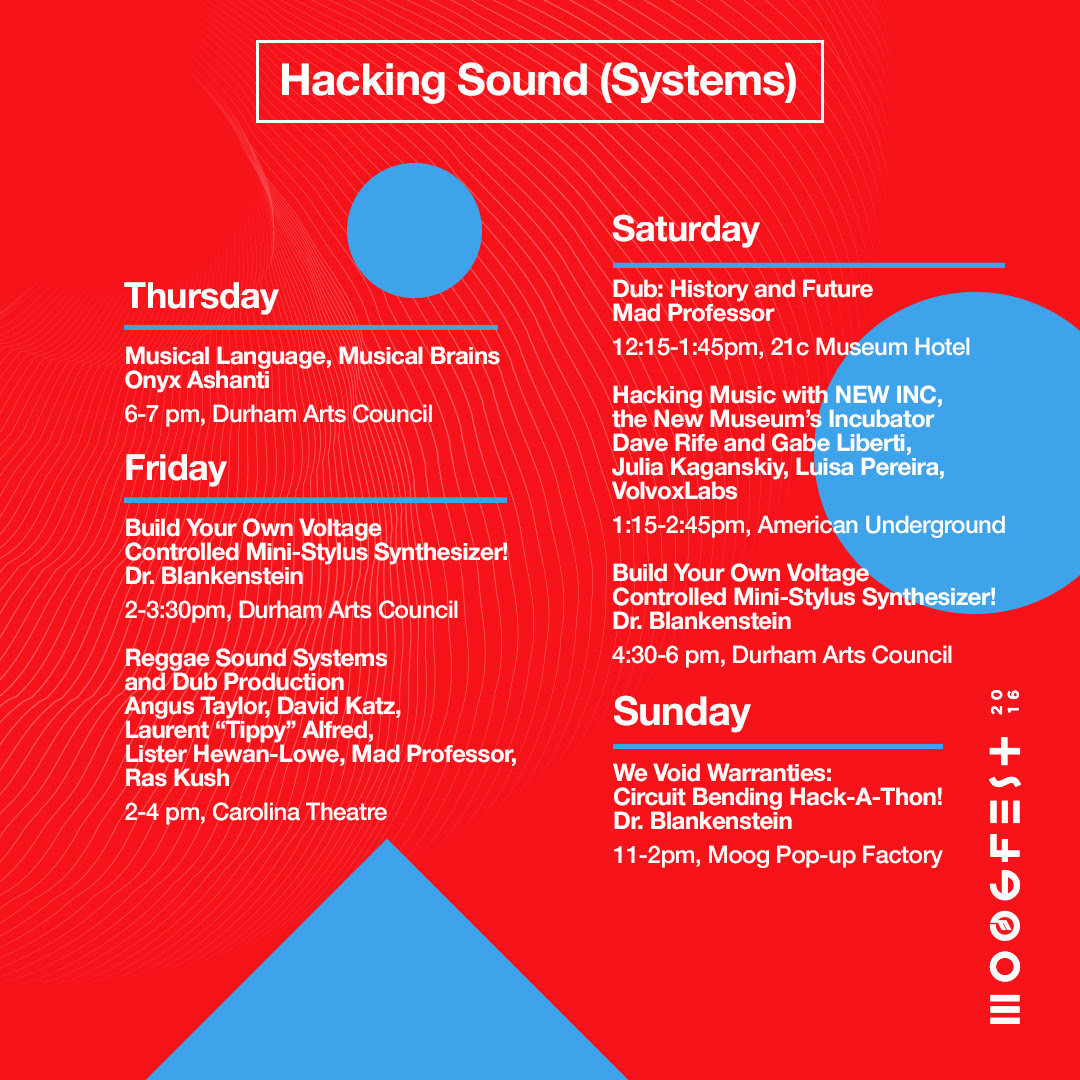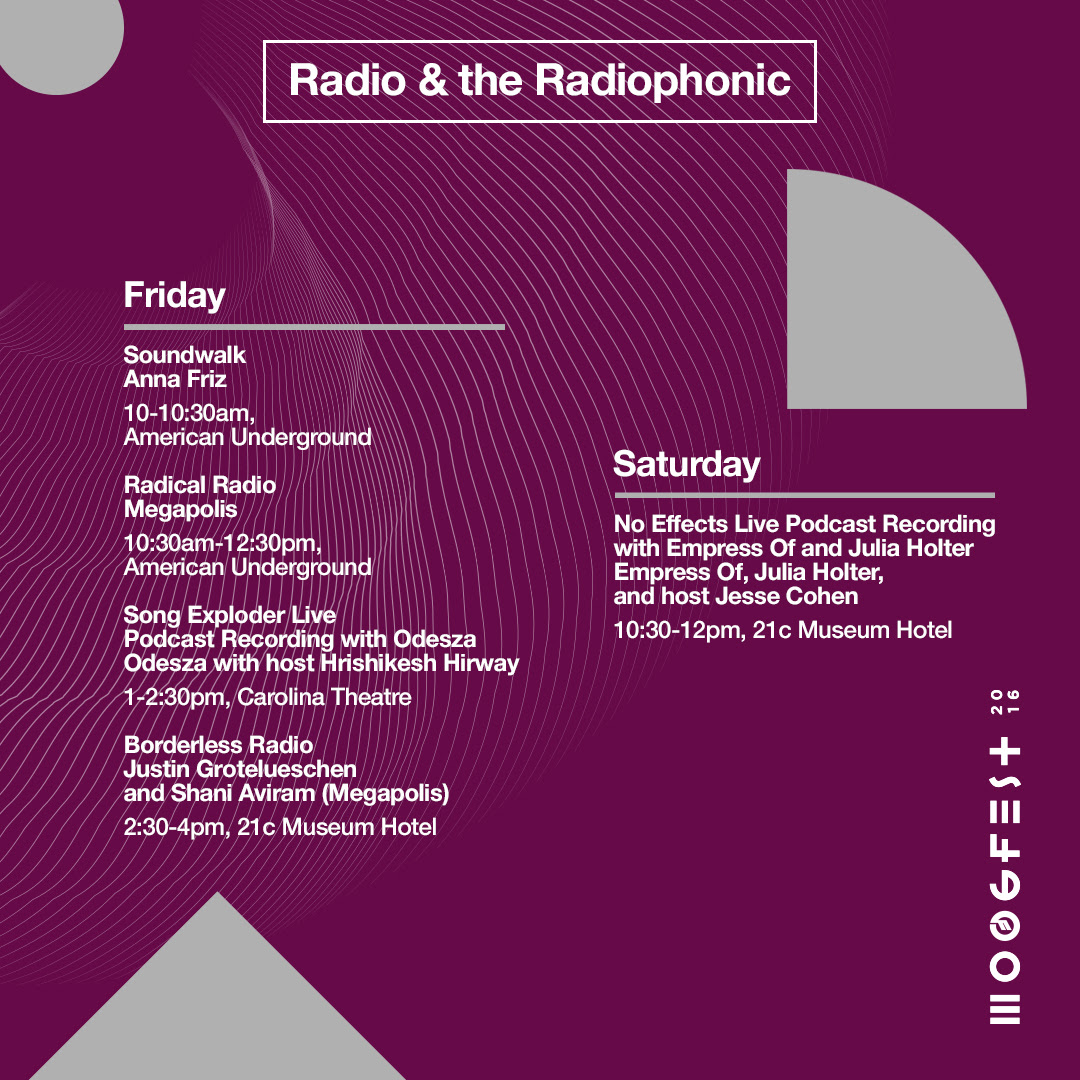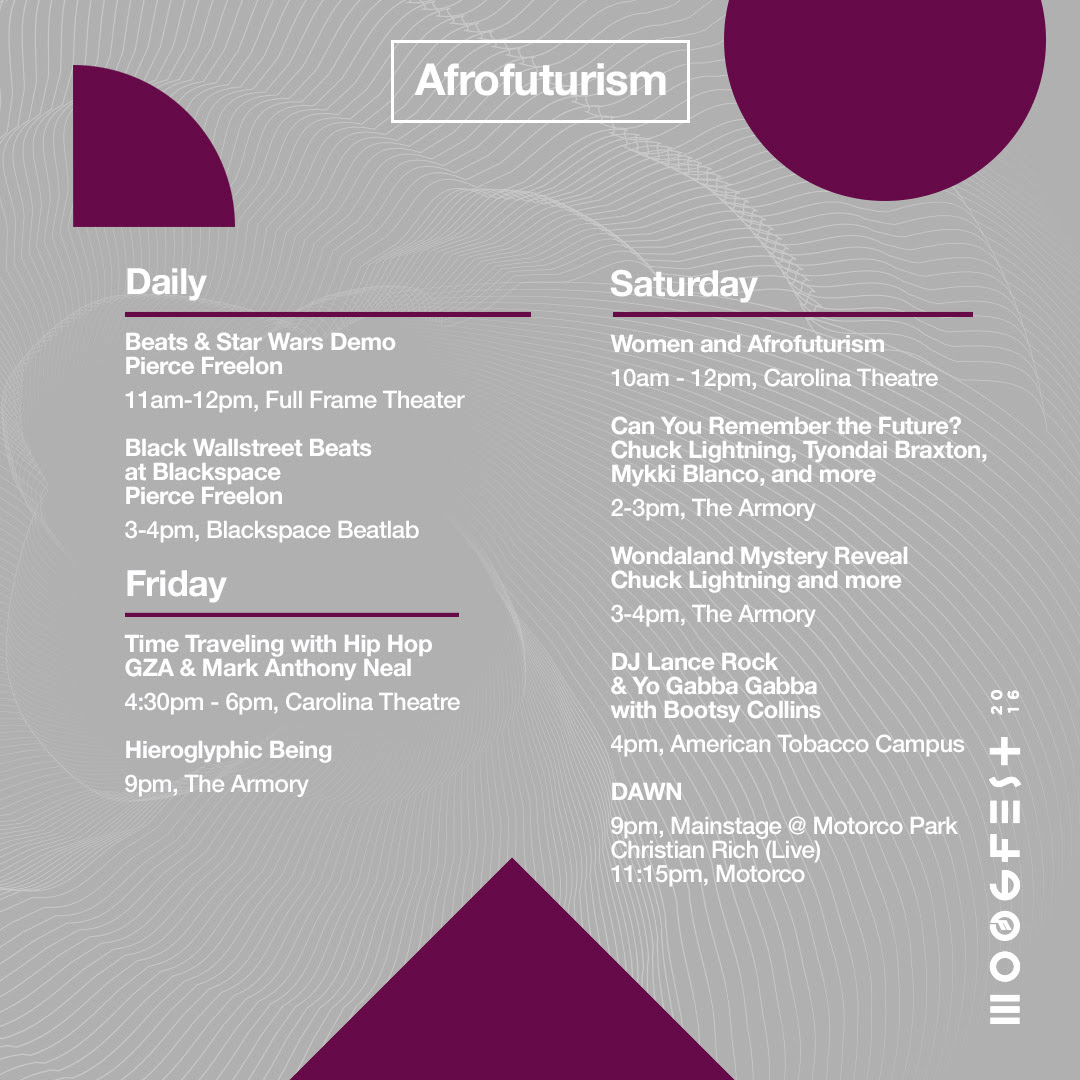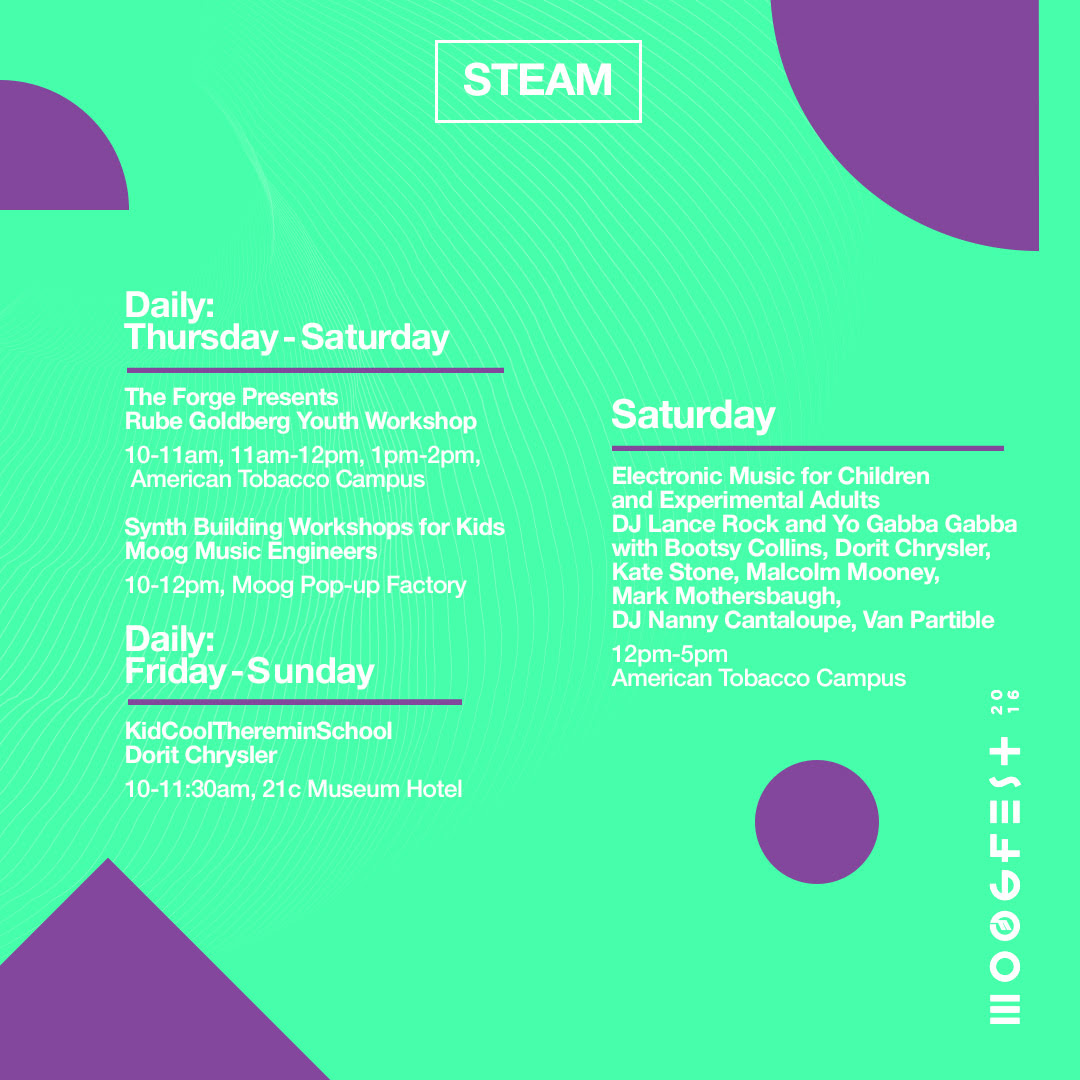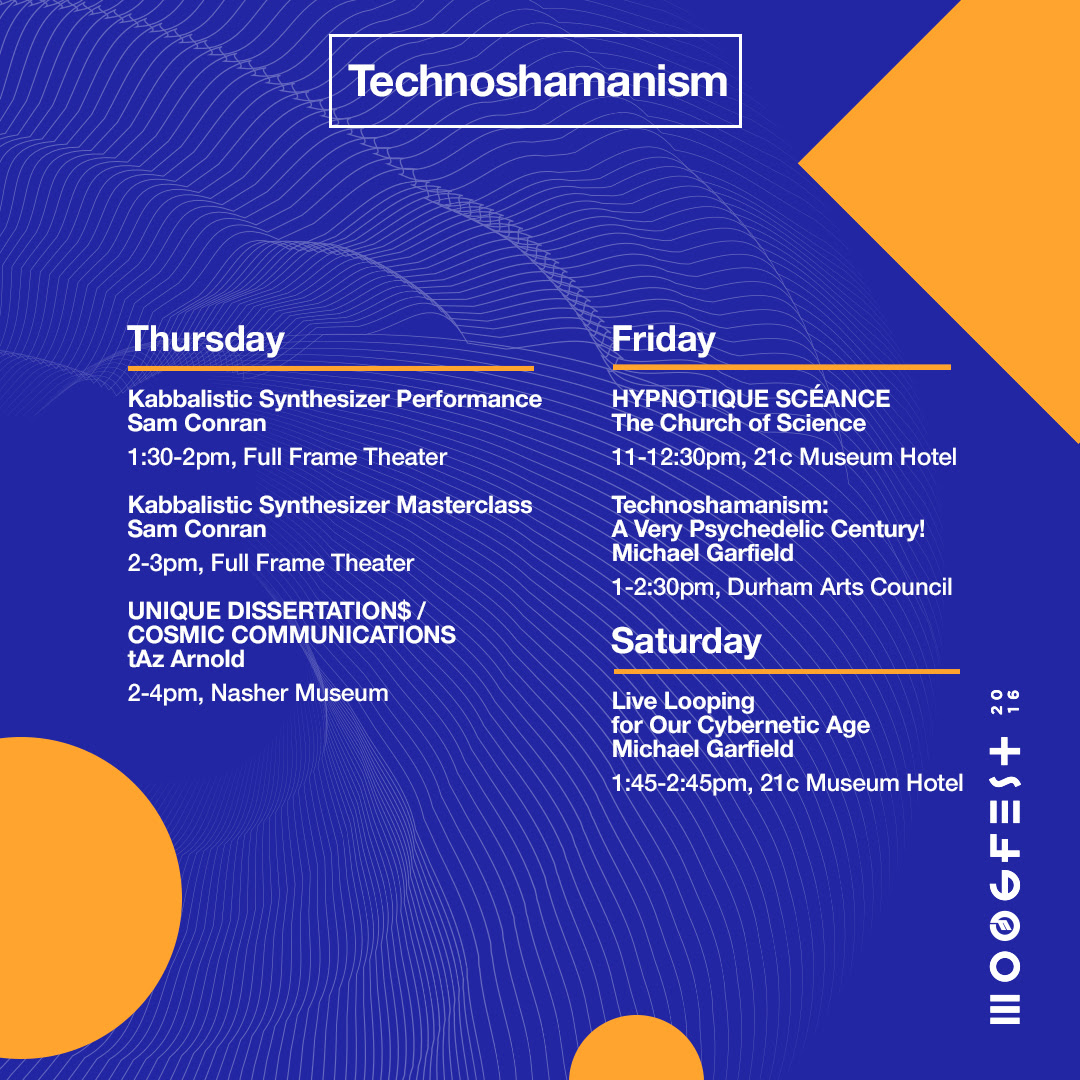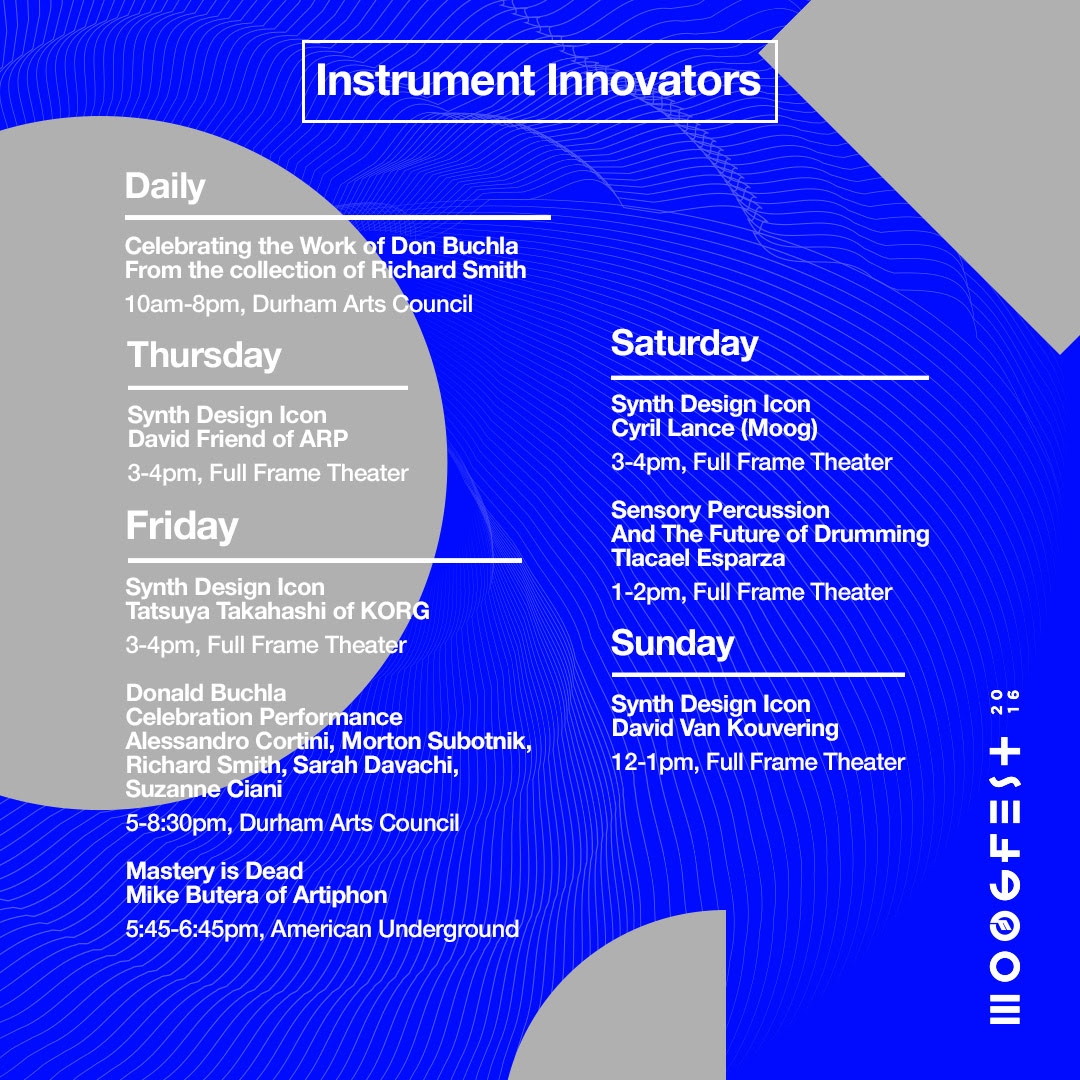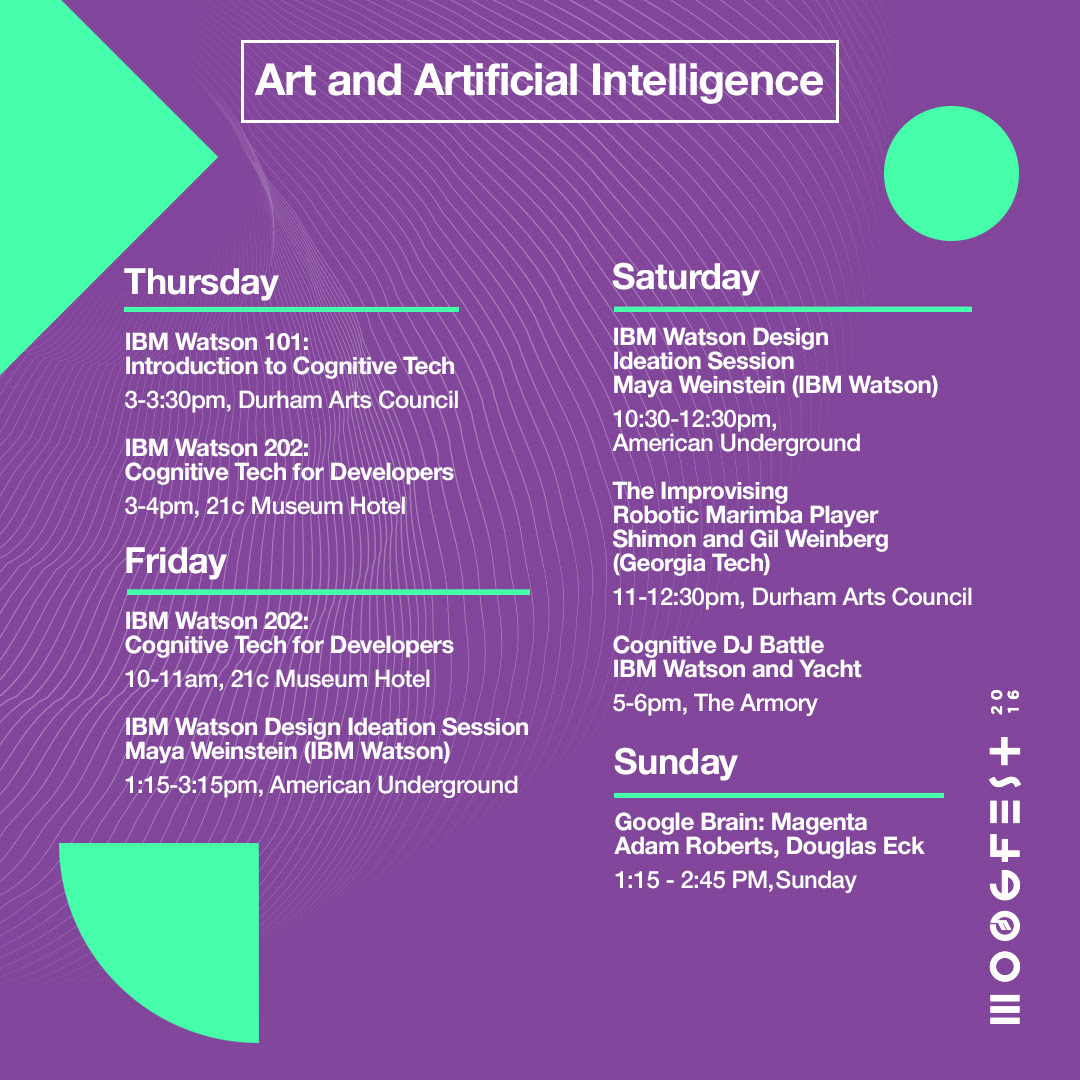 A growing list of participants include: Aaron Soloway, Actress, Adam Florin, ADULT., Afrikan Sciences, Alessandro Cortini, Alexander Randon, Amos Gaynes, Andrew Benson, Andrew Kilpatrick, Angus Taylor, Anna Friz, Antenes, Arthur Russell's Instrumentals, AUDINT, Basma Alsharif, Ben Frost, Ben Knapp, Ben Russell, Bicep (Live), The Black Madonna, Blazer Soundsystem, Blood Orange, Bob Moses, The Body, Bootsy Collins, Burton Rast, CFCF, Christian Rich, Chuck Lightning, Claire Evans, Cyril Lance, Cullen Miller, Daniel Bachman, Daniel Lanois, Daniel Lock, Darwin (DJ set), Dave Rife & Gabe Liberti, Dave Tompkins, David Friend, David Katz, David Van Koevering, Dawn of Midi, DAWN, Daye Jack, Demo Taped, Denzel Curry, Derek Ham, Disasterpeace, DJ Craig Layabout, DJ Harvey, DJ Lance Rock & Yo Gabba Gabba, DJ Nanny Cantaloupe, Dorit Chrysler, Dr. Blankenstein, Earthly (Live), Eban Crawford and Christina Cucurullo, Ed Bear, EMA, Emma Coats, Empress Of, Explosions in the Sky, Eyes Low, The Forge, Floating Point Collective, Floating Points (Live), Gary Numan, Gil Weinberg & Shimon, Germick Brothers, Ghostdad, Greg Fox, Grimes, Grouper, Gwenno, GZA, Hanz, HEALTH, Heathered Pearls, Helen Armstrong, Hieroglyphic Being, Hundred Waters, I Speak Machine, Ivica Ico Bukvic, Jaakko Eino Kalevi, Jana Hunter, Jaron Lanier, Jeff Kolar, Jlin, Joe Patitucci, Joel Ford, John Keston, Jon Shapiro, Jonathan Dinu, Julia Holter, Julia Kaganskiy, Julianna Barwick, Justin Grotelueschen, Kaitlin Prest, Karen Gwyer, Kate Stone, King Mez, Kode9 x Lawrence Lek, Kristen Gallerneaux, Kyle Hall (DJ set), Kyle McDonald, Larry Gus, Laurel Halo, Laurent "Tippy" Alfred, Laurie Anderson, Lister Hewan-Lowe, Luisa Pereira, Lunice, M. Geddes Gengras, Mac McCaughan, Mad Professor, Made of Oak, Manuel Clément, Marc Fleury, Mark Anthony Neal, Mark Mothersbaugh, Martin Brooke, Dr. Martine Rothblatt, Matt Werth, Matthew Ganucheau, Maya Weinstein, Michael Garfield, Miike Snow, Mike Butera, Modular on the Spot, Moon Ribas, Morton Subotnik, Moses Sumney, Mykki Blanco, Neil Harbisson, Nick Yulman, No Effects with Jesse Cohen, ODESZA, Olivia Block, Oneohtrix Point Never, Onyx Ashanti, The Orb, Party Illegal DJs, Patricia, Patrick Buchanan, Patrick McDermott, Pau Riba, Paula Temple, Peter Hyer, Pierce Freelon, Professor Toon, Qrion, Quintron and Miss Pussycat, Rabit, The Range, Ranjit Bhatnagar, RBTS Win, Rea McNamara, Reggie Watts, Rich Lee, Richard Smith, Rival Consoles, Robert Hood, Robert Rich, Ryan Germick, Ryan Hemsworth, Sam Aaron, Sam Conran, Sarah Davachi, Scott McCloud, Shallou, Shani Aviram, Sharon Mashihi, Sheba Love, Silver Apples, Skepta, Son Lux, Song Exploder with Hrishikesh Hirway, Stephi Duckula, Steven A. Cummer, Steve Dunnington, sunn O))), Susan Kare, Suzanne Ciani, Tatsuya Takahashi, tAz Arnold, Tim Hecker, Tlacael Esparza, Toby Heys, Tobias Overath, Phd, Tod Machover, Tory Lanez, Thomas F. DeFrantz, Trandle, Tyondai Braxton, Uli Sigg, Ultrabillions (DJ set), UV boi, Van Partible, Veronica Vasicka, Via App, Well$, YACHT, Yuri Suzuki, Zombi.
Moogfest is an all ages festival. Tickets are non-refundable.
VISIT MOOGFEST.COM AND JOIN THE LIST.

Payment Plan: How does the payment plan work?
You can now buy your Moogfest ticket on a payment plan through Eventbrite's relationship with Affirm. Affirm offers clear, simple financing to split your Eventbrite order into 3 or 6 monthly payments. Once you select Monthly Payments with Affirm on the Eventbrite checkout page, you will need to confirm your loan on Affirm. Your tickets will be emailed to you immediately upon checkout. Make sure you pay your Affirm bills on or before your due dates. For more information, see FAQs about Affirm.
4MS

4MS




Actress







ADULT.







Antenes







Artiphon







AUDINT







Audulus







CFCF







Darwin







Delptronics







Dewanatron







Disasterpeace







D∆WN







Earthly







EMA







Eyeo

Eyeo Festival




Flatsitter







Ghostdad







Google

Google




Grimes







Grouper







Gwenno







Hanz







HEALTH







IDEO

IDEO




Intellijel







Jlin







Kickstarter







Kode9







Lunice







Megapolis







Neuronics







ODESZA







Patricia







Qrion







Rabit







Reverb.com







RUNAWAY







Shallou







Sunhouse







Synthrotek







Trandle







Well$







WMD







YACHT







Zombi







Aaron Soloway (IDEO)







Burton Rast (IDEO)







Peter Hyer (IDEO)







Nick Yulman (Kickstarter)