Sales Have Ended
Ticket sales have ended
Pre-Sales have ended for this event. VIP Tickets available fora Bottle Service only. Bottle Service/VIP Inquiries: BottleService@1015.com
Sales Have Ended
Ticket sales have ended
Pre-Sales have ended for this event. VIP Tickets available fora Bottle Service only. Bottle Service/VIP Inquiries: BottleService@1015.com
NYC duo Soul Clap curates a lineup of seasoned DJ veterans & legends --- ranging from Detroit's Moodymann to Amsterdam's Full Crate!
About this Event
Soul Clap & DJ Dials present
HOUSE OF E-FUNK with
MOODYMANN
SOUL CLAP
FULL CRATE
with
Heidi Lawden (dublab)
J. Boogie (OM Records / Pandora)
Rasoul
Let's Play House (iambzr + J.Jaxx)
Didje Kelli
Zackey Force Funk
Make It Funky DJs
Aabo
Friday February7th -- 10pm-3am -- Ages 21+
Table Reservations: BottleService@1015.com // 415-988-3099
SMS/MMS Terms & Conditions
By participating, you consent to receive recurring autodialed SMS/MMS promotional messages (up to 2 messages per month). No purchase required. Standard message & data rates may apply. At anytime, you may text 64600 the message HELP for help or STOP to unsubscribe.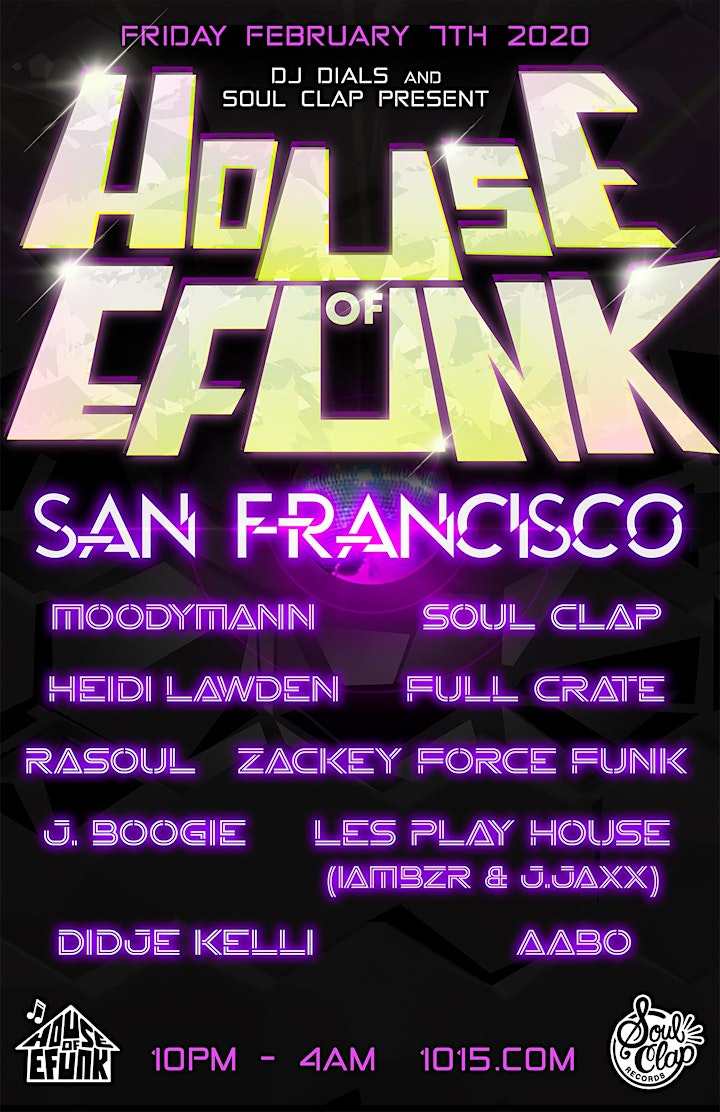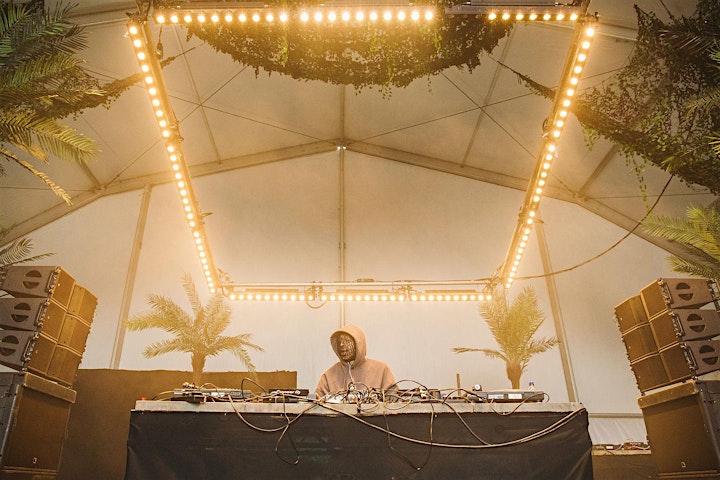 MOODYMANN
"I don't make 
music for the masses to dance to, i make music for the small majority that listens." —Kenny Dixon Jr
Kenny Dixon Jr. aka Moodymann has emerged as one of Detroit's most enigmatic and most successful house producers. Perfecting a unique blend of samples and original instrumentation KDJ's music is different and original than typical house. Drenched in soul, funk and jazz KDJ gathers the full force of his musical influences and recontextualizes them within the house genre. His material ranges from the slow and moody to the up beat and energetic. Another quality label that keeps the spirit of good soulfull housemusic alive.
KDJ is Kenny Dixon jr - aka Moodyman.Moodyman combines classic soul and jazz
samples, low-slung bass in many of his tracks that always manage to create a captivating scope of sounds keeping you hooked in the groove from start to finish. This style of strong soul and blues-tinged tech house music is able to combine theoriginal disco sound with the more deeper approach to production that has been mo-re apparent with the producers of Detroit.
The production and musician skills that he retains put him in a class of his own with
many trying to mimic his style but not quite managing to reach the same emotion that is always apparent in his tracks. In his own words he best describes his music on the track 'Radio' from his 1998 album Mahogany Brown.. "I don't make music for the masses to dance to, i make not one for taking the limelight but preferring the music to take the exposure and do the talking. He is also known to have quite a controversial political philosophy and racial agenda with some comparing his attitudes to that usually associated with Rappers and thus regarding him as an outspoken voice in the normally non-confrontational world of electronic dance music. But the roots of this resistant spirit of Dixon's partisan-like thinking that drives him and other Detroit- born musicians to the city's environment - was shaped by 1943 and 1967's riots and their shattering aftermath.
The mysterious Moodymann began his production career in the early '90s, and set up his independent label KDJ Records in 1994 with the first release being the Moody Trax EP and then following up with the great and now classic releases like "The Day We Lost the Soul" which is a tribute to one of KDJ's hero's Marvin Gaye. "I Can't Kick This Feelin When It Hits", "Don't Be Misled", "Forevernevermore", "Dem Young Sconies EP"and many more..
Dixon is also part of the '3 Chairs', a collaboration of three of Detroit's heavyweight house producers - Theo Parrish, Kenny "Moodymann" Dixon Jr, and Rick Wilhite. These guys have been working together on many projects over the past few years and all sharing the ability to produce their unique Gritty Soul, Jazz, Blues sound.. In the late '90s, they released for a pair of 12"s that were billed as 3 Chairs, with each track being credited individually - it was when Malik Pittman was added to the group in 2003 on the release "All Over", they began crediting the tracks to the whole crew. This notion remains for their first album, also presented as a complete group release.
While he may frustrate people with his refusal to be interviewed and insistence on reminding people of the genre's origins, it is a certainty that his music is ground braking, and the brilliance of his unique underground sound appeals to all ears weather they be Black, White, Yellow, the result is the same: soulful personal music from the heart.
SOUL CLAP
Before today there was yesterday and after tomorrow is the future. Elyte and Cnyce´s paths were crossed for all time when a Sun Ra light beam sent from Saturn collided with the P-Funk Mothership and sent them tumbling to earth. Now, Soul Clap time travels on a musical spaceship of dopeness…
The early years: As children on earth, they were driven to understand the history of dance music and found their teacher in original boston disco DJ Caril Mitro who admitted them into the temple of Vinyl Connection (whose members included Dimitri From Paris and Frankie Knuckles plus many more). Caril taught Soul Clap that "house wears many hats" and instilled the sounds of American dance music while fostering an addiction to digging that has become a worldwide quest to acquire the best vinyl. Soul Clap´s training goes beyond history lessons to mastering all the elements of the DJ: knowledge, mixing, programming, performance and experience.
In between: With their roots firmly planted in their hometown of Boston, Soul Clap went out into the world to perform at places like The Marcy Hotel, Fabric, The Electric Pickle and Bar25 and in smaller places in America, Europe, Japan, Mars and Jupiter plus dancefloors in other galaxies that you haven´t heard of. They blasted into space with a series of game changing edits (including the summer 2010 anthem Extravaganza), originals (Action/Satisfaction & Lonely C) and remixes (for Laid Back, Metronomy, Little Dragon, Robert Owens, DJ Harvey and more). They joined forces with Wolf + Lamb to mix a chapter of the legendary DJ Kicks series and broke musical ground on a two month world tour of 6+ hour DJ sets. They always believe in sharing the knowledge by teaching college courses, doing workshops, speaking on panels and making sure to include forgotten classics in their epic DJ sets.
The future: By harnessing the past Soul Clap looks to the future. In 2012 they released their debut long player, EFUNK: The Album. A culmination of their sonic influences so far, full of collaborations and programmed to listen to on one vinyl LP, it included a cover version of Egyptian Lover's classic Alezby Inn, which got the seal of approval from Egypt himself in the form of a remix due out in 2013. Pushing their musical message even deeper, Soul Clap proudly launched Soul Clap Records, a sounding board for original material, a framework for their own funky family and a spotlight on undiscovered talent from their hometown of Boston and beyond. To keep the vinyl torch burning the label features vinyl only tracks and limited 7" records, as a matter of fact 45's have become an exciting new medium in Soul Clap's DJ performance. Soul Clap Records also completes the trinity now known as Crew Love, a family formed with Wolf + Lamb and Double Standard Records. With epic Sonar & A.D.E. parties already in the history books, this brotherhood will bring together artists from all three labels for many more epic experiences in 2013. As the stars align, Soul Clap to embark on new adventures for 2013. Coming soon is a mixed compilation for newly relaunched UK Garage legend Nice 'n Ripe records and possibly the most exciting mothership connection of all, a budding collaboration with the creator of P-Funk himself, Mr. George Clinton and his C Kunspyruhzy record label.
Always pushing new boundaries, always traveling through time and space, The Clap is on a mission to change the world one dance floor at a time. Dr. Funkenstein has taught us well: free your mind, and your ass will follow.
FULL CRATE
Raised by his Armenian parents and moving to the Netherlands at the young age of 13, Dutch / Armenian Full Crate was exposed to different cultures from the beginning and knows how to work for his success.
Over the last years Full Crate has been a major force in the uprising of underground music, developing his production, writing and live show level in the process.
The multi-talented Full Crate has released a string of songs that proved him to always be ahead of the curve. With his roots in Hip Hop culture, Full Crate has a firm spot on the forefront of forward thinking electronic music from RnB to Dancehall. His contagious rhythms and tracks connect Hip Hop and RnB with electronic music, gaining traction with his production and remixes for Syd (The Internet), Jojo, Shakka, Beyonce and others.
Performers
Date and Time
Location
Refund Policy