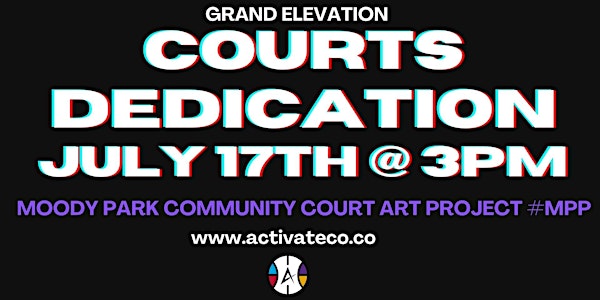 Moody Park Community Court Art Dedication and Grand Elevation #MPP
Moody Park Community Court Art Dedication and Grand Elevation #MPP
When and where
Location
Moody Park 2201 West Auer Avenue Milwaukee, WI 53206
About this event
Be a part of Milwaukee history.
Event Schedule
3PM
HISTORY | Moody Park Community Court Art Project #MPP
In 1982, The County Board of Supervisors in the city of Milwaukee renamed a park in the Amani Community neighborhood to "Moody Park", after Calvin C Moody. Moody became one of the first African American's to earn the title of detective in 1949 and also was a Milwaukee Police Officer for 25 years. After his law enforcement career ended, he wore many other hats becoming the Director of the Northside YMCA, a Milwaukee County Supervisor, and also served as a board member of the NAACP.
Located near 22nd and Burleigh, Moody Park has historically been a place where the Amani neighborhood Community has come together; whether that be for basketball tournaments, cookouts, or events put on by local neighborhood groups. However, over the past few years the park has also seen its share of hard times. According to the Milwaukee Police department, the park experienced a rise in fights breaking out in the summer of 2019, which in turn caused an upsurge in the police presence needed there.
Then on August 25th, 2019, 20-year-old Quanita "Tay" Jackson was innocently shot and killed in Moody Park. This occurred just one day after she played a key role in organizing a basketball tournament at the park, in coordination with Program the Parks MKE, which is a youth programming initiative that creates events targeted towards children in an effort to promote peace.
It is within this context that we have joined with the community to Activate the courts at Moody Park. -Darien Yeager, Lead Writer
MEET ART FU YUNG | Jamahl Turner - Lead Artist of Moody Park Project
"This is an opportunity to influence Milwaukee youth, to teach Milwaukee youth mental health awareness," said Turner. "To teach them about manifestations-to tap in and shift their paradigm. By shifting their mindset they can truly become greatness. They don't have to be victims of their surroundings. I don't want them to feel like they're stuck anymore."
Connect with @ArtFuYung on Instagram and Facebook.
https://www.instagram.com/artfuyung/
https://www.facebook.com/artfuyung
For more info about the Moody Park Community Court Art Project #MPP and stories > https://activateco.co/moody-park/