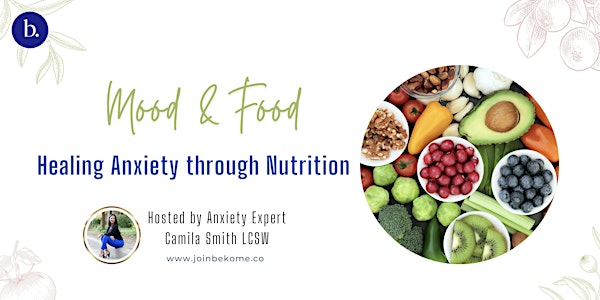 Mood & Food: Healing Anxiety through Nutrition (Free 30-Min Webinar)
FREE 30-minute live webinar to learn more about nutrition, anxiety, and natural alternatives to help alleviate anxiety with leading expert
About this event
Is your anxiety preventing you from being your best self?
Are you frustrated with the lack of treatment options that actually work without the unwanted side effects?
You're not alone! We at bekome understand anxiety and are dedicated to offering effective, all-natural options to help alleviate anxiety while creating a safe healing space.
The good news is that feeling better does not have to be an uphill battle– and we have everything that we need within reach. Nutrition is one of the most powerful healing agents.
I've spent YEARS delving into the latest research and I want to share everything that I've learned along the way because we rise together.
You will leave this webinar feeling empowered to make choices to support your healing and will:
Learn about the science of anxiety because it is not all in our heads!
Understand the connection between our gut health and mental health.
Gain knowledge on mood-boosting foods, nutrients, pre/probiotics, and the use of supplements to regulate anxiety.
Questions? Please feel free to email me at Camila@joinbekome.co
Visit our website @ joinbekome.co and learn more about how we can help you manage your anxiety daily.