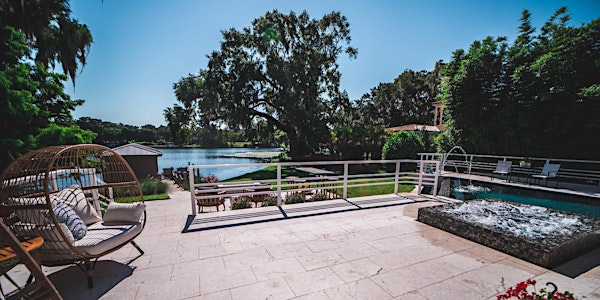 Monumental: A Sculptural Exhibition featuring sculptor Sandro Pelicié Pérez
AXIOM's lakeside Residential Showroom will be exhibiting sculpture by Sandro Pelicié Pérez. Enjoy an evening of Art in this luxury property.
When and where
Location
AXIOM Showhouse 472 Henkel Circle Winter Park, FL 32789
About this event
In collaboration with AXIOM Fine Art Consulting and AXIOM Luxury Real Estate, on November 1st, 'Monumental,' an exhibition featuring sculptor Sandro Pelicié Pérez, at AXIOM's lakeside Residential Showroom.
Join us at the premiere to enjoy an evening of Art, Luxury Real Estate, and Great Conversation!
Find more information about the artist and his process below!
Some Logistical Notes:
Parking can be found along the street at Henkel Circle.
If you plan on having wine at the event, we highly encourage you to schedule a driving service to and from the event.
About Sandro:
Sandro Pelicié Pérez is a Sculptor & Decorative Concrete Specialist. His combined skills create luxurious wall finishes and one-of-a-kind artistic concrete floors, primarily for retail establishments and luxury residences. His passion for sculpture draws special interest to his work which has earned international acclaim.
Born and raised in Santiago de Cuba, Sandro's aspirations for sculpture began at age six. Raised in extreme poverty, he aimed to use his hands to build & transform the world around him— reflecting the beauty of dichotomy and diversity. Sandro overcame many challenges during his life in Cuba; from hospitalization in a mental institution to homelessness, he eventually graduated with a Gold Diploma from San Alejandro Art Academy in Havana.
In 1998, Sandro relocated to Kingston, Jamaica and quickly established himself within the art scene. After several solo exhibitions, his work was exhibited at the National Gallery of Jamaica. It was during this period Sandro developed his skillset to create exotic themed outdoor spaces, luxurious wall finishes, and unique decorative concrete floors. Moving again to Orlando in 2012, Sandro continues his work as part of the Florida Sculptors' Guild. His work was exhibited at the 'La Creatura', hosted by the Crealdé School of Art in November of 2015 in association with the Guild. Sandro worked as part of a group exhibition for 'Sight Unseen: Touchable Sculptures' mounted by the Albin Polasek Museum; an exhibit in Winter Park, FL specifically geared towards the visually impaired community. In addition to the 'Experience Contemporary' and 'Functional Sculpture' exhibits hosted by the Florida Sculptors' Guild (2016), Sandro's work has been displayed in top prize-winning homes for the Parade of Homes, Phil Kean Design Group, and for E2 Homes.
In His Own Words:
"I am largely influenced by my exposure to a diverse cross section of textures and media, where my choice of specific materials is informed by the message I wish to convey— having ranged from fiberglass, wood, clay, concrete, marble, and various metals. My process is dictated through the language of design. A piece develops alongside keen attention to clean lines, defined form, intense shadows, light, space, and texture. Over time my work has evolved from detailed expression to more contemporary and simplified forms.
Motivated by social issues, I also wish to present the human body in honorable form, equally acknowledging its beauty, dignity, and value. My aim is to inspire and provoke thought that awakens the human spirit.
From Ashes, Beauty; Weakness, Strength. From Rejected Things, the Restored."
-Sandro Pelicié Pérez
Featured below is the artist himself. Follow AXIOM Gallery on Social media to get sneak peeks of the show! @axiomgallery
About the Venue:
Including the outside living space, there is over 6000 sq ft ready to impress guests and offer an unforgettable place to entertain. Rich wood and glass accents are found throughout the house. 10' Casablanca stained folding La Cantina doors open to transitional room with sub zero/Viking summer kitchen, pool bath, outdoor shower, retractable sun shades and outdoor A/C system. Lakefront oversized infinity edge pool w/ glass tiles, tanning shelf, gas heated spa, aeration fountains, fiber optic lighting and waterfall sit on a 3000 sq ft stone patio with gas firepit.Gas torches light the way to the lakefront dock w/ boathouse, covered lift and secure storage.Lakeview Master Suite features huge custom closet and marble bathroom with large glass shower and separate freestanding tub.LR w/ gas fireplace opens to high end gourmet kitchen with 60 Wolf range and double convection oven, large open pantry and 10ft island.The 2 story grand entry highlights wood and glass custom staircase leading up stairs to 3 bedrooms with private full baths and custom walk in closets as well as a 2nd 1/2 bath and a 2nd full size laundry room, LR, dining area and kitchenette with balcony overlooking lake.This home has state-of-the-art technology including sec. cameras, surround sound, media, LED lighting, 4 A/C systems operated by ipads w/ docking stations and iPhone enabled.MUST SEE, absolute perfection!
YouTube Video: https://www.youtube.com/watch?v=AyzKI_ACX6s
Property Listing: https://stellar.mlsmatrix.com/DE.asp?ID=27157668771&L=1