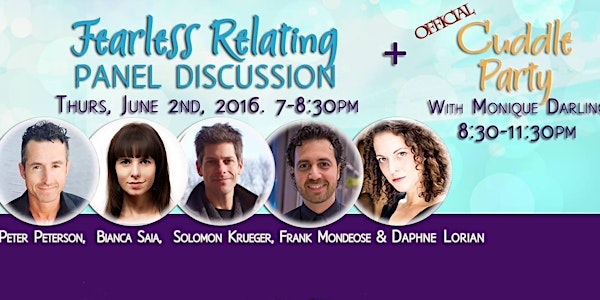 MONTREALFearless Relating Panel & Cuddle Party
When and where
Location
5337 Boul St-Laurent 5337 Boulevard Saint-Laurent Suite 430 Montréal, QC H2T 1S5 Canada
Description
Join Monique Darling and Peter Petersen, along with your local luminaries Daphne Lorian, Frank Mondeose, Bianca Saia and Solomon Krueger, in a dialogue on conscious relationships, sex and intimacy, where we will address the most important issues that are alive for YOU!
This 90min panel discussion on Fearless Relating will be followed by a 3-hour Cuddle Party, facilitated by Monique Darling, who has travelled and led hundreds of these across the country. We are also celebrating the recent publication of her new book "Beyond Cuddle Party"!
**FEARLESS RELATING PANEL DISCUSSION: 7-8:30pm**
We will intersperse sharing of our favorite tools within a question and answer format discussion. YOU bring the questions... We will do our best to answer each and every one. What are you dying to know about dating and relationships? What has you super curious, but there never seems an appropriate place to bring up your inquiry? This event is your chance! Ask away! And allow some authenticity and vulnerability when we sex & intimacy geeks use our life's journeys, wisdom and courage (balls) to answer anything you throw our way!
Come and explore how to hold difficult conversations, understand the different love languages that you and your loved ones might have as filters for giving and receiving of love, and learn to communicate what's not being said in a way that is empowering and creates more connection. We will explore different modes of communication (verbal and non-verbal), different styles of relating, open relationships, agreements, flirting, transparency… all ways to support you in taking off your masks so that you can REALLY relate!
We are here to support you in having the personal and relationship breakthroughs you are longing for so that you can enjoy the greatest love of your life!!!
………………………………………………………
**OFFICIAL CUDDLE PARTY**
8:30-11:30pm (Doors lock at 8:45pm!)
For all of you longing for more of an embodied experience, touch and cuddles, we've got you covered....
Cuddle Party is a 3 hour workshop experience where participants engage in communication exercises, explore touch and intimacy in a non-sexual space, and have fun with like minded friends from the community.
Nurturing and consensual loving touch is good for maintaining healthy blood pressure, a strong nervous system and a balanced emotional health. One's ability to connect with and develop greater trust in others is emphasized during the group exchanges during Cuddle Party's. Self-care is a cornerstone of Cuddle Party experience.
As seen on CBS's the DR'S- http://thedoctorstv.com/videolib/init/6154
Cuddle Party is a formal, non-sexual event that offers participants an opportunity to explore intimacy with like-minded others. In a relaxed environment, that upholds personal boundaries and maintains a professional atmosphere, at all times, one is encouraged to engage in communication and touch, in a non-threatening, share-affirming environment. Cuddle Party is a holistic, social space that attracts fascinating people from all walks of life. It provides a special and unique opportunity for connection, learning and growth. Come cuddle with us!
………………………………………………………
** 'BEYOND CUDDLE PARTY' Book Launch **
Come celebrate an event that has been 10 years in the making!! In March 2016, Monique Darling published her first book and she is excited to share it with you. Monique says that Cuddle Parties gave me back the use of her voice and helped her transform my life into something spectacular, beyond her wildest dreams! Her hope is that my new book will help you do the same. Printed copies of "Beyond Cuddle Party: How pajamas, human connection and 11 rules will help you change your life" will be available at this event so you can get them for signed by the author at the start of the night!
………………………………………………………
IMPORTANT CUDDLE PARTY NOTES:
BRING: Comfortable PJs, Blankets, Pillows and any kind of soft fluff to enhance your experience.
REGISTRATION:
Tickets are $30 in advance. $35 on the door. Space is limited and this event often sells out!! You can save your spot here:
OR get an EVENING PASS (4 events of choice*) is $100 by May 15th , $120 By June 2nd
*Other Evening Events in this series:
Thurs, June 2nd, 7-11:30pm - Fearless Relating Panel Discussion + Official Cuddle Party
https://www.facebook.com/events/1722206374692511/
Friday June 3rd, 7-11pm - Feast of the Senses
https://www.facebook.com/events/1090117981046961/
Sat June 4th, 7:00-10pm - Intro to Energetic Play
https://www.facebook.com/events/479272592268574/
Sunday June 5th, 7:00-10:30pm - The Gift of Puja: An Evening of Adoration
https://www.facebook.com/events/1143823355651573/
PLEASE BE ON TIME! Doors lock at 8:45pm. Make sure to account FOR TRAFFIC AND PARKING! The opening Welcome Circle is for introductions and to go over the rules of Cuddle Party. This is an important aspect of the Cuddle Party experience and creates a safe container for all participants. It is essential that everyone be on time.
THE RULES: We will go over these at the start of the night, and you can also familiarize yourself with them here: http://www.cuddleparty.com/rules/
THE FLOW:
After the opening circle, we will warm up with a Qigong practice (a moving meditation from China) led by Peter, to bring us into a state relaxation, body awareness and presence in the here and now. Participants will then be guided through a series of exercises of different forms of conscious touch and communication practices, which will be interspersed with periods of cuddling and connection inspired by the guidelines and intentions for the night.
………………………………………………………
A WORD ABOUT CUDDLE PARTY from Monique:
I have facilitated 100′s of Cuddle Parties. I am as passionate about the Cuddle Party experience today, as I was the first one, over five years ago. YES! It helped me reclaim my voice and I am passionate about helping others do the same.
Cuddle Party experiences teach participants, they alone create their own safety container. How did it change my life? When I was growing up and received a NO, it felt like I was being rejected. The result was my emphasis on being nice, being lovable and being unconditionally available. The profound learning came when I realized my unyielding YES's became a subconscious inability to trust another person's YES, without their own personally vocalized NO!
I am very appreciative and honored by the courage shown by those who have clear boundaries, and an ability to voice their YES and NO decisions without guilt, shame or fear. It gives me the confidence to ask for what my own heart desires, instead of censoring myself, knowing the receiver of my request has the voice and courage to embrace or withdraw, based on their own perimeters. "Thank you for taking care of yourself".
...........
ABOUT YOUR FACILITATORS & PANEL PRESENTERS:
MONIQUE DARLING, workshop facilitator extraordinaire has led over 800 workshops in the past 5 years. She is the founder of Juicy Enlightenment an organization dedicated to empowering people who are questioning the assumptions of how their life should be and to offering tools for self expression that create trust, inner knowing and wisdom to enjoy the life they have. Monique has been featured on TLC and The Dr's as well as various radio shows, podcasts and magazines across the USA. She specializes in helping others reclaim their power and natural sensuality by transmuting fear and repression into courage, self-love and freedom. Her primary purpose is helping folks bring out their vulnerability, energetic embodiment and fearless relating. She guides from a place of understanding and her natural exuberance is infectious! She is available for private sessions, experiential workshops and Cuddle Parties. Learn more about Monique by going to JuicyEnlightenment.com or track her whereabouts at WhereInTheWorldIsMoniqueDarling.com
PETER PETERSON has been teaching qigong for 14 years and has been a certified massage therapist for the last 10. Peter has been teaching in health clubs, hospitals, retirement villas, and several different wellness/spa resorts in Mexico and the United States, such as Rancho La Puerta, Mayacamas Ranch, and Present Moment Retreat. Peter is also a personal wellness coach. This Qigong practice helps people ground themselves into their "now" to increase their present moment awareness of their behaviors, and find simple solutions to problematic habits such as: eating, moving, negative thinking, and sleeping. The result of this tool box of healthy information is that clients become their own health advocate and regain a sense of stability, peace, and well-being into their everyday lives.
DAPHNE LORIAN is a life coach, educator and performer, whose mission is to liberate our human potential. Her pathway is freeing authentic expression through guided journeywork and creative play, whilst cultivating sensory, somatic and emotional awareness. She assists women, men and couples to find love, passion and fulfillment within themselves and in their relationships, by offering practical tools that foster deep intimacy and conscious connection. In her workshops, she fuses her background in theatre, dance and holistic bodywork, with her experience in Tantra, Yoga and Compassionate Communication along with diverse ceremonial and shamanic healing traditions. Daphne holds a BFA Specialization in Theatre and Development from Concordia University, with a focus on the transformational, therapeutic and educational aspects of performance. She received training and has been a member of faculty at The Institute for Conscious Sensuality, Hawaii and also co-facilitates trainings with Love Coach Academy, California.
FRANK MONDEOSE, also known as "The Spiritual Playboy", splits his energy between the realms of sensual entertainment and sexual education. He is the creator of the Canadian lifestyle brand Monde Osé, producing seductive dance events for open minded adults and the Director of the Everything to do with Sex Show, an annual adult consumer trade show. Frank is also the Vice President of the Sexual Health Network of Québec, whose mission is making healthy information more easily available to Quebec youth, and is on Faculty and the Lead North American Organizer for the International School of Temple Arts, an organism whose vision is to help guide humans towards a delightful, shameless, fearless and loving relationship with their own bodies, sexuality, emotions, hearts, minds and spirit. In his free time, he authors TheSpiritualPlayboy.com, a vlog site dedicated to his journey into Spirituality and Ecstasy.
BIANCA SAIA - As a kinky/poly-aware therapist, Bianca's specialty is to help people find the self knowledge, words and courage necessary to navigate the rich and daring world of alternative lifestyles, such as polyamory and BDSM. Her true mission is to empower individuals to achieve their fullest expression by shedding limiting beliefs, shame and guilt around their truth and desires. Bianca has been working as a therapist for the last 7 years, trained at Centre de Relation d'Aide de Montreal, where she also held a position of teacher assistant for 2 years. This experience deepened her knowledge of the therapeutic process and in working with groups, while helping train other therapists. Being affiliated with the "Alternative Lifestyles Community Center", Bianca offers education, counselling and support for alternative sexual lifestyles and marginalized communities, through the creation and facilitation of group workshops and individual therapy.
SOLOMON KRUEGER is passionate about personal and social evolution. He specializes in creating transformational experiences for individuals in group contexts, using expressive arts and intuitive processes to help facilitate mind-body awareness, creative self-expression, and authentic connection. Since 2003, Solomon has been designing and facilitating original events, workshops and retreats that integrate embodied, experiential, and reflective practices. He has taught at schools, conferences and festivals in Canada, Asia and the United States. Solomon is the founder of Flow Dance Montréal, a monthly free-form dance event with 150+ participants attend each month, and a membership of over 2500, which has since branched out to four other communities in Quebec. As a consultant, Solomon has worked in Education and Public Health. Since 2015 his focus has been on co-creating new systems and emerging solutions for humanity in these exciting times. Solomon holds a Masters in Human Systems Intervention from Concordia University.