Montreal Robotic Hackathon

Friday, March 2, 2012 at 5:30 PM

-

Sunday, March 4, 2012 at 5:00 PM (EST)
Event Details
What is the most efficient way for a geek to have lots of fun with other fellow geeks while making awesome robots? It is probably participating in the Cloud Robotics Hackathon, where you get to hack for a full weekend on robots in order to make them do cool and useful stuff using the power of cloud-computing.
Getting started in robotics may seem intimidating but fear not. If you have the basic notions of programming, and understand that an actuator moves things and a sensor senses the environment, then you can start hacking robots right away.
 


You'll need to bring your own laptop for hacking, but we'll have more than one robot per team, a MakerBot (3D printer) , Food and coffee ,plenty of power and WiFi

.
Schedule
Friday, March 2nd: Workshop
17:30 - 18:00: Registration.
18:00 - 19:00:  Opening presentation and instructions/details for the hackathon
19:00 - onwards: Networking, team formation, installation

Saturday, March 3rd: Hackathon
9:00    Breakfast
9:30    Briefing on Problems/ Questions period
10:00  Hacking!
12:30  Lunch
13:30 - 17:00 Hacking!
17:00 - ?? (optional hacking all night long)

Sunday, March 4th:
9:00    Breakfast
9:15    Hacking!
12:30  Lunch
16:15    SUBMISSION DEADLINE!
17:00 - 17:30 Presentations (each group), Judging, Awards, Closing presentation
Tools
Participants to the Hackathon can use whatever tools they have at their disposal and that better suit their skill set. This being said, we believe that the following tools are particularly well suited for the tasks at hand, and we encourage their use:
Of course, the use of these languages and frameworks is not mandatory and may others could be used including Urbi, MS RDS, Java, C (in all of it's flavours), Perl, Ruby, .Net, and many more.
Rules
In order to participate in the Robotics Hackathon, you must follow these rules and guidelines:
Each team gets:

A DFRobtoshop Rover

A USB host shield (ADK compatible) or a selection of compatible sensors.

There will be power-bars, WiFi Internet connection and basic tools available in limited quantities.

Teams can bring their components tools and robots but must develop something new at the Hackathon, presenting old robots with no new additions or extra functionality will not be accepted.

Teams can use any programming environment or language you prefer.

No remote controlled "robots". This is not an R/C hackathon, your robots need to be at least partially autonomous.

Nao 1337 and a DarwinOP will be participating at the Event. When submitting your project ideas, you can request to use either one. among these teams, two of them will be randomly selected to get the robots.

You can work on your project idea and gather materials or resources previous to the event, but we expect that most of the project will be coded during the Hackathon.

Your project must feature collaboration between robots or devices using the MyRobots.com web service.
Project ideas
If you are lacking inspiration, you can use these projects ideas:
Emotion transfer: Convert status messages form one robot into emotional responses on another robot. For instance if robot A says "I'm Happy", robot B could make a happy dance. This could be used by two distant human friends to share their current emotions.

Use cloud-based speech to text to give commands to a robot via an android device

Make a chatbot that uses speech-to-text to communicate and keeps eye contact with the user.
Sponsors
This event has been made possible thanks to the generous support of RobotShop.com and Google.com and StartupFestival.com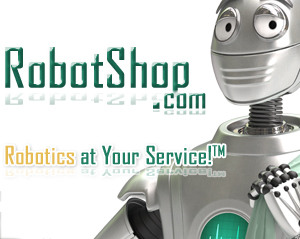 Also our awesome Supporters:

Website : www.roboticshackathon.com
Facebook :http://www.facebook.com/events/102993336487866/
When & Where

Notman house
51 Sherbrooke Ouest
Montreal, Quebec H2X 4C9
Canada

Friday, March 2, 2012 at 5:30 PM

-

Sunday, March 4, 2012 at 5:00 PM (EST)
Add to my calendar