About this Event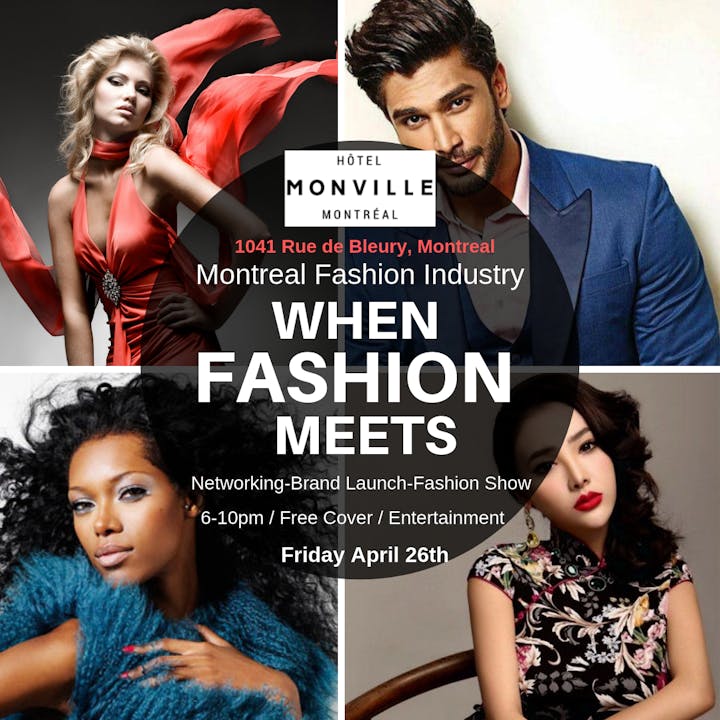 The WHEN FASHION MEETS platform gives creatives in the Fashion, Art, Beauty and Lifestyle industry an opportunity to network, promote and launch their existing or new products and services. Our platform is open to all fashion industry entrepreneurs & professionals such as: Models, Designers, Stylists, Hair Stylists, Make Up Artists, Bloggers, Photographers, Beauty Brands, Buyers, Casting Agency's, Retailers, Media and all fashion lovers.
EVENT DETAILS:
Cover: Free (please bring your business cards to network)
Dress Code: Business Casual/Fashionably Unique
Venue: Hotel Monville (Lobby Bar)
Time: 6:00pm to 10:00pm
Brand Launch: With each edition, brand(s) will be selected to launch and promote their existing or new product and services to our large audience.
Featured Brands of the Month: Coming soon.
PROMOTE AND LAUNCH YOUR BRAND or SPONSOR:
Interested in promoting or launching your brand or service? Interested in sponsoring July's edition or future events? Let us know by emailing: montrealfashionindustry@gmail.com.
FOLLOW US:
Follow us on Instagram: @montrealfashionindustry
PRIZES: Coming soon.
Business Card Raffle:
• More giveaways coming soon
THIS EDITION'S EVENT SPONSORS:
• HOTEL MONVILLE
• IMAGINE MANAGEMENT & MARKETING
• OUT THERE BRANDS
• PR DIVA COMMUNICATIONS
Please Note:
Photos & Videos will be taken during the event. Photos will be published on our social media pages strictly for promotional purposes. Disclaimer: By RSVP'ing and/or attending this event you agree to have your photos/footage shared on our social media accounts, event affiliates social media accounts and affiliate marketing strictly for event promotional purposes.