Monthly Training: Selling for Today

Friday, September 25, 2015 from 3:00 PM to 4:30 PM (EDT)
Event Details
Sales training has been around for decades... but the sales environment is an ever growing and changing environment. Break out of the old way of selling and start using what works to close more sales today...
When you hear the word SALES does it make you think of a pushy used car sales person, pointless meetings with endless questions or worse Cold Calls? Eww! What would it be like to understand how to help more of your leads buy from you so you can spend less time and money marketing?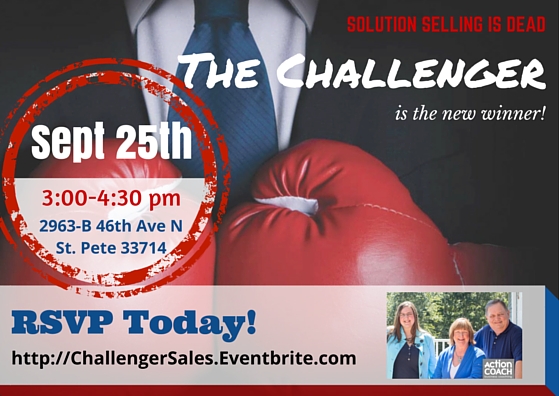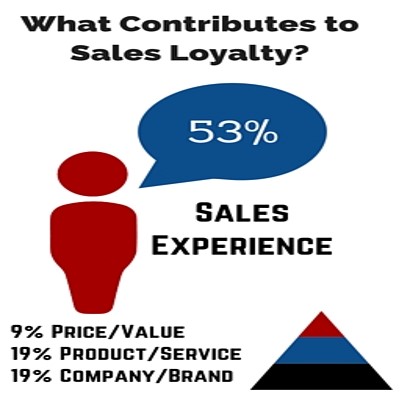 It is not surprise that your image of sales has been tarnished by all the older ABC (Always Be Closing) methods of selling. And you probably worry that others might see you that way. Here's a news flash: those methods don't work anymore.
In today's market where business is happening at a rapid-pace, buyers are highly distracted and have unlimited access to information online – the methods we use to professionally assist them to make great decisions must change as well – the new ABC's (Attunement, Buoyancy & Clarity)
During this Sales workshop, you will learn:
Which of the five types of sales people you are (and why the "challenger style" was proven most successful

)

How to overcome the objection of price and add value

What social media has meant for sales and how to use it to your advantage

The top 5 ways to make immediate shifts in your sales approach to yield BIG conversion results
When & Where

ActionCOACH Tampa Bay
2963-B 46th Avenue N
St. Petersburg, FL 33714


Friday, September 25, 2015 from 3:00 PM to 4:30 PM (EDT)
Add to my calendar
Organizer
ActionCOACH Tampa Bay
Our focus is on helping business owners to build a saleable business that works without them and guilding executives to outwit, outplay, and outperform their past results.
Consider this.... the problems, issues and challenges you face in your business right this second have already been solved for you hundreds of times by other businesses around the world. We bring those proven strategies and tested best practices right to your doorstep with tools, templates, focused planning and accountability to get them implemented.

Our diverse team of Certified Business Coaches have been in mentoring and leadership positions for over a combined 55 years. The Tampa Bay Firm founders, Ford and Barb Kyes, have always been passionate about serving their community through their careers in health care and volunteer leadership work in numerous non-profit, civic and professional organizations. Both founding partners have been ranked Top 100 Global Coaches and additionally are certifed as Executive Coaches. Firm partner and business coach, Juliet Kyes, has been recognized as a Top 100 Global Coach, the St. Pete Chamber 2016 Member of the Year and a St. Pete Chamber Most Valuable Burger Finalist as well as a 2017 Tampa Bay Business Journal Businesswoman of the Year Finalist.
ActionCOACH ranks #35 out of the Top 100 Global Franchise, spans over 70 countries globally with over 1,000 offices worldwide and has been recognized as the World's #1 Business Coaching Franchise according to Entrepreneur Magazine's annual Franchise 500 Listing.
Monthly Training: Selling for Today