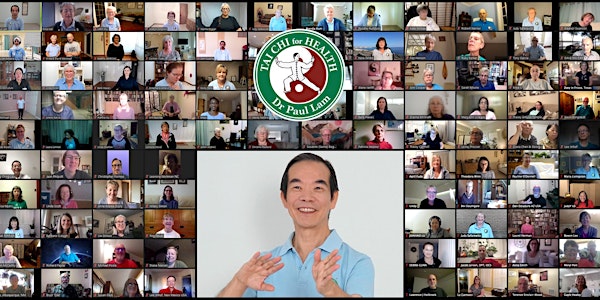 Monthly TCHI Instructors Forum: "Everything About the Kua" - TimeZone 1
Monthly TCHI Instructors Forum with Dr Paul Lam - "Everything You Want to Know about the Kua" - February 2022 (Time Zone 1)
About this event
Note: This 1-hour tai Tai Chi for Health Instructors Forum will be held online via Zoom videoconferencing software.
"Everything You Want to Know about the Kua"
Monthly Tai Chi for Health Instructors Forum with Dr Lam - Time Zone 1
February 2022
Places are limited. Acceptance is on a first come, first served basis.
Thanks for letting our team know how much you enjoy the monthly Forum!
Our team is excited to meet more participants every month, as well as your overwhelming appreciation of the talks! It is a great way to learn and share, as well as to meet people from different countries of our global community. Everyone enjoyed the connection.
A full recording of the Forum will be sent to registered participants.
Tai Chi for Health Institute (TCHI) has one purpose: To empower people to improve health. The participants of the December 2021 Forum voted over 2:1 on this month's topic: "Everything About the Kua". What is the kua, and how to improve your tai chi from understanding this mysterious part of the body?
There will be Q&A, comments, meeting other participants, and voting for the following month's topic.
Registration in advance is required. Please email your questions or topics of interest at least two days in advance to service@drlamtaichiworkshops.com. Please put "Forum" in the subject line. Dr Lam and invited speakers will still answer your questions at the meeting, time permitting.
Be sure to register every month!
****************************************
TIME ZONE 1 DATE AND TIME:
February 5 (Saturday)
3:00 PM PST (Pacific - USA)
4:00 PM MST (Mountain - USA)
5:00 PM CST (Central - USA)
6:00 PM EST (Eastern - USA)
11:00 PM GMT (London, etc)
February 6 (Sunday)
12:00 AM CET (Amsterdam, Berlin, etc)
2:00 AM AST (Riyadh)
4:30 AM IST (India)
7:00 AM SGT/HKT (Singapore, Hong Kong)
8:00 AM KST (Korea)
9:00 AM AEST (Brisbane)
10:00 AM AEDT (Sydney, Melbourne)
12:00 PM NZDT (New Zealand)
The above is a sample of different time zones. Please double-check your local time zone.
TIME ZONE 1 is suited for the USA and parts of Asia/Pacific. Please check TIME ZONE 2 to see if it is more suited for your location.
****************************************
Thank You for Your Donation Make the Forum Sustainable:
Total: US $8
(US $6 + Eventbrite booking fee)
*The $6 fee is a donation for admin to make this sustainable. However, for any reason at all, you can choose to participate free by using the code NOPAY
****************************************
ADDITIONAL NOTES:
Places are limited. Acceptance is on a first come, first served basis.
After registering, you will receive your unique Zoom link via e-mail. You will use this link to attend live online instructor forum with Dr Paul Lam.
If you do not receive the Zoom e-mail, please also check your spam/junk folder.
Please install Zoom software prior to the start of the event for the best experience. Download the Zoom software here: https://zoom.us/download
During the online meeting, you will need a strong internet connection and audio speakers to watch and listen to Dr Lam and other instructors. You may also wish to use a webcam and microphone to participate in the meeting (optional). You will also have the opportunity to type comments in a group chat.
****************************************
CONTACT:
If you have any questions, please contact Ernie and Pat via:
E-mail: service@drlamtaichiworkshops.com
Phone: 844-823-7526 (USA; Best hours to call 9AM-1PM Eastern, or leave voice message)
****************************************
HIGHLIGHTS FROM THE PREVIOUS MONTH:
You can watch the highlights of the December 2021 Instructors Forum here:
Date and time
Location
Refund policy
Organizer of Monthly TCHI Instructors Forum: "Everything About the Kua" - TimeZone 1