MONTHLY SPEAKER SERIES WITH THE WORLD BANK'S ENERGY SPECIALIST FOR AFRICA
Sales Have Ended
Registrations are closed
Ticket Sales End. Thank you.
Sales Have Ended
Registrations are closed
Ticket Sales End. Thank you.
About this Event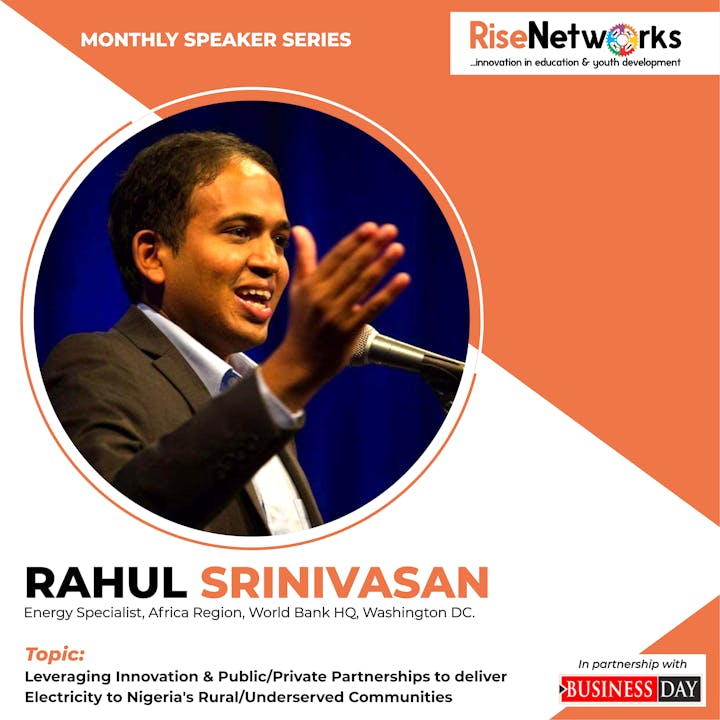 Securing adequate electricity is crucial to drive economic opportunities, increased jobs, and development in Nigeria. More than half the population of Nigeria, that is 95 million people, lack access to electricity. For those who do, they often suffer from power outages and blackouts. The lack of reliable, affordable and sustainable access to energy affects everyday life in Nigeria, including the ability to do business, ultimately hindering economic growth. This event will focus on "Leveraging Innovation & Public/Private Partnerships to deliver Electricity to Nigeria's Rural/Under-served Communities" with Rahul Srinivasan, the World Bank's Energy Specialist for Africa Region.
He will share deep insights from his professional experience with our Audience on:
•How Africa can leverage innovation to deliver electricity to under-served/rural communities in Nigeria
•The importance of Public/Private Partnerships to the sustainable development of Nigeria by providing reliable, affordable, and sustainable access to energy
•How we can effectively tackle energy poverty in the country
•The opportunities available for young innovators in Africa to collaborate on solving the Continent's Energy Crisis
Rahul Srinivasan:Rahul Srinivasan is an energy professional with deep international experience in renewables and energy access. At the World Bank, Rahul manages Lighting Africa's work on off-grid solar electrification of public institutions such as schools and health centers in various countries including Nigeria. He is also actively involved in various renewable energy projects (solar, geothermal) in Africa and Latin America. Rahul is passionate about collaborating with government and private sector stakeholders towards driving reliable and affordable energy access and sustainable energy infrastructure in Sub-Saharan Africa and beyond.Prior to joining the World Bank, Rahul worked in private sector energy consulting for 5 years as a Senior Engineer and Client Manager. Subsequently, he graduated with a Master's in Public Administration from the Harvard Kennedy School in 2017. He served as a Teaching Fellow on Energy Policy and Markets and was bestowed the prestigious Don.K. Price award for academic excellence and significant impact on the Harvard community.
Event Details
Date: Saturday, April 6
Time: 4:00 - 6:00 PM
Location: The Rise Labs - Ground Floor, 8a Adebayo Mokuolu Str Beside Hotel Newscastle Anthony Village, Lagos, Nigeria.
Agenda
4:00 - 4:15 PM: Welcome and introductions
4:15 - 4:45 PM: Keynote Address by Rahul
4:45 - 5:15 PM: Q&A with our Guest
5:15 - 5:25 PM: Photos
5:20 - 5:55 PM: Refreshments & Networking
5:55 - 6:00 PM - Lights Out & Exit.
Come and listen to a World Renowned Expert with a profound understanding of World Class practical solutions on Energy Issues. You will learn from his Career Experience, get inspired by his journey and you'll meet other young people interested in leveraging artificial intelligence and innovation to deliver energy to under-served rural communities in Africa.
Find out about future events at The Rise Labs by visiting our site - www.risenetworks.org/labs