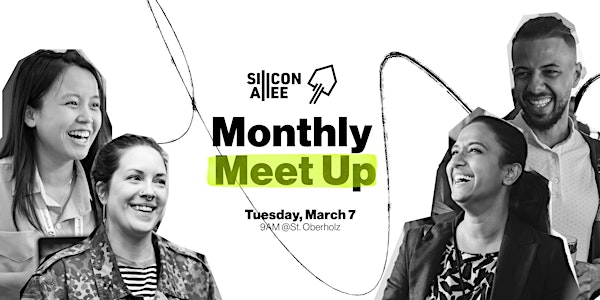 Monthly Meet Up
Join us for a morning networking at our Monthly Meetup on Tues 7th March which connects founders, mentors, investors and change makers.
Date and time
Tuesday, March 7 · 9 - 11am CET
Location
St. Oberholz, Rosenthaler Straße, Berlin Gaststätte St. Oberholz, Rosenthaler Straße, Berlin, Deutschland 10119 Berlin Germany
About this event
Silicon Allee has been the welcoming committee for Berlin's newest entrepreneurs, startup founders, and tech talents for over a decade, and our Monthly Meetup is where the community gets together every month.
We've helped companies move to Berlin, developed worldwide partnerships, and produced internationally renowned events in the city.
Looking for great connections? It doesn't matter if you're a new or an expert in Berlin, our doors are open to all the incredibly diverse ecosystems to mingle and make the best out of this morning exchanging knowledge and experience with each other.
DATE
🗓 Tuesday, March 7, 2023
WHERE?
📍At St. Oberholz Café- Berlin's original cool and cozy "tech cafe" centrally located right next to U-Bahn Rosenthaler Platz (🚇 U8 in the heart of Mitte).
🗝 To access the event you will use the coworking entrance at Torstraße on the first floor. You will see Silicon Allee banner in front of the door once you arrive. ;)
NEW ENTRY!
🏠 The door to access our Monthly Meetup is now at Torstraße (the door next to the Wrapublic!). The Meetup is indoors, on the first floor! 🔝
⚠️ We ask the Monthly Meetup participants to let the passage on the corridor on the second floor FREE - it gives access to the toilets to all the clients in the Café! Thanks for your understanding and collaboration :) ⚠️
WHAT TIME?
⌚️ 9am - 11am CET
FREE TO ATTEND!
👣 Community spirit - we're ready to help navigate your journey in Berlin's startup community. Learn about our Berlin Founders Fund, receive insider tips and engage in hot topics of conversation. There is always someone interesting in the room :)
🧶 Easy-going flow - there's no agenda. It's all about meeting and connecting with entrepreneurs, tech enthusiasts, investors, business coaches, experts, and folks from the Silicon Allee and Berlin Founders Fund team.
☕️ Fresh coffee - St. Oberholz offers our community some bottles of classic brewed coffee for us to start the day networking over a great cup of hot coffee! But the coffee is limited so arrive early to grab your cup ;)
If you have any questions, please do not hesitate to email events@siliconallee.com.
See you there! 😉
About the organizer
Berlin's International Startup Community