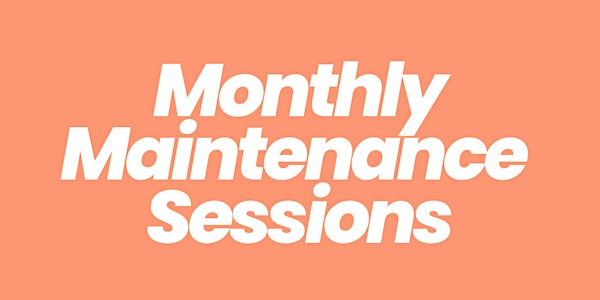 Monthly Maintenance Sessions
Take some time for maintenance with The Maintainers. Third Friday each month for the duration of 2023 on zoom.
Date and time
Friday, April 21 · 11am - 1pm PDT
About this event
How it works:
1. Register for the Maintenance Session here on Eventbrite.
2. Join the Zoom link on the day of the Maintenance Session (provided once you register).
3. The Maintainers will open up the session with a few remarks, and then we'll send you into your Maintenance Session. This means that you'll bring your own maintenance project that you wish to work on with others. We'll mute ourselves, and get maintaining! (Think of this as a "study hall", but for adults maintaining).
4. We'll share a "30 more minutes" notice into the Zoom, so that you can properly wrap up whatever maintenance project you've been working on.
5. The Maintainers will close out the session with a few remarks.
Have questions? Reach out to our community outreach & events coordinator, Liliana: liliana@themaintainers.org