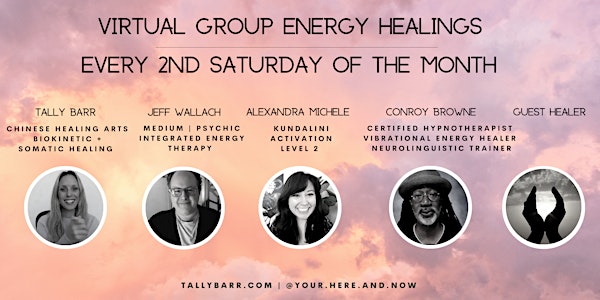 Monthly Group Energy Healing: release your baggage + call in what you want
A one-hour virtual group energy healing with five accomplished healers of different modalities every 2nd Saturday of the month.
Date and time
Saturday, April 8 · 10 - 11:30am PDT
Refund Policy
Contact the organizer to request a refund.
Eventbrite's fee is nonrefundable.
About this event
1 hour 30 minutes

Mobile eTicket
Energy work can benefit everyone, wherever and whatever they do in life. The purpose here is to create space and clear blocks that keep people from getting what they want in life. Perhaps you're feeling depressed, anxious, stuck or overwhelmed - it can address that. Or struggling with pain or a health condition - it can address that. Maybe you want greater financial abundance, career advancement, a life partner, more quality friendships, fulfillment- it can address that. Maybe you're ready to move on from a relationship, job, person(s) or situation - it can address that. Maybe you want clarity on your life path or to just to receive more kindness, joy and freedom in life- it can address that too.
If changing any of those things sounds hard, overwhelming or not sure where to start, you're in the right place. We take a different approach than "it takes hard work to get where you want". Instead, we believe getting what you want- peace of mind, abundance, ease in life, that promotion or life partner - it can all be easy and effortless. We address the underlying issues that create distance and difficulty getting what you want, it clears the root of the issues holding you back. It lifts your energetic baggage. The practitioners transmit the energy to you virtually, your body does the rest. All you do is show up, lay down and receive.
Gift yourself or another an hour to simply relax and let go. This session is held though Zoom, open to any and all, and entirely virtual so you can join it in the comfort of your own home or wherever you may be.
This group healing is like several individual healing sessions in one dynamic session. We bring together several exceptional energy workers with mastery in different modalities to, at one time, heal, clear and remove energetic blocks and trauma-related emotions and beliefs that keep you from healing and getting past them.
This is a group healing and there will be other attendees. This does not diminish the power, efficacy or attention given to you. In fact it's amplified the bigger the group.
Sometimes this work touches something very deep and egos get triggered. We take careful steps to ensure a safe and comfortable space to release, clear and heal.
Here, healing is seen as the transfer of energy from the healer to the recipient. The healers link with 'Universal' or 'Divine' energy to channel healing for the mind, body and spirit. It promotes self-healing by releasing tensions and strengthening the body's own immune system. Healing is natural and non-invasive with the intention of bringing the recipient into a state of balance, neutrality and wellbeing on all levels.
Spiritual healing is not linked to a particular religion. It is not faith healing – even very sceptical people can heal. The spiritual aspect refers to spiritual energy working at a deep level on our spiritual being.
TICKET PRICES
We want everyone who is intersted in this work to be able to attend, so we have a regular ticket price and two scholarship rates. Financial situations change so we trust you to use which one feels best and most appropriate to you.
REGULAR PRICE TICKET: $333
ASSISTANCE SCHOLARSHIP TICKET: $125
GRACE SCHOLARSHIP TICKET: $55
WHAT TO EXPECT DURING THE SESSION
When you enter the Zoom, you'll be greeted by Tally, the host, as well as the other practitioners. Your audio will be muted for the duration of the session.
After the practitioner introcuctions Tally will lead a brief breathing exercise to calm the mind and increase presence followed by an intention setting for the receivers to receive only that which their bodies can comfortably and easily process.
You'll be asked to lay down and get comfortable. For the next hour, as music plays, the practitioners will be working on everyone. People have any different reactions to this work. You may feel nothing at all. You may feel tingles, body movements, deep relaxation, passing thoughts, colors or emotions. Some experience an emotional release such as tears, or develop insight into specific areas of their lives. Or you may simply feel relaxed and supported.
At the conclusion of the session, you'll be gently grounded and brought back to an alert state.
At this time you're welcome to log off or stay on as the practitioners share what came up for them during the session.
WHAT TO EXPECT AFTER THE SESSION
Everybody processes this work differently. Your body is still working for days after the session so be gentle, listen to your body and take it easy.
A follow up email will be sent to all as a self-care tool after the session as well.
FAQ's
"Are virtual healings as effective as in person healings?"
Yes. Our practitioners are trained in this and have been doing it this way for a long time.
"What's the benefit of multiple practitioners working on me and the group vs a one-on-one?"
In this group format you actually receive greater benefits than you do one on one. Not only are you receiving the combined and powerful work of all the practitioners using their different modalities, but there is healing on a higher level that is amplified by the power of the group that magnifies the power of the healing you're receiving. This is also a more efficient use of your time, money and resources because otherwise setting and attending five separate healing appointments with each practitioner is time consuing. And, in these social distancing times, there is no health/exposure risk as this is a virtual experience.
"Can I have others in the room with me on the Zoom?"
This is a one body per screen thing. If you know others who would like to join they would have to be on another device and purchase a separate ticket. Pets and animals tend to like this. If they are around you that's fine :)
"What are the long term benefits and effects for me?"
The modalities of energy work used in this session can clear a path to allow for greater ease in moving though life, with love, kindness, freedom, clarity, greater compassion and tolerance as well as having what you want in life show up for you. And reducing and minimizing that which you want less of- pain from acute and chronic physical and mental/emotional conditions.
"What if I don't feel anything?" + "How do I know if it's working?"
Energy work is a multiplicative effect- the more you do it the better you feel. Everyone starts this work in a different place. Some are more senitive, some are less senitive but over time everyone develops greater awareness, intution, clarity, and inner peace. And the best part is the only 'work' you have to do is lay down and relax.
"Is energy work overload a thing?"
This work can process old memories, emotions and traumas (among other things) so there may be feelings of things shifting around as your body uplevels. Occasionally some people can temporarily feel uncomfortable symptoms after a session of any type of energy work. It's your body processing heavy, deep stuff. To ensure your comfort in this session, aside from setting a group intention to receive only what is comfortable for everyone to recieve, the practitioners also 'throttle' the energy they send to each person so one only receives what is comfortable and easy for them to process. If you feel this may be too intense, please honor your instict and try a session with a single practitioner first. All of our practitioners do virtual private sessions as well. Bios and links to their businesses below.
MEET THE PRACTITIONERS...
Tally Barr
Tally is the creator of these events and practiced in 20+ energetic healing modalities. The intention of these group healings is to facilitate transformation and be of service to people and communities worldwide, wherever they may be on their healing journey. Her intention is to be a light post from which other beacons of light draw from and spread their own version of this message, to raise global consciousness, create more kindness, love, freedom, peace, joy and harmony among all that reside on earth.
www.tallybarr.com
CONROY BROWNE
Conroy's CUE Method™️ addresses healing in all 3 internal "engines" that govern our experience-Conscious, Unconscious, and Energetic-empowering people to leverage these internal processes into unlocking self-healing and true transformation. As a Growth Coach, Energy Healer, Certified NLP Master Practitioner, and Phobia Work Practitioner, Conroy repairs and upgrades the way the human brain processes, stores and retrieves information. He also offers customized meditations and life coaching for his clients.
www.conroybrownecoaching.com
Alexandra Michelle
Alexandra facilitates Kundalini Activation through a direct transmission of spiritual energy. This practice has the potential to awaken your own kundalini and initiate the process of bio-spiritual transformation towards greater liberation and self realization.
https://www.facebook.com/alexandra.michelle.1221
JEFF WALLACH
Jeff is an ordained minster, practicing Integrated Energy Healing, Tarrot, and informed by his strong psychic and mediumship gifts. He is of service to the world providing insights and healing information to assist and facilitate those on their healing path to greater freedom, joy and love.
www.mediumshipbyjeff.com
Guest Healer
An exciting part of this group. Guest healers come to us from around the world. Their gifts and techniques align with and amplify the healing we do here, for the hightest good of all whom attend.
DISCLAIMER
This energy healing is intended as a complimentary therapy, or as an aid to to personal relaxation or stress reduction and is not intended to be a substitute for licensed professional medical advice, diagnosis or treatment. We do not claim to cure any condition of body, mind or spirit, and individual results may vary. Receving energy healing from this session should not be used as a justification to alter or replace the service, treatment, medication or advice provided by a licensed medical professional. Please consult a licensed medical professional for any severe physical or psychological ailment from which you may be suffering. Always seek the advice of your physician or other qualified health care provider with any questions you may have regarding a medical condition or treatment and before undertaking a new health care regimen, and never disregard professional medical advice or delay in seeking it because of something you have read on this website.