Monthly Gathering: The Earth is the Birthright of All People

Tuesday, October 8, 2013 from 7:00 PM to 9:00 PM (PDT)
Event Details
Do you believe in dry land? Do you believe in community? If your answer is "Yes" to both those questions, and you're interested in a way of looking at life that interweaves humor, social justice, zoology, and just about any other subject, into a huge and satisfying whole, please join this interactive talk about San Francisco real estate and conscience with David Giesen of the Henry George School of San Francisco.
Questions David will explore include:
What are the social behaviors that follow an assertion that no one has a superior right to inhabit Earth over anyone else?
What public policy legislation is in concord with a conviction that the Earth is the birthright of all people?
How can we own anything that's not man-made?
Will one maintain saying the earth is the birthright of all people even if one is engaged in behavior that contradicts that equality?
Is it possible that social relations would be much improved by ridding society of private gain from community-generated land values?
Because we are simply stewards of nature's gifts, renting the commons from the community aligns resource use more appropriately in time and space with currency. A paradigm shift in economics would assert a reality-based relationship between people and the commons based on Henry George's theoretical syntheses.
Join us for a fun, animated, and provocative evening that will challenge you to reconsider "realities" we take as givens!
Event Details

1. 6:00pm: Our venue, Peña Pachamama opens and begins serving delicious organic appetizers and entrees (no host)
2. 7:00pm: We will start with a brief update and introduction to The Pachamama Alliance
3. 7:30-9:00pm: David's presentation 

Come early! Our venue, Peña Pachamama, is a South American restaurant and they'll be happy to serve dinner starting at 6:00 pm (no-host).
*If you want to learn about more events like this, sign up for The Pachamama Alliance email updates!


Do you have any questions?
Feel free to contact us anytime at: info@pachamama.org. You can also reach us on our Facebook page or through Twitter. 
We look forward to seeing you soon!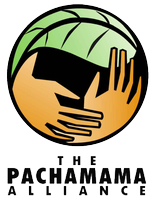 When & Where

Pena Pachamama Restaurant
1630 Powell Street
San Francisco, CA 94133


Tuesday, October 8, 2013 from 7:00 PM to 9:00 PM (PDT)
Add to my calendar
Organizer
Protecting the source, inspiring the future.