Monthly Gathering: The Call of the Rainforest

Tuesday, August 13, 2013 from 7:00 PM to 9:00 PM (PDT)
Event Details
When Leah and Charles (Chuck) Fisher traveled to Ecuador's Amazon for the first time in 2004, they fell deeply in love with the rainforest, the Achuar people and their culture.
Hoping to deepen their engagement with the Achuar, they have returned to the Amazon multiple times since their first visit in 2004. These visits to Achuar territory have given them an increased appreciation and respect for the Achuar's role as the rightful custodians and protectors of the rainforest. And Chuck, who has had a long-standing interest in dreams, has been able to learn from Achuar elders about their traditional and evolving ways of interpreting and using dreams.
During a visit in 2009, the couple learned about the work of Padre Luis Bolla (Yankuam), a Salesian priest who lived among the Achuar people for 40 years. Yankuam was credited with bringing peace to a formerly war-torn region. Fascinated, Leah, Chuck, and Ecuadorian guide and explorer Daniel Koupermann, undertook a 2010 journey to the remote community where Padre Bolla lived.
During their inspiring visit, Padre Bolla asked the visitors to bring eye doctors to the community to treat 50 Achuar people suffering from blindness and a variety of eye diseases. In 2013, after more than two years of planning, Leah accompanied Daniel Koupermann and a team of eye doctors into the rainforest to bring the requested treatment to the Achuar.
In this special presentation, guest will enjoy photographs and video from Leah and Chuck's journeys into Achuar territory, and will hear stories of the intrepid couple's dramatic findings in the rainforest.
What Leah and Chuck hope to convey is spirit that calls them back repeatedly to the Achuar people and their land.
Event Details

1. 6:00pm: Our venue, Peña Pachamama opens and begins serving delicious organic appetizers and entrees (no host)
2. 7:00pm: We will start with a brief update and introduction to The Pachamama Alliance
3. 7:30-9:00pm: Leah and Chuck's presentation 

Come early! Our venue, Peña Pachamama, is a South American restaurant and they'll be happy to serve dinner starting at 6:00 pm (no-host).
*If you want to learn about more events like this, sign up for The Pachamama Alliance email updates!


Do you have any questions?
Feel free to contact us anytime at: info@pachamama.org. You can also reach us on our Facebook page or through Twitter. 
We look forward to seeing you soon!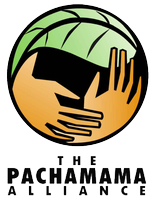 When & Where

Pena Pachamama Restaurant
1630 Powell Street
San Francisco, CA 94133


Tuesday, August 13, 2013 from 7:00 PM to 9:00 PM (PDT)
Add to my calendar
Organizer
Pachamama Alliance
Protecting the source, inspiring the future.
Monthly Gathering: The Call of the Rainforest