Event Information
Refund Policy
Contact the organizer to request a refund.
Eventbrite's fee is nonrefundable.
Join the Sacred Shakti Sisterhood Every Full Moon for a Ritual Energy Cord Clearing, Breath Journey, & Shakti Activation!
About this Event
Join Me and the Sacred Shakti Sisterhood @sisterhood_ritual_dance virtually from all parts of the world for a Shakti activation, breath journey, and an energy cord removal ritual every full moon!
~~~~~~~~~~~~~~~~~~~~~~~~~~~~~~~~~~~~~~~~~~~
WHERE: VIRTUAL ZOOM ROOM - Link will be provided upon ticket purchase
COST: $22.22 / 2 HRS
DATE: Tuesday 29th
TIME: 10:00AM HST / 12:00PM PST / 1:00PM MST / 3:00PM PST
THIS VIRTUAL GATHERING INCLUDES A VARIETY OF RITUAL PRACTICES DEPENDING ON THE ASTROLOGY OF THE MONTH:
*Elemental Rituals
*Circulatory Breath Practice
*Shakti Activation
* Manifestation Prayers
*Inner Child Healing Guided Visualization
*Energy Cord Clearing
*Journaling Q & A
HOW TO PREPARE:
*Wear loose fitted clothing
*Bring a journal and pen for our writing exercise
* Altar Items (Sage, essential oils, bowl of salt, candles, etc)
* Drinking Water
Each Full Moon a theme will be chosen to serve as an anchor point for our shared experience in ceremony. Asheeliyah will be guiding us through guided cord clearing ritual, shakti activation, visualization, movement, & breath. The Shakti Activation (Embodiment Practices) are designed to ground us into our selves just enough to than perform a body & aura scan prior to removing unwanted energy cords.
An email will be sent out to support the sisterhood in preparation for the ceremony.
~ALL WOMEN are Welcome is this container for healing. This practice is available to women of ALL AGES~
JOIN US ON FACEBOOK:
GLOBAL SHAKTI SISTERHOOD GROUP
https://m.facebook.com/groups/894999670852794?tsid=0.9820431515732208&source=result
For all my SeaStars around the world… I look forward to sharing in this container with you.
Blessings,
Asheeliyah Insha
XO
~~~~~~~~~~~~~~~~~~~~~~~~~~~~~~~~~~~~~~~~~~~~~~~~~~~
THEME FOR THIS FULL MOON:: ~PRIMAL FIRE~
Every full moon has its own personality and unique energetic aura. This particular full moon takes place in bright, passionate, and creative Leo. We will spend significant time stoking the fire of our solar plexus as we proceed to illuniate the areas of our subconscious mind holding us back.
Within this ceremonial container, the awareness we cultivate on an individual level is enhanced when we align our prayers and intentions with the women in group.
This type of group healing work creates a ripple effect, as we deeply impact the collective consciousness with prayerful intentions. This is one of the many teachings I will be sharing with the sisters as we co-create a monthly ritual container to explore and deepen in our personal energy clearing practices.
Each month there will be a theme that touches on the energies most present in the cosmic field. This is indeed a co-creation and powerful cultivation of Shakti energy/primal life force energy!
~~~~~~~~~~~~~~~~~~~~~~~~~~~~~~~~~~~~~~~~~~~~~~~~~
What is a Shakti Activation?
A Shakti Activation is a guided facilitation of various embodiment exercises designed to support the participant in clearing and illuminating the energy body (ex: nadis, meridian channels, chakras).
This activation involves trauma release, breathwork, toning, shaking, yoga posture, primal floor movement, taoist energy tecniques and ecstatic dance.
~~~~~~~~~~~~~~~~~~~~~~~~~~~~~~~~~~~~~~~~~~~~~~~~~~
What is cord clearing?
"Cord Clearing" is an energetic clearing practice performed to release energetic ties we may have created with other people, places, and events. An energy cord is similar to that of an umbilical cord but in the energy planes. These cord attachments are a natural part of this human experience and can be created through many difference scenerios as mentioned above. Until we mature to a level where we can source from pure life force energy, we will continue to attach to others which may either deplete are provide energy depending on the sytle of bond.
These energetic cord attachments cloud us from attaining our most aligned state of being. The aim in a cord removal ritual is to clear our energy feild/auric feild by discovering areas in the subtle energy body where these attachments exist. These unhealthy attachments can be connected to a number of things ie: old belief patterns, childhood trauma, toxic relationships, body shame, etc.
It is possible to experience healthy attachments just as much as we do unhealthy ones. Due to evolution, unhealthy attachments can often be overlooked, meaning what once served as a healthy attachment no longer serves in the same way.
A regular ritual cord removal practice is crucial for overall energy health maintenance. Working with the alchemy of the Full Moon is a powerful way to enhance the prayer field while illuminating the aspects that may otherwise stay hidden in the shadows of the subconscious.
Feel free to PM Asheeliyah if you have any questions or concerns before going into ceremony together.
About the Facilitator:
Asheeliyah Insha is an Ecstatic Embodiment Facilitator, Energy Worker, Licensed Massage Therapist, Yoga Instructor, Dancer & Community Organizer in Ritual Ceremonial Art Production. Founder of the Sacred Shakti Dance ~ Sisterhood Ritual Dance & Primal Embodiment.
Asheeliyah has been dancing and singing her entire life. She was introduced to the world of Modern Dance in 2006 at the University of Utah. She instantly fell in love with this form of expression and proceeded to study various different styles of movement to further gain awareness of her body's ability to express itself.  It quickly became apparent that dance was more to her than just performance. In 2014 she moved to Kauai where she anchored weekly ecstatic dance journeys out of her living room. Since then, the ecstatic dance community has expanded and grown as a community effort.
Asheeliyah's 12 years of experience in the field of energy healing, yoga, massage therapy and ecstatic dance have influenced her belief that dance is more than just a performance and more of a transformational tool for healing, story-telling and psychosomatic release. Her passion for creating transformational containers for community support and healing has led her down the path of providing countless hours of service to her local community on Kauai.
As an empath, she feels the collective condition(s) of the human soul and how passionately it yearns to be authentically expressed in the world. It has become Asheeliyah's life mission to hold intentional, safe and unconditionally loving space for others in her work as a facilitator, healer, and guide.
Instagram: @asheeliyah_insha
XOX
I release all unhealthy attachments that no longer serve my highest good
I surrender to divine flow in knowing that all has been forgiven
I welcome all parts of myself with unconditional love and acceptance
I reclaim my personal power as a sovereign being here to serve as a beacon for light
I am here in unwavering faith
I trust in my wild feminine self to unravel and shed the patterns old and outdated
I trust in my inner masculine qualities, my inner protector to set boundaries when its aligned with my highest good to do so, even when beyond my cognitive understanding
I trust my ability to discern my "YES" from my "NO"
I trust in my masculine to create sacred structure for my feminine energy to flow freely
I trust in my feminine to destroy and create life with the knowing my Highest Will is aligned with Divine Will
AHO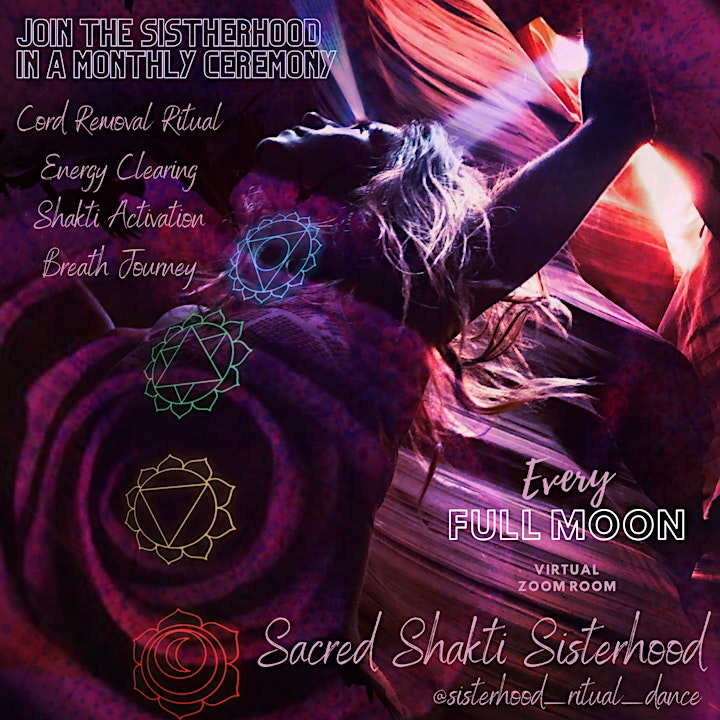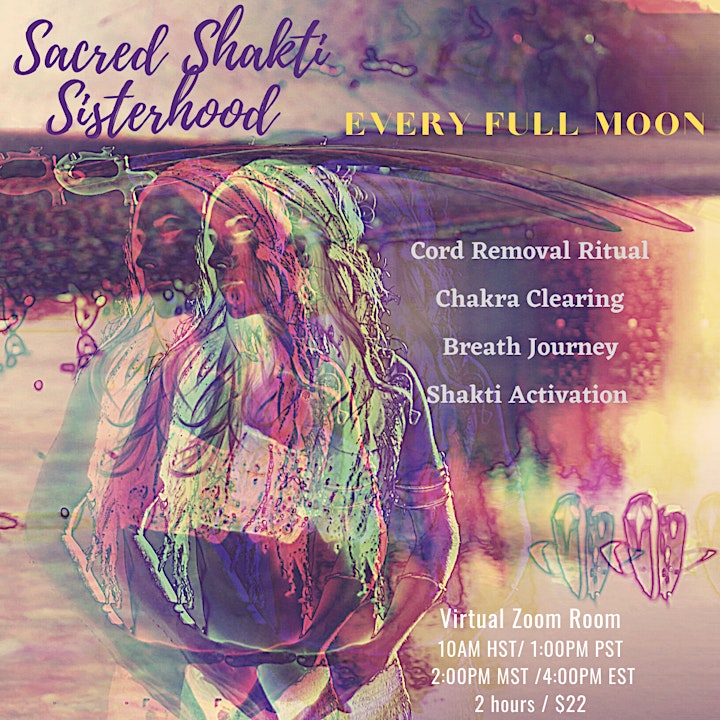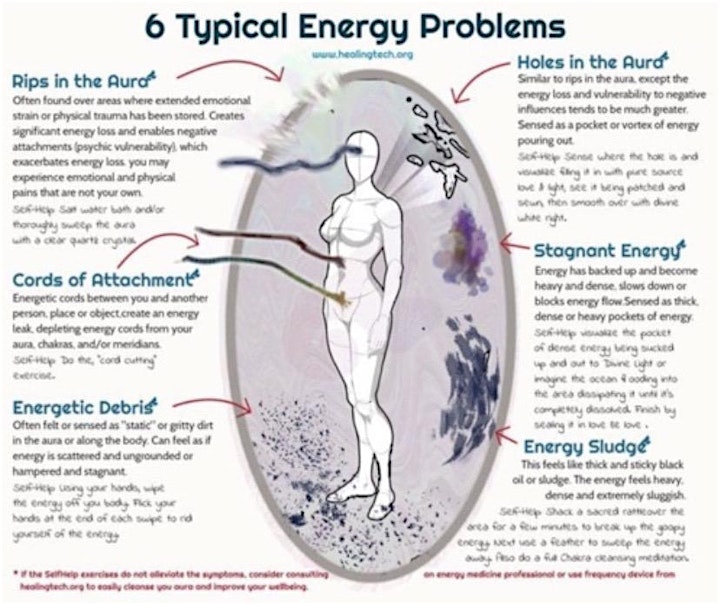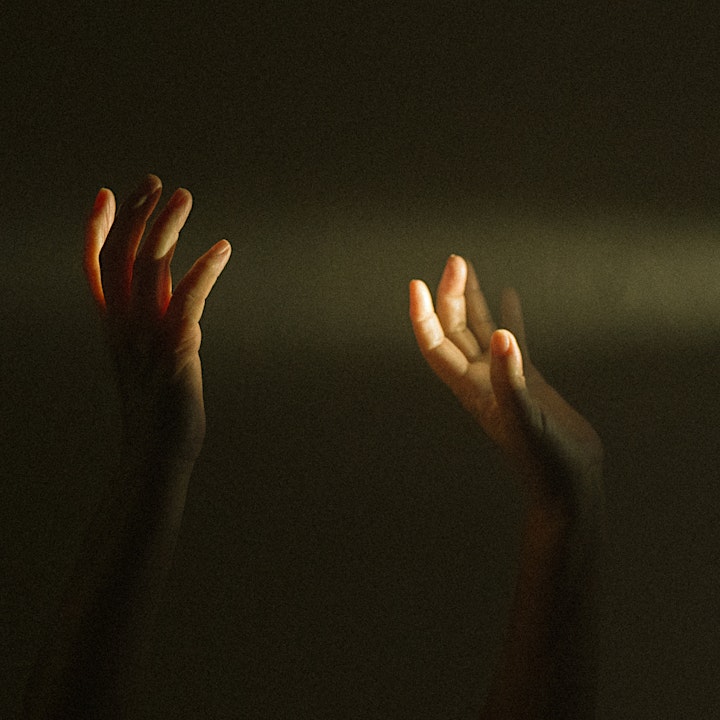 Date and Time
Location
Refund Policy
Contact the organizer to request a refund.
Eventbrite's fee is nonrefundable.