The GreenHomeNYC Monthly Forums feature informative presentations and lively Q&A with sustainability professionals across all industries.
About this event
Join GreenHomeNYC at this month's Forums event for a panel discussion + Q&A with professionals who work in construction and sustainable development.
Join GreenHomeNYC this Wednesday to learn about the vulnerabilities in our material supply chain and how we can make it more resilient and sustainable.
Materials and supplies for building construction and solar panel development are not often thought of much by the general public, but with the scarcity of lumber and raw materials like sand, there has been a noticeable effect in availability and costs. It is harder to procure transformers, roofing material, concrete, cable trays, and PVC, to name just a few examples.
This forum will cover the impacts of the COVID-19 pandemic and climate change on the solar and construction industries. We will hear about the challenges with material procurement and shortages, disruption of supply chain systems, the significant rise in cost of materials and labor, and how these delays have affected project development and viability.
Additionally, if you're interested in joining GreenHomeNYC as a volunteer, please review opportunities on our website, and register for a monthly orientation on Eventbrite.
SPEAKERS:
John Barrows - founder of P3 Builder Group and founder partner of Performance Path Solutions
Art Taylor - Senior Project Manager at Powerflex
NOTE: To respect the time of our speakers and guests, the event will begin promptly at 6:30pm.
The Zoom "waiting room" will open at 6:25.
If you have any questions, please contact the GreenHomeNYC Forums group at forums@greenhomenyc.org.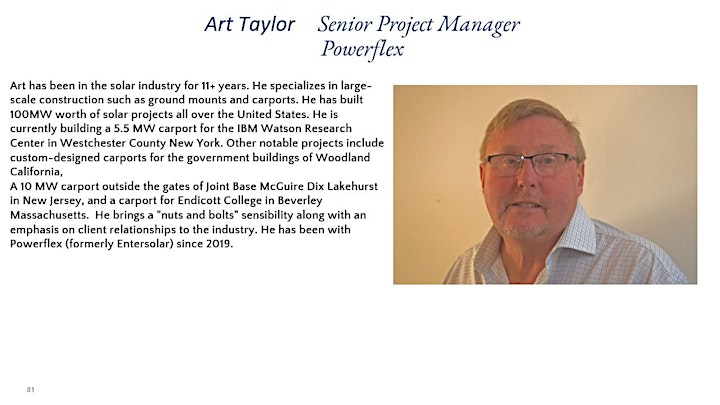 John Barrows has provided construction services, general contracting, construction management, and consultation services for over 30 years with projects that include historic renovation, remodeling, and new construction. Over the years his projects have incorporated sustainable and high-performance practices that include the careful selection of sustainable materials, energy efficient envelope systems, passive solar design, and alternative energy production. John founded P3 Builder Group, Inc, a company dedicated to bringing cost effective, sustainable, and energy efficient planning and construction practices to the housing market. John is also a founding partner of Performance Path Solutions, LLC, a company that brings innovative building practices to the building industry through educational programs and innovative products and provides green and energy conservation consulting services.
John is a nationally recognized author and speaker on topics including Green Building, construction and production management, and business management. In addition to presenting his own seminars, he has worked with the National Association of Home Builders (NAHB) to develop and teach courses on Scheduling, Green Building, Green Building Project Management, Building Science, and Estimating. John holds the designations of Graduate Master Builder and Master Green Professional. John was awarded the Green Building Individual Advocate of the Year Award by the NAHB in 2010 and the Home Innovations NGBS Green Partner of Excellence in 2013.

Since 2002, GreenHomeNYC has been promoting an energy efficient and sustainable built environment, and supporting green professional development in NYC.
Visit www.greenhomenyc.org to learn more!
Organizer of Monthly Forum - Material Shortages
A community-oriented, volunteer-run organization, GreenHomeNYC's mission is to promote an energy efficient and sustainable built environment and to support green professional development in New York City.
The organization provides sustainability information to the general public and technical education to advance sustainability careers through a diverse array of programming, events, peer-to-peer mentoring and networking opportunities. 
GreenHomeNYC is a New York State registered, 501(c)3 tax-exempt nonprofit corporation.